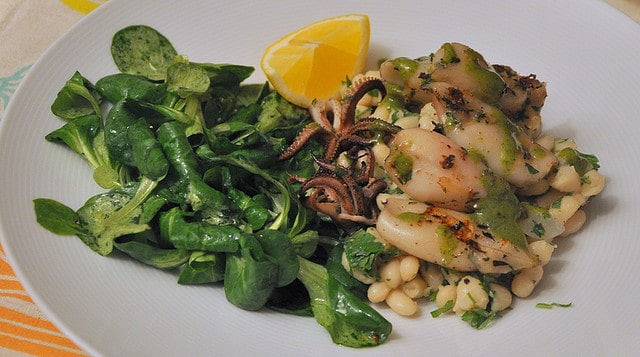 I want to preface this post by assuring you that I do not–normally–stock up on clam juice. But after having tried it in this recipe for poached halibut and these mussels in spicy tomato broth, I figured I should buy a couple of bottles…I'm a pantry hoarder, you see. In any case, as I was flipping through my new Bon Appetit magazine, my eyes immediately shot towards a recipe for grilled calamari and white beans–a dish that was recreated for readers from a restaurant in Boston. Lo and behold–a key ingredient? Yup, clam juice.
Full disclosure: I have never in my life cooked calamari prior to this occasion. In fact, until recently, I didn't even like calamari. But there's one form of calamari that I love: grilled, tossed with some salt and pepper and garlicky olive oil. Doesn't it just scream warm weather outdoor dining with a glass of white wine to you? Naturally, I was a little hesitant about making this. Largely because calamari in raw form kind of scare the bejeezus out of me. I mean, there are tentacles involved! To my great surprise, a pound of frozen calamari from my local grocery store was only $5, so the combination of coincidences led to me to the conclusion that I had to make this dish.
Before we move further, I should tell you that the original recipe called for whole calamari bodies only (the recipe suggested saving the tentacles for a 'later use.') Given that I had no planned 'later uses' for calamari tentacles, I figured I'd grill them up alongside the bodies. The results? Just what the doctor ordered. The calamari were flavorful and not too chewy–the white beans (I used heirloom white beans from my local farmer's market, but you can certainly use the canned kind) were tender and flavorful. The light, citrusy salad was the ideal side dish. I used aromatic Meyer lemons, but again, you could very well get by with regular lemon juice as is called for in the recipe.
There is some hassle involved with making the herb oil, which frankly I think you could skip all together (you could just drizzle with some extra virgin olive oil). Alternatively, you could fry up some garlic and a few stems of thyme and oregano in hot oil and create a lightly-flavored oil. Regardless, spring is here, it's lighter out, the days are longer, and there's no good reason you shouldn't try grilling calamari at home. If those tentacles scare you, just toss 'em out!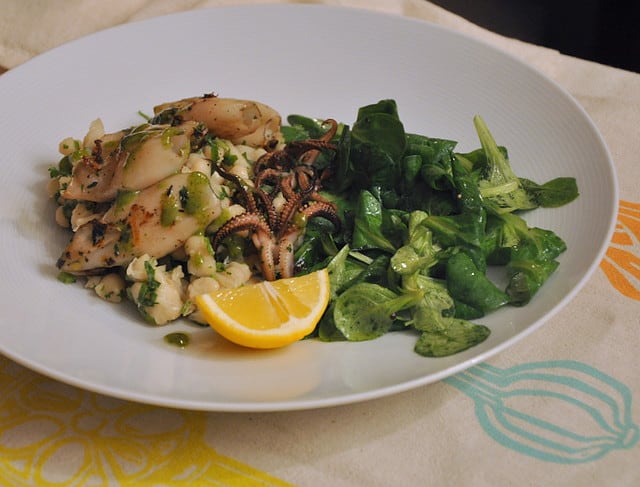 Grilled Calamari with White Beans
recipe adapted from Bon Appetit, April 2010
*serves 2-3 as a main dish (2 with big appetites)
1 pound of fresh calamari
3/4 cup of extra virgin olive oil
1 tablespoon of fresh oregano, finely chopped
1 tablespoon of fresh thyme, finely chopped
3 garlic cloves, minced
2 tablespoons of packed fresh basil leaves
2 tablespoons of roughly chopped fresh chives
1 tablespoon of Meyer lemon juice (regular lemon is fine)
1 1/2 cups of cooked white beans (prepared in advance)
2 8 ounce bottles of clam juice
1/2 large onion, halved
2 bay leaves
2 tablespoons of chopped flat-leaf parsley
3 cups of mache (or any other kind of mixed baby greens)
1. After you've cleaned the calamari, marinate them: toss the bodies and tentacles with 1/4 cup of olive oil, oregano, thyme and chopped garlic. Let sit for approximately one hour.
2. Meanwhile, place 1/4 cup of olive oil, chives and basil in a blender and pulse to allow herbs to mix well with the oil, but not completely pulverize. Strain the mixture through a fine mesh sieve, reserving only the liquid and tossing the solids (if you over blend, prepare to squeeze every last bit of oil out of that strainer–and whisk in a bit more olive oil). Set aside.
3. Mix the lemon juice with about 3 tablespoons of olive oil, season with salt and pepper and whisk to combine. Set aside.
4. Combine the beans, clam juice, bay leaves and onion in a medium pot. Bring to a boil, then reduce the heat and simmer beans for about 15 minutes, allowing the onion to soften and the flavors to meld.
5. Drain the beans, toss the bay leaves and onion and toss beans with the parsley.
6. Heat a small grill pan over medium-high heat. Sprinkle the calamari with salt and pepper, then drop them on the grill, flipping occasionally for a couple of minutes. The calamari should start to puff and develop some grill marks. The tentacles should firm up. Transfer both the bodies and tentacles to a plate and tent with foil while you prepare the next batch.
7. Re-whisk the olive oil and lemon and toss with mixed greens. Divide the greens and beans between the two plates.
8. Place calamari bodies and tentacles on top of the white beans and drizzle with the herb oil. Serve right away.
Musical Pairings: Surfer Blood – Astro Coast + Grilled Calamari and White Beans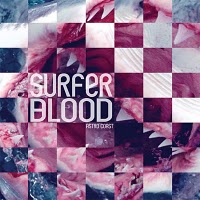 At first glance, you might look at the pictures and be led to believe that the grilled calamari with white beans recipe featured over on eating/sf today is quaint and unassuming. Like the type of light recipe you might enjoy when you want something inconspicuous and simple in the house. You'd then be surprised to learn that it isn't that type of recipe at all. In fact, this is an awesome sunny spring/summer day recipe for when you want to be creative and switch it up on the barbecue. And as a result, you'd need an equally awesome musical pairing that sounds great blasting out of your stereo while you make small talk with friends. Something that thinks big and, put simply, rocks. That is why Surfer Blood's Astro Coast is a great album to pair with the meal. It is a power pop album of the highest order, and behind the reverberating fuzz and elastic rhythms you'll find all the hooks and power chords you could ever hope for. More at Musical Pairings. –Matthew