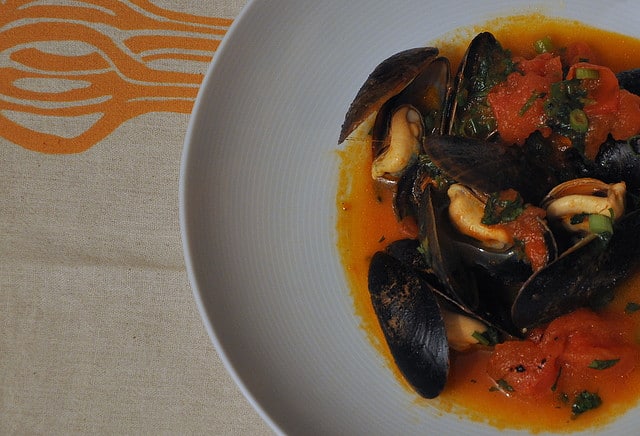 Were you in a fantastic mood on Friday? I sure was. The weather in San Francisco was as close to perfect as it ever gets, I had a fun weekend planned full of hiking and cooking and eating lots of ice cream. Then I got stuck on the N-Judah train for approximately one hour on my way home, had to borrow a stranger's phone to call Matt (I'm really thisclose to calling it quits on my iPhone) and was squeezed between a noisy group of teenagers whose voices seemed to permeate my headphones for the remainder of the ride. Needless to say, my glorious mood was shot. What's funny about living in the city though is that you can be in a totally crap mood one minute and then step off that over-packed, stuffy train, walk down the street to your favorite neighborhood spot for a beer or a glass of wine and realize that there is absolutely nothing that you could ever complain about.
For the rest of the weekend, I thoroughly took advantage of the fantastic weather–while it was shoddy at times, we got some beautiful sunshine, some great hiking and some cooking done. Morever, I started wearing open-toed shoes. I have been on this mission to bring back the flip flop–when first I moved to San Francisco from San Diego, I made it my goal to keep the SD going in me. I persevered…for about two years. Wearing flip flops every day–even when my feet would turn blue. But then I finally gave up and gave in to real shoes. I've been thinking about bringing the SD back, so I threw on my Reefs today…Naturally, I tripped, stubbed my toe, hobbled home, and promised myself that I would never wear flip flops in San Francisco again. Some things are better left behind.
You might wonder what all of this has to do with these mussels I'm going to tell you about. Well, precisely what I've been thinking all weekend–good is good, but great is GREAT. Matt loves mussels, and I've been warming up to them lately. We've tried them in a number of preparations–the most common of which is to steam them with some white wine, butter, garlic and parsley and have a good baguette on hand to sop up the broth. All's well and good there. But let me tell you: hot sauce makes everything better. And when you discover something like clam juice (seemingly the most unappetizing ingredient you can think of)–you've got to see what exactly is the big deal?
The big deal is that when you steam these mussels in a spicy, lime-y, tomato-y broth whose foundation lies in simple fishy water–you have what I would call a culinary epiphany. This dish is spicy, yes. Be prepared. We brought the spice up a notch with 2 tablespoons of hot sauce–but if you can't stand the heat, decrease to 1 tablespoon. Also, don't skimp on the cilantro and green onion–both really add something. Lastly, don't disappoint me and go out and get yourself some good crusty sourdough, or a baguette–or some no-knead bread that you've made at home.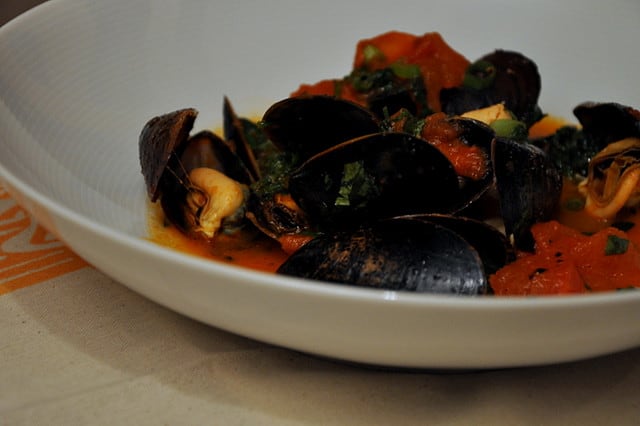 Mussels in Spicy Tomato Broth
adapted from Bon Appetit, March 2010
*serves 2 as a main course
3/4 cup of bottled clam juice
2 large tomatoes, seeded and chopped
1/4 cup of fresh-squeezed lime juice
2 tablespoons of hot sauce
1 tablespoon of tomato paste
1 pound of Prince Edward mussels, scrubbed and debearded
2 1/2 tablespoons of butter, cut into small cubes
1/2 cup of chopped cilantro
salt and pepper, to taste
1/2 cup of sliced green onions
fresh, crusty bread to serve
1. Combine the clam juice, diced tomatoes, lime juice, hot sauce and tomato pasted in a large pot and bring to a boil, stirring to combine.
2. Stir in the butter and add in the cleaned mussels. Cover and cook for about 4 minutes (until the mussels open–be sure to toss any that don't open up).
3. Stir in the cilantro and green onion, season with salt and pepper and serve in bowls with plenty of bread on hand to sop up the broth.
Musical Pairings: Aesop Rock – Bazooka Tooth + Mussels in Spicy Tomato Broth
The mussels in spicy tomato broth recipe Kasey and I prepared this weekend owned it. It was full of flavor. It was filling. It was delicious. And the sriracha hot sauce, of course, is not only tasty, but it also packs some real heat. So this recipe calls for a muscular pairing that also has heat and complexity. And for this reason, I've selected Aesop Rock's 2003 Bazooka Tooth. It's a complex, but rewarding album featuring Aesop Rock's distinct abstract lyrics delivered with an equally unique delivery atop fractured, occasionally disorienting melodies and thumping beats. It's not for everyone, but if you are turned-off by the idea of underground hip-hop that thinks outside of the box – you're sure to enjoy this. More at Musical Pairings. –Matthew