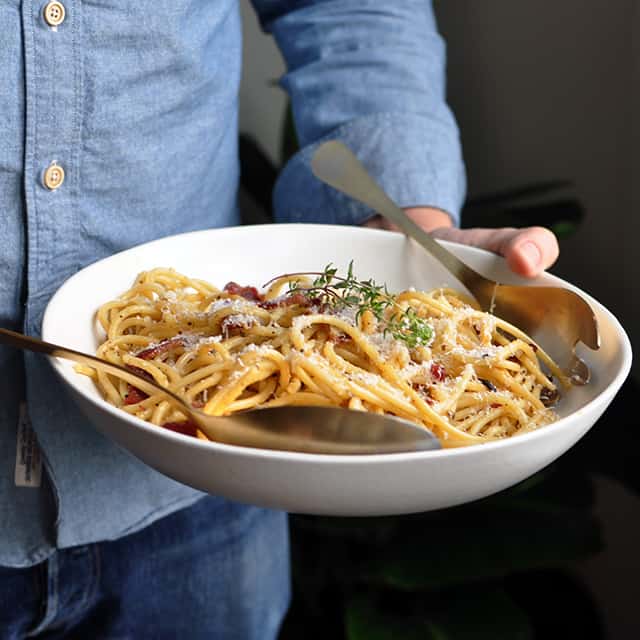 For many years — really since we met — Matt and I have cooked together. Not really for each other but with each other. But since we've added three kids to our brood in a period of three years, we've started to spend less time cooking with each other and more time cooking for each other. One person typically takes the lead in the kitchen, while the other takes the kids. More often than not, Neko is underfoot (or climbing atop a counter) and collecting scraps and peels into her pots and pans.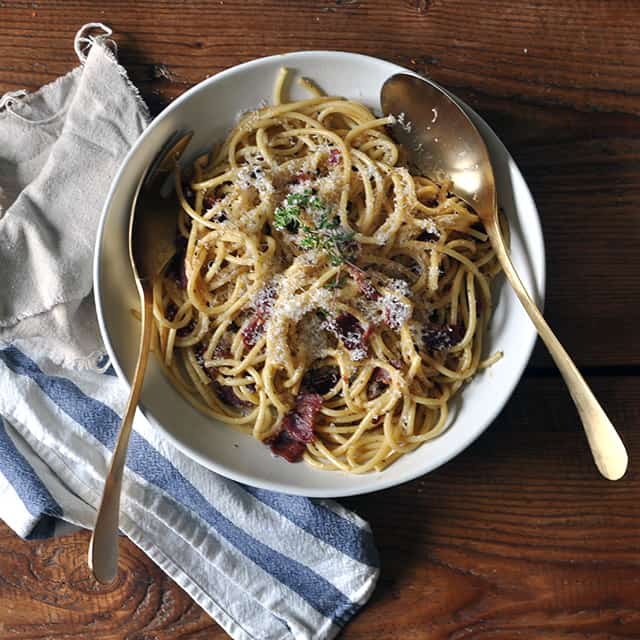 For a while, this really bummed me out. I missed cooking together. But I also recognize that this period of us constantly switching roles is rather brief. At a certain point (I hope / pray/ imagine), we'll be able to get back to the cooking together business while the kids entertain each other for an hour or two. So for now, I'm embracing what it means to cook for each other.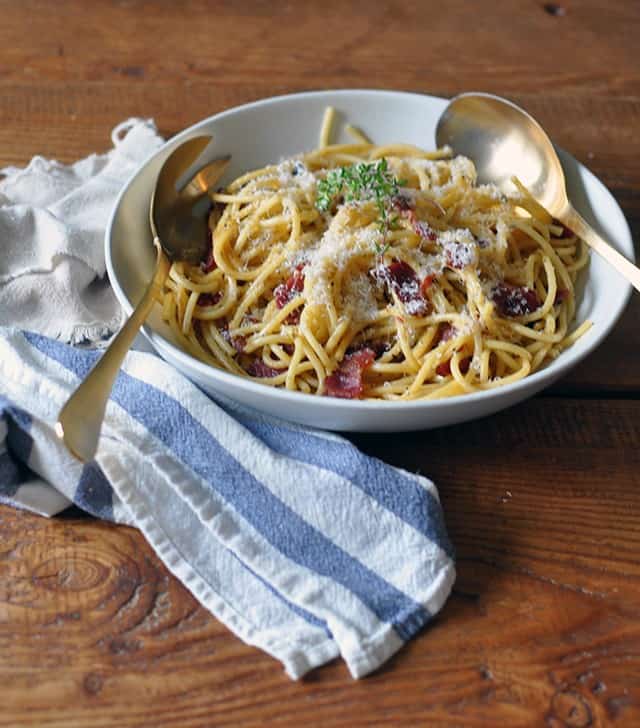 When it's my 'turn' I like to pop into the backyard and explore our fledgling garden, picking out young kale leaves, lettuces, and the mizuna greens that are booming. I pick off a few herbs from the pots on the windowsill and I spend a few minutes (just a few: this is KEY) thumbing through a cookbook or two to get some inspiration for a recipe. Then I pour myself a glass of wine (this is imperative; parents, you hear me) and get to work. If by some miracle I end up in the kitchen alone, it feels akin to an afternoon at the spa.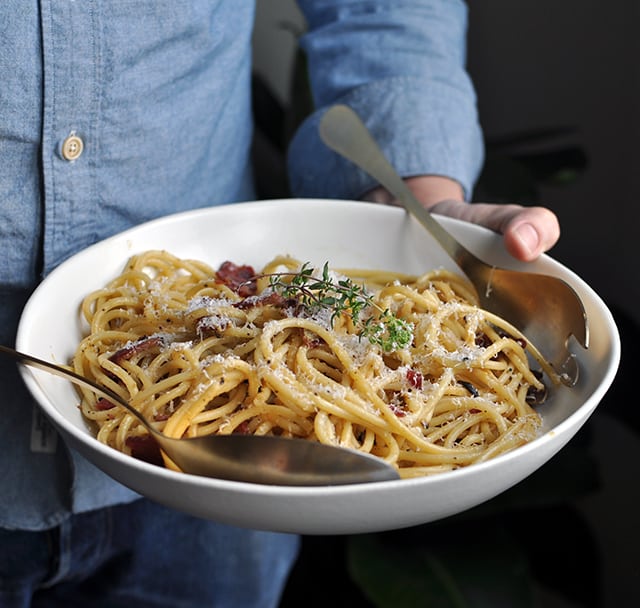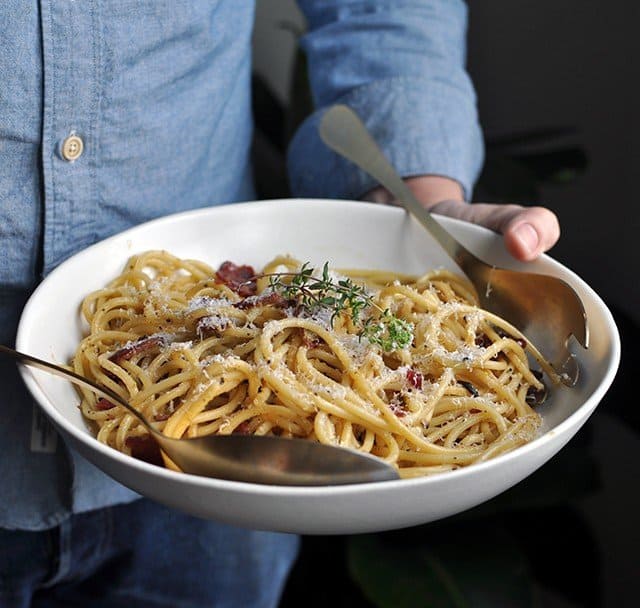 Matt has a similar approach to cooking for me / us. Unlike me, he ends his day with a craft beer and whatever he makes usually involves one of four key ingredients: bacon, butter, red meat, or cheese. Carbs often come into play. When I exclaim with excitement that I've developed a delicious vegetarian (sometimes vegan!) recipe for dinner, he basically laughs in my face. In a really nice "I love you but where's the meat" sort of way. So now you know that I'm not the only one who makes the recipes on Turntable Kitchen.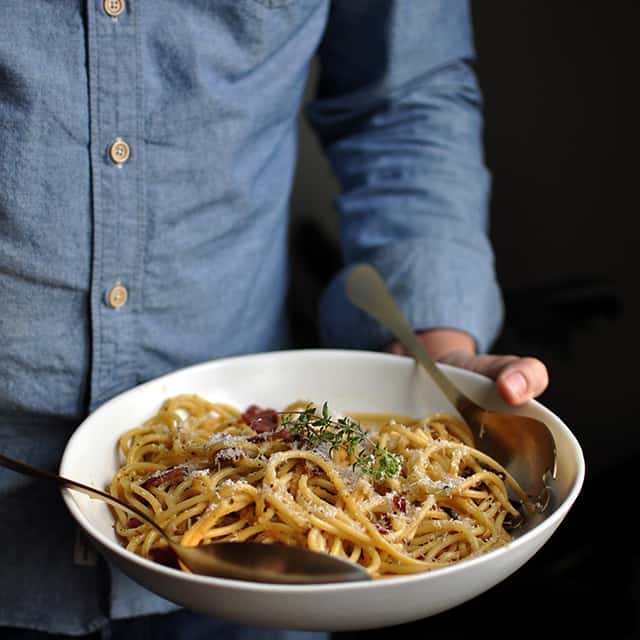 Last weekend we made a dreaded trip to IKEA that ended with a bowl of spaghetti carbonara made by Matt and a lot of cursing about never returning to IKEA again (following a sweat-filled afternoon of installing wall shelves). Needless to say, the pasta was the highlight.
Matt cooking for me is the ultimate act of romance — my favorite kind. It ranks high alongside him offering me the very last chocolate chip cookie, allowing me to pick out most of the furniture and decor for our house, and telling me everything is 100% taken care of when I opt to take a supremely long shower at a really nonoptimal time. They say good food is the way to a man's heart but I'd argue the the same is true for a woman's heart.
Life-Changing 6 Ingredient Spaghetti Carbonara
4 egg yolks from 4 large eggs
8 ounces of dried pasta (we recommend using either bucatini or spaghetti)
2/3 cup of finely grated Parmesan cheese
kosher salt, to taste
freshly ground pepper, to taste
4 strips of thick cut bacon
1. Bring a large pot of salted water to a boil and cook pasta according to directions. Reserve 1/2 cup of the water from the cooked pasta.
2. While water is coming to a boil, cook the bacon in a skillet until it's crisp on the edges. Remove the bacon but reserve the bacon grease in the skillet. Remove the skillet from the heat.
3. Meanwhile, whisk together the egg yolks, cheese, salt, and pepper in a small mixing bowl until smooth.
4. Add the cooked pasta to the skillet and toss pasta in the bacon fat (oh yessss).
5. Slowly whisk the water reserved from the pasta into the egg yolk and cheese mixture so that the eggs begin to cook.
6. Pour the egg mixture over the pasta and toss well.
7. Garnish with fresh thyme or chopped parsley and plenty of extra Parmesan cheese and freshly grated black pepper.