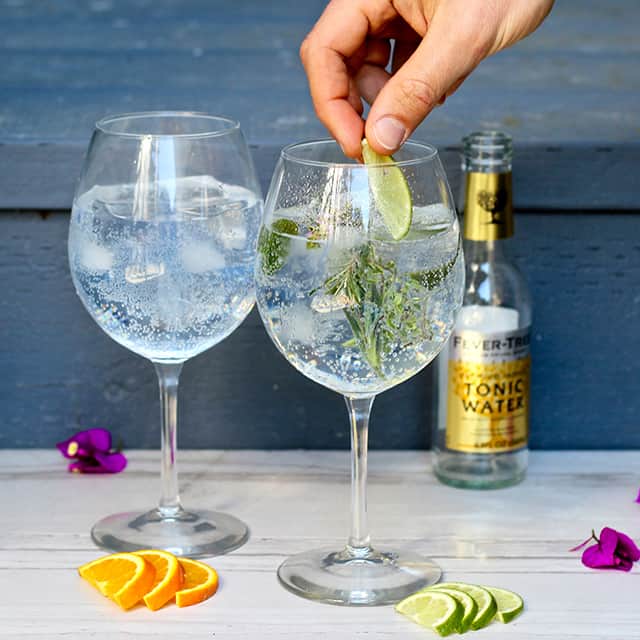 Is it summer yet? We've had a few glimpses of warm-weather days in San Francisco over the past month, and every sunny day I rush to pair the summery feeling with a fitting drink and/or activity. Park and rosé, beach and light beer, or cocktails and alfresco dining — always in good company of friends and loved ones, naturally.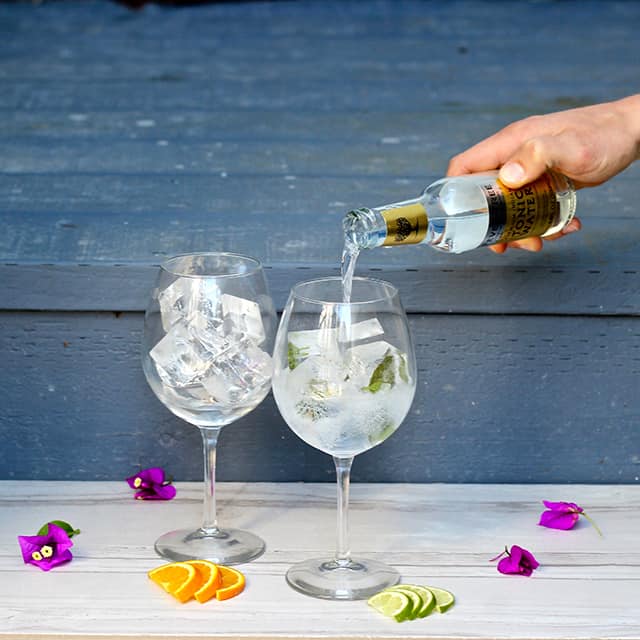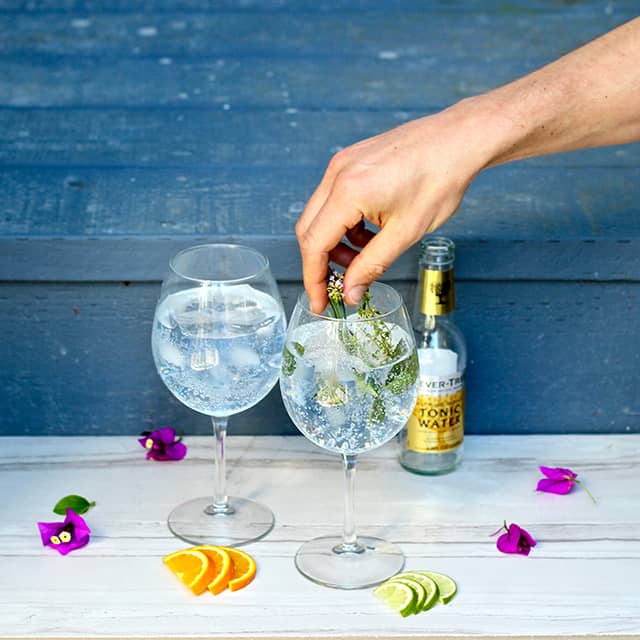 As usual, I'll take any opportunity to share some new tips and tricks when it comes to entertaining over drinks or simply enjoying a quality drink at home. The gin and tonic is one of the easiest drinks to make—it just comes down to quality ingredients. While I present a simple and affordable go-to in the recipe here, you can explore different styles and brands of gin and tonic water (which can vary greatly in price).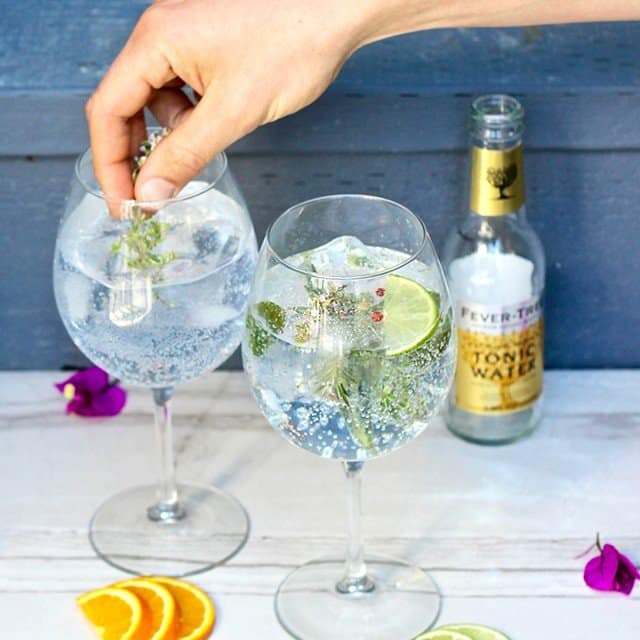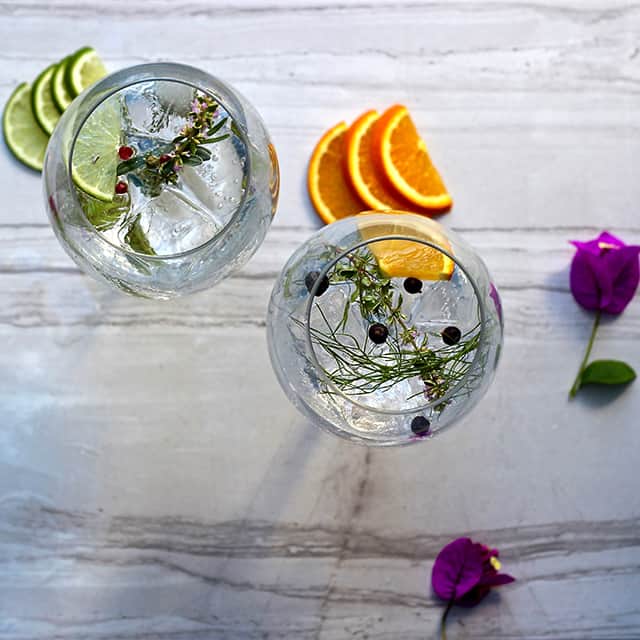 With garnishes gaining so much popularity these days, what better practice to adopt than the Spanish style of preparing "gin tonics?" No, that's not a typo. The Spanish have dropped the "and." They've also changed the glassware and created bars dedicated to serving the gin tonic. Typical bars in the US will serve the drink in a collins glass (tall and narrow), while the approach in Spain is to serve it in a wide wine glass, which allows you to really enjoy the smell of the gin's botanicals as well as any garnishes that you've added.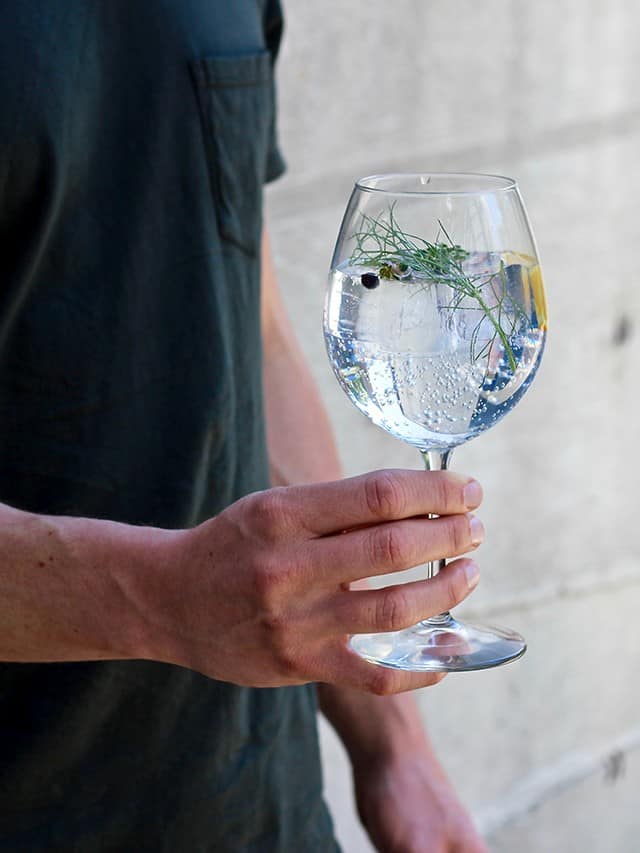 And speaking of garnishes… while the garnishes in this drink initially catch the eye, they eventually inform the palate—especially with nuanced flavors that are generally missing from well gin (typically the cheapest gin carried in the bar). The final taste of your gin tonics can have a seemingly infinite number of possibilities as you change either the components or ratios of gin, tonic water, and garnish.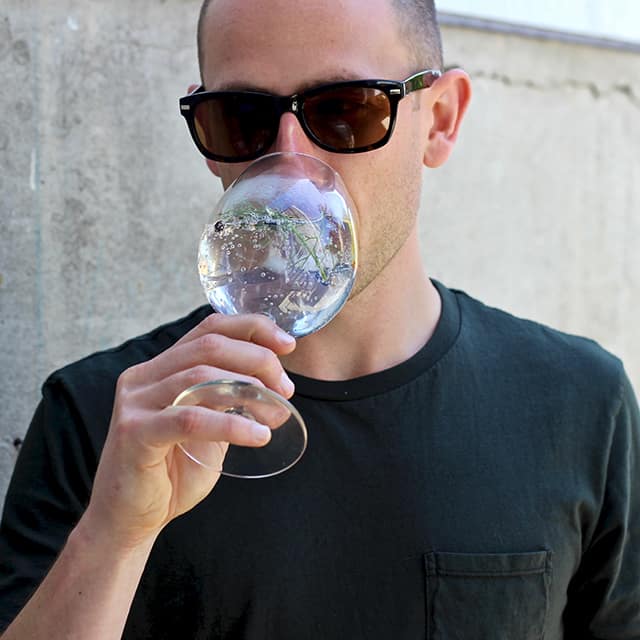 There's one more possibility to consider: freezing an herb like mint or rosemary inside your ice cubes! This will delay the introduction of the flavor into the drink, but it will present itself as the ice melts.
Glass
Glass: Wide wine glass
Recipe
Spanish Gin Tonic:
2 oz London-style gin (I recommend a classic London-style gin like Beefeater)
5 oz tonic water (I recommend Fever Tree, but often use Canada Dry as a cheaper alternative)
Garnishes like dried peppercorns or juniper berries, fresh rosemary, lavender, thyme, mint, or other herbs, a citrus wheel or peel, strawberry slices… the possibilities are nearly endless!
Fill the wine glass with ice. Add gin and then top off with tonic water to taste. Stir the drink to chill, approximately 15-20 seconds. Drop in garnishes of choice.
Photography and styling by Hannah Levy.