I mentioned that I recently became the owner of a powerful machine that I am just starting to learn how to use–a Nikon SLR. I'm a big decisions kind of girl. Sometimes, this leads to great discoveries and bigger payoffs. Others, this rashness leads to disappointment and feeling overwhelmed. I'm learning a little, though. One step a time. I'm still about big, but these days I'm more open to mapping things out.
I went out last weekend, snapping photos of my parents, Matt, and weird creatures at the science museum. I took a lot of really bad photos. But I have a couple that just plain exhilarate me about this camera. I told myself I'll be buying a book to guide me through as I learn. These pictures are some of my first food photos with the new baby. I hope I'll continue to learn.
In the meantime, I'm going to rave about the new farmer's market in my neighborhood, and how much joy it has brought to my Sunday mornings. Having bookmarked a handful of recipes in my last few issues of Saveur, I have been patiently waiting for my first opportunity to buy baby artichokes to make a steak and potato hash that seemed to scream my name when I first saw it. Alas, artichokes and new potatoes at hand, I knew I was ready to make it happen.
This recipe, which was adapted from one by David Tanis (of Chez Panisse–and now, A Platter of Figs fame) just feels like an early summer California backyard dinner. It's simultaneously light and hearty. The lemon juice gives both the artichokes and the steak a burst of citrusy flavor, and the potatoes, perfectly browned and crusted on the outside, are as homey as can be. What I love about this dish is that it combines familiar comforts (steak and potatoes), stepping them up just a notch. In my opinion, you just can't go wrong.

Seared Flank Steak with Baby Artichoke and Potato Hash
adapted from a recipe c/o Saveur Magazine and David Tanis
*serves 2
1 pound of skirt or flank steak (2 fillets)
fresh pepper and salt, to taste
about a 1/4 cup of olive oil
5 small new potatoes, unpeeled and cut into 1 inch pieces
7-8 baby artichokes
1 lemon
1/2 cup of Italian parsley, chopped
1 tablespoon of capers, rinsed
2 cloves of garlic, minced
1. Season steaks on both sides with kosher salt and pepper and rub about 1/2 a tablespoon of olive oil onto each one. Allow the steaks to sit out on the counter at room temperature for 45 minutes to an hour.
2. Bring about 6 cups of salted water to a boil in a large pot. Pour in the potatoes and simmer on medium heat for about 4 minutes (until the potatoes are barely tender). Drain and transfer to a bowl or baking sheet to cool.
3. Trim the artichokes by cutting off the pointy top third of each 'choke. Peel back the thick outer leaves until the artichoke resembles a tightly closed bud. Trim the stem just slightly and use a vegetable peeler to peel away any prickly or rough outer layers. It's sort of like shaving! Now, cut the artichokes lengthwise into 4-5 wedges.
4. Place the trimmed artichokes into a bowl and rub each wedge with the lemon slices.
4. Now heat about a 3-4 tablespoons of olive oil in a large cast iron skillet. Add the potatoes, tossing them around with a wooden spoon, until they're nicely browned (about 10 minutes). Now, add in the artichokes, tossing them around with the potatoes for about another 10 minutes. Add the parsley, capers and garlic, season with salt and pepper and take the skillet off the heat.
5. Place the hash into a dish/bowl with a lid and put into the oven to keep warm.
5. Heat 2-3 tablespoons of olive oil in the same skillet over medium-high heat. Add the steaks and cook for about 3-4 minutes on each side, or until each side is seared. Use a pair of tongs to flip the steaks. Depending on the thickness, you may end up cooking a little longer. Place the steaks on a wooden cutting board and let rest for five minutes before slicing finely against the grain.
6. Serve the steaks with the hash and don't forget to give each steak a nice squeeze of fresh lemon juice.
Musical Pairings: Spoon – Ga Ga Ga Ga Ga + Seared Flank Steak and Baby Artichoke and Potato Hash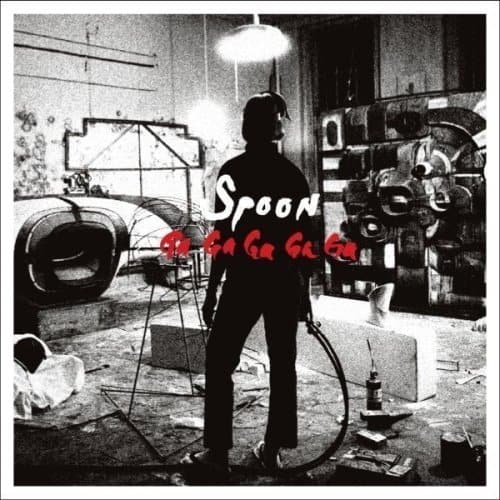 Skirt steak with artichoke and potato hash. I think you'll probably agree that this is a hearty, muscular dish. And it is also rustic and somewhat unique. It is an excellent dish for a nice, lively meal that centers around energetic conversation. And although are recipe is for two, it would be extremely easy to just increase the portions and make it for a whole group of people. And as a result, this dish requires an equally muscular, unique musical pairing that would work well whether you are enjoying a lively meal for two or a meal for ten. Spoon's Ga Ga Ga Ga Ga is therefore a great pairing for this dish. Like all Spoon albums, Ga Ga Ga Ga Ga, demonstrates a certain muscular, swagger that just sounds like good old rock n' roll. But, as the unconventionally weird title seems to imply, Ga Ga Ga Ga Ga is much more complex than the label "good old rock n' roll" would suggest. Head over to Musical Pairings' home for the complete rundown. –Matthew