Days like we've been having lately tend to transport all of us to our childhoods. It's hard to remember that it's summer when you're stuck in an air conditioned office, only to experience brief periods of sunshine on walks to and from picking up your lunch, prescription or a cup of coffee. In the adult world (which I am still, years after saying goodbye to my last summer, trying to figure out), you have to make the most of Saturday and Sunday. If you're lucky, forget your BlackBerry at home, and happen to head to your parents' house for a day for poolside lounging and BBQ'ing, you just might just forget that you're not in high school anymore.
It's kind of a great feeling once in a while, actually. When I go down to my parents' house in suburbs–which is what I did last Saturday–I try to bring something delicious. Sometimes it's a newly-discovered bottle of wine. Sometimes cookies. But, often, it's apple cake. Apple cake is the gold standard in my house. Everybody loves it–finicky eaters, included. And any minor deviations from the original recipe are quickly detected and ridiculed. The cake has many redeeming qualities, most of which lie in that it is based in a tender dough, is chockful of homey apples, and has just the right sweetness.
Alas, summer is in full bloom and the markets are overflowing with my absolute favor berry–the plump, red raspberry. Princess of berries. Lately, I've been inundated with raspberry buttermilk cakes. In Gourmet Magazine and in my favorite blogs. I, too, wanted to make the cake, but Heidi Swanson's "salt-kissed" spoke to me a little more. I loved the idea of adding a light sprinkling of salt to a delicate cake studded with summery raspberries. I must say, this cake was exactly what I had hoped for. Enveloped in a beautiful golden crust (created by the melted large-grain turbinado sugar and sea salt), its slightly crumbly, dense center was still tender without being too moist. The raspberries baked into crust just enough to flavor the whole thing with their aromatic and brightly-colored juices.
This wasn't my apple cake. But it still had that welcome home feeling to it that you can only truly get in the place where you still feel like you're seventeen.

Raspberry Buttermilk Cake with Salt and Sugar Crust
*adapted from a recipe on 101Cookbooks
2 1/2 cups of white whole wheat flour
1 tablespoon of baking powder
1/2 cup of brown sugar
1/2 teaspoon of salt
2 large eggs
1 cup of well-shaken buttermilk
1/4 cup butter, melted
zest from 1 lemon
1 cup of raspberries
3 tablespoons of turbinado sugar
1/2 – 1 teaspoon of sea salt (large grain, preferably)–optional
1. Preheat the oven to 400 degrees F, and prepare a round pie pan by buttering it and dusting it with flour.
2. In a medium bowl, stir together the flour, baking powder, brown sugar and salt.
3. In a small bowl, whisk the eggs and buttermilk until well combined. Then, whisk in the melted (cooled) butter and lemon zest.
4. Pour the wet ingredients into the dry ones, stirring until just combined.
5. Pour the batter (it will be relatively thick) into the pan, and even it out.
6. Drop the raspberries over the top of the cake (either whole, or broken in half).
7. Sprinkle the turbinado sugar and salt over the top of the cake. Depending on how adventurous you are, use more or less salt. You could even omit it entirely, if you're worried it's too much.
8. Bake for about 25 minutes, until the cake develops a nice golden crust and a toothpick inserted into the center comes out clean.*
*Update: 8/1/2009: Based on feedback and comments, you will likely end up baking the cake for closer to 35-45 minutes if you use a pie pan. Keep a close watch on it (and the temperature) to be careful to not burn the crust.
Musical Pairings: Voxtrot: Raised by Wolves EP + Raspberry Buttermilk Cake with Salt and Sugar Crust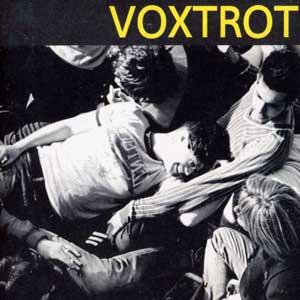 The raspberry buttermilk cake is warm, cozy and flavorful. And, it is a relatively simple recipe. Nonetheless, it manages to be a somewhat surprising bite. The crust alone is interesting: sweet, but slightly salty. And although it isn't quite as sweet as many other desserts, it is still a sweet dish, and requires an upbeat Musical Pairing. For this reason, the Raised by Wolves EP by Austin, Texas' Voxtrot is an excellent pairing for this dish. Many of the EP's best tracks are about love. But, like the best songs about love, many of these songs, although sweet, are occasionally salty: (i.e. compare these lyrics from the track "The Start of Something": "If I die clutching your photograph don't call me boring it's just cause I like you" vs. "Well, I'm sorry everybody knows you can't break me with your gutter prose."). Additionally, Voxtrot's music on Raised by Wolves, like the raspberry buttermilk cake, is surprisingly complex: part Belle & Sebastian, part the Smiths, and a little hint of 60's era Motown. Heading to Musical Pairings @ eating/sf for the full review. –Matthew