I took a yoga class tonight and at some point between desperately trying to avoid doing a full wheel and blissfully enjoying the five or so minutes of quiet meditation at the end of the class, I thought about my 'intention.' I don't know about you, but whenever I take a yoga class and the instructor asks the room to channel their energy towards some sort of 'intention,' I always focus really hard on my intentions and feel really silly when I start talking in my head: be a more positive person, worry less, what am I going to do with those beets I bought?
I'm not one that is good at focusing on intentions. The dancer inside of me is always too focused on the perfect form, and making sure that I'm at the head of the class–even when I know that yoga is all about quieting your mind and calming the soul.
I come up with some of my best dinner plans and ideas during yoga. It may not be the best way to calm my soul, but it sure always feels productive. Aside from gifting me with the aches that I feel in my body and elongation that I feel in my back, yoga gives me the opportunity to make plans. I know that it's counter-intuitive to the whole yoga practice. Rather than clearing my mind, yoga sharpens my focus in the way the best kind of study session can.
The next time you practice yoga, and start daydreaming about the contents of your fridge and what you should do for dinner, I highly recommend thinking of grapefruit. And jicama. When it's hot out (or mildly warm, as we San Franciscans experience 'heat' in the city), this halibut topped with a fresh grapefruit and jicama salad is about as refreshing as it gets. Mildly flavored by the parsley and whatever olive oil you choose to use (I recommend a good, fruity one, as you'll definitely be able to taste it), this dish is light, elegant and fast. Be sure to get the freshest fish that you can and the juiciest grapefruit–the juices will give a great tang to the salad and the fish itself.
Halibut and Grapefruit-Jicama Salad
adapted from Cooking for Friends
*serves 2
1 ruby red grapefruit, peeled
1/2 cup of flat-leaf parsley, chopped finely
1/2 of a jicama, peeled, trimmed and sliced into thin ribbons (preferably using a mandoline)
2 fresh halibut fillets
2 tablespoons of olive oil
sea salt and freshly ground pepper, to taste
1. Separate the grapefruit into segments, removing all of the white parts and put into a bowl.
2. Add the parsley and jicama ribbons and stir together.
3. Season the halibut with salt and pepper and heat 1 tablespoon of olive oil in a cast iron skillet over medium-high heat.
4. Place the fillets into the skillet, cooking for about 4 minutes on one side (until it's lightly browned). Flip the fillet and cook for approximately another 3-4 minutes. The sides of the fish should not be translucent.
5. Place a halibut fillet on each plate and top with the grapefruit-jicama salad. Drizzle olive oil on top and sprinkle with any additional salt and pepper, to taste.
Musical Pairings: Four Tet- Rounds + Halibut and Grapefruit-Jicama Salad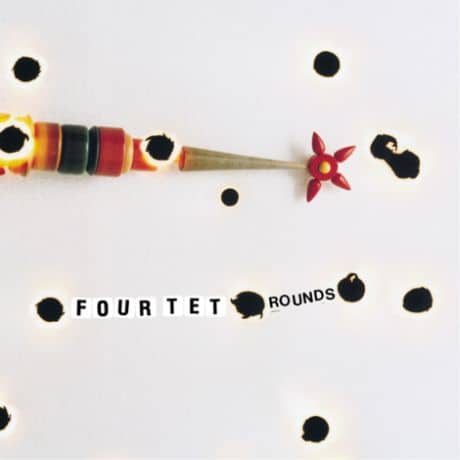 Four Tet is the moniker adopted by Kieran Hebden for the release of his solo-worker, which consists of primarily textured, intricate electronica. Four Tet's brand of electronica is essentially a patchwork of post rock, folk, jazz and hip hop. Four Tet's 2003 release Rounds is an excellent pairing for the halibut and grapefruit-jicama salad recipe featured today on eating/SF. The dish is refreshing, tangy, soothing and features an diverse array of flavors and textures – just like Four Tet's Rounds. Rounds is a highly textured album, sonically intriguing album that builds lovely melodies from an array of disparate, well-chosen samples. It is the perfect album for a contemplative but soothing dinner experience alone or dining in duo. Of course, it is best appreciated with a good pair of headphones – and would work equally well while driving, riding public transit or people watching in a crowded place. Head over to Musical Pairings @ eating/sf for the full review. –Matthew