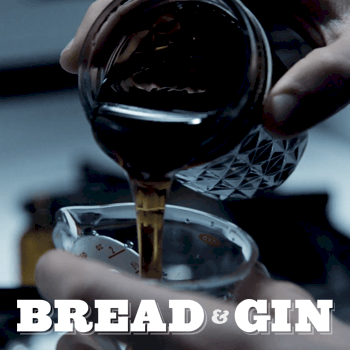 I jokingly refer to our friends, Hannah and Jeff, as our doppelgangers. Hannah and I are both writers (professionally), but she's also a music blogger (she writes for the awesome music blog IndieShuffle). Meanwhile, Jeff can whip up a mean kale salad and pasta carbonara, but he also shares Matt's love of vinyl and brown liquors and has a killer cocktail blog called Bread&Gin. Our meeting was star-crossed (between a number of mutual acquaintances, Twitter banter, etc.); we finally met up in real life at our favorite wine bar and have been friends ever since. Today, I am SO excited to have them take over the Kitchen & Turntable in an epic Takeover. Hannah is doing the Musical Pairing while Jeff is sharing a cocktail recipe that will blow your socks off. Not only because it's a delicious cocktail, but because he and Bread&Gin videographer Ji have made a VIDEO to go along with it. A cocktail mixing video, guys! There is mixology, there is music, there is a shoutout to Turntable Kitchen (!!!!) It's great to have you, Jeff! Be sure to check out Bread&Gin's entire collection of cocktail videos (they are SO well done) here. ~Kasey
My girlfriend and I decided to do something different to ring in the new year this time around. For 7 days in Baja California Sur, Mexico our biggest decisions for each day involved the options of going for a swim at the beach or reading in a hammock. And of course, what drink we would have to accompany us in either activity. We took advantage of the fresh local ingredients available and made mimosas, micheladas (beer and lime juice), and palomas (tequila, lime & grapefruit juice). Being off the grid without TV, cellphone service, or internet it was a refreshing splash into an once-familiar lifestyle that sent all the stress and noise of life back home into a harmless ripple of the clear blue sea before us. However, there was one thing I dearly missed and made me wish that I could have it shipped back from civilization: my perfect ice cubes.
At no point was my realization more crystalline than when under the tropical winter sun, my drink began to water down. The taste became increasingly disappointing with each sip. I dreamt of titanic glaciers from which I would chisel the core of Antarctica.
One of my best purchases last year was a new Tovolo ice cube trays. Having the necessary tools has allowed me to experiment with familiar cocktails and to concoct new ones. I recently joined my friend, Jichen Deng, in a new venture called Bread&Gin where we craft how-to videos for making cocktails. Today we're excited to premiere the video for our original drink "The Heist," a bourbon play on the classic Bee's Knees.
The Heist:
2 oz. bourbon, Bulleit
1/4 oz. orange bitter liqueur, Gran Classico
1/4 oz. honey syrup (see below)
1/2 oz. orange juice
Honey syrup:
Bring 1 part water to boil and pour in 1 part honey while slowly mixing. Once honey disintegrates, set aside to cool in the fridge.
About Bread&Gin
At Bread&Gin, we do our best to propagate unruly behavior through irreverent videos that take the voodoo out of mixology. Our goal is for you to have fun making your own drinks and hopefully inspire others in debauchery.
Musical Pairings: Don't forget to stop by the Turntable to check out Hannah's musical pairing featuring The Peach Kings to complete this Turntable Kitchen takeover.