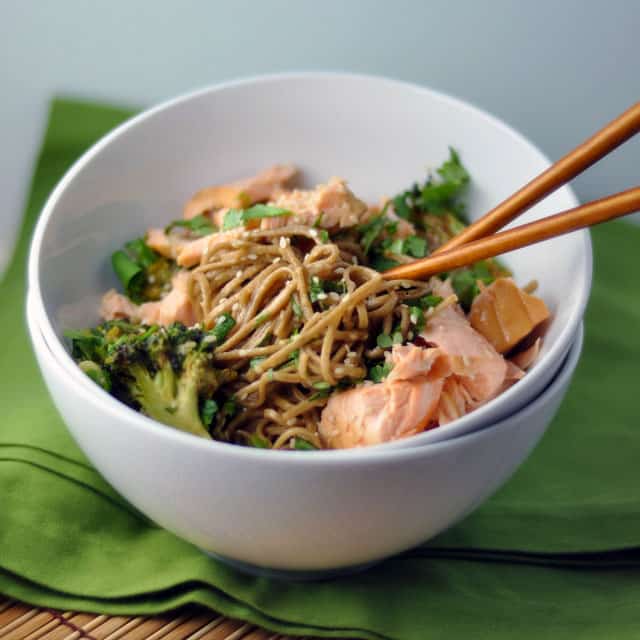 The first time I stumbled upon Sprouted Kitchen, I knew I had found my kind of place on the Internet. I instantly related to Sara. She had traveled to and lived in Italy, and so did I. She marveled at beautiful seasonal produce, and so did I. She was head over heels in love with a creative fellow who helped encourage her to pursue her dreams, and so was I. She was a thoughtful and reflective writer, and I thought I was, too. I began reading Sara's blog religiously. After I had devoured her small archive, I began to look forward to every new post and I found that she never disappointed me with her creative ideas, her fiancee's beautiful photos, and her lovely writing.
At first, I was just a lurker. Then a regular commentor. Then, Sara and I became Twitter friends. And then we finally got a chance to meet in person. It is the story of an Internet friendship that has seemingly become commonplace. I knew it was only a matter of time before Sara and Hugh, her now husband, would land a cookbook deal and when they did, I couldn't be more proud. I waited patiently to receive a copy and read it from cover to cover the night I finally did.
The Sprouted Kitchen cookbook is as true to the site — and Sara and Hugh — as I hoped it would be. There are a handful of recipes pulled from SK, but so many others that are inspiring and unique. I immediately bookmarked these Soba Bowls with Tea-Poached Salmon. Hugh says Sara loves 'bowl food' and, unsurprisingly, so do I. Other recipes on my shortlist include: Asian Tofu Tacos with Hoisin Slaw, Sesame Date Yogurt Cups, Flourless Chocolate-Banana Pudding Cakes with Cinnamon Cream, Fennel Slaw, Ranchero Breakfast Tostadas, and Braised White Beans and Leeks.
Let's talk about these noodle bowls, though. They do require several bowls to make, and a few ingredients that may not be commonplace in your kitchen, but trust me, they are so worth it. The sauce that Sara crafted is one I want to remake again and again. It gets its flavor from ginger, soy sauce, sesame oil, tahini, lime juice, honey (or agave nectar) and zest, and really rounds out the dish. The tea-poached salmon is super delicate and light, a perfect addition to the flavor-forward noodles. Roasted broccoli is one of my favorite ways to eat the vegetable. And soba noodles are a staple in my house; nutritious, earthy and easy to prepare.
Sara, thank you to you and Hugh for creating such a wonderful space on the Internet, and for bringing us your beautiful book. It is so you, and I so love it.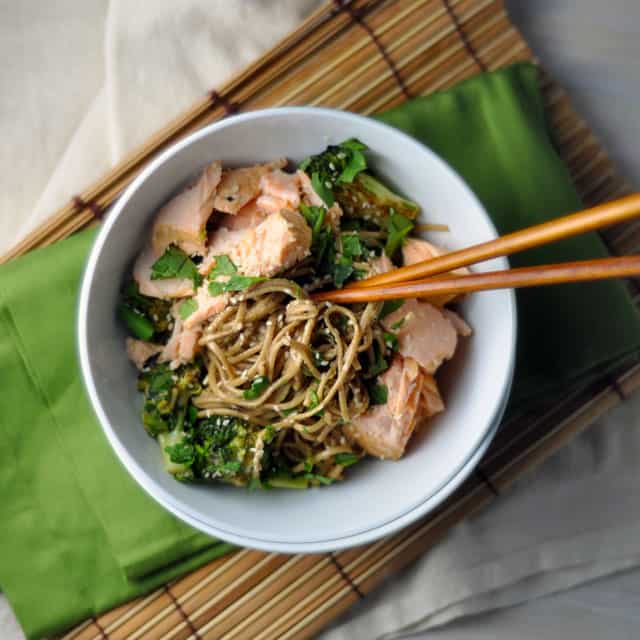 Soba Bowls with Tea-Poached Salmon
*serves four
adapted from The Sprouted Kitchen: A Tastier Take on Whole Foods
I adapted Sara's recipe only so slightly. I chose to use honey instead of agave syrup, and decided to chop up the broccoli into smaller pieces before roasting it. Overall, I found her directions to be straightforward and easy to follow.
1 – 1 1/4 pound of skin-on salmon fillet
3 tablespoons of toasted sesame oil
2 tablespoons of tahini
2 tablespoons of honey
1 lime, juiced and zested
3 tablespoons of soy sauce
2 inch piece of fresh ginger, peeled and finely grated
1 bunch of broccoli
2 tablespoons of extra virgin olive oil
1 clove of garlic, minced
sea salt, to taste
1 tablespoon of black peppercorns
3 bags of green tea
1/2 cup of mirin
1 package of soba noodles
4 green onions, thinly sliced
1/2 cup of roughly chopped cilantro
1/4 cup of sesame seems
1. Preheat your oven to 425 degrees F.
2. Whisk together the sesame oil, tahini, honey, lime juice, lime zest, and ginger in a small bowl, until you have a smooth sauce.
3. Trim the broccoli, cutting the bunch into bite-sized florets. Throw out any large, woodsy stalks. Toss the broccoli, garlic, olive oil and salt in a bowl. Transfer broccoli to a rimmed baking sheet and roast for 15 minutes.
4. Add 1 cup of water to a medium saucepan and bring it to a gentle simmer. Turn the heat down the low. Add the teabags and peppercorns. Once the water has been infused with the tea (about three minutes) remove the tea bags and add the mirin to the poaching liquid.
5. Slip the salmon, skin side down, into the poaching liquid. Cover the saucepan and cook the salmon for about 8-10 minutes, or until it is just barely cooked through.
6. Transfer the salmon to a plate and use a fork to flake it into bite-sized pieces. Keep warm while you prepare the soba noodles.
7. Bring a large pot of salted water to a boil. Add soba noodles and cook according to the package instructions (about 6 minutes). Drain noodles and add them to a large bowl.
8. If any broccoli pieces seem too big, cut them into smaller pieces and add to the noodles. Toss in the green onion and about half of the cilantro. Pour in the dressing and toss to coat.
9. Divide noodles among bowls, top with salmon, sprinkle with cilantro and sesame seeds. Serve warm.
Musical Pairings: Sean Hayes – Before We Turn To Dust + Soba Bowls with Tea-Poached Salmon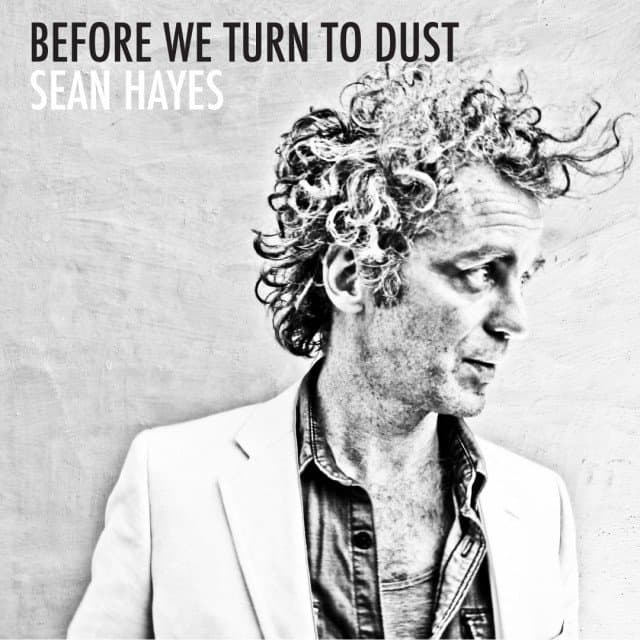 More on the Turntable.