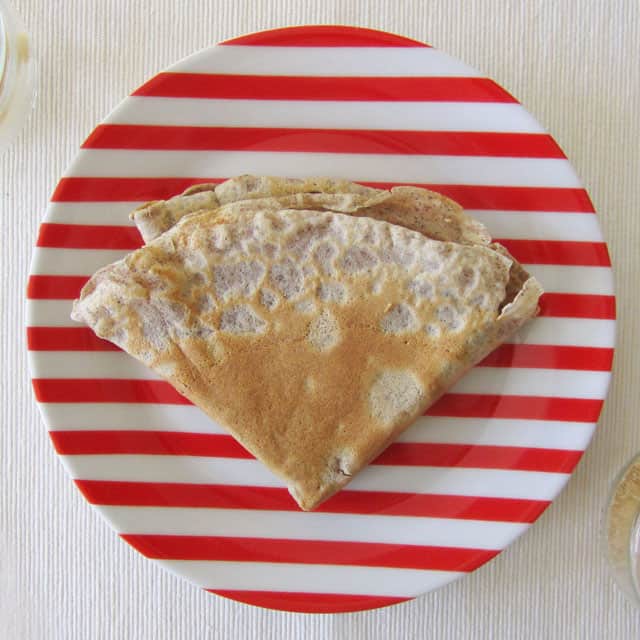 Let me introduce you to a girl who loves breakfast as much as I do and has a whole blog devoted to all things delicious in the a.m. I first came across Noelle's charming site, xo breakfast, through a link on Luisa's blog and been hooked ever since. From sweet to savory to just plain fun, Noelle's site is a really fantastic place to get inspired. Coincidentally, when I asked her to guest post on Turntable Kitchen while we ran around Sicily, Noelle pointed out she was spending some time in France. I'm excited she's sharing a recipe for one of my all-time favorite foods today — Crêpes with Sugar and Lemon! Welcome, Noelle.
Other than le fooding, my favorite French thing to do is le people-watching.
In Aix-en-Provence, where I spend most of my summers, the best spot for this is the Cours Mirabeau. The platane-lined sidewalks, cafes, benches, and epic fountains are always filled with locals, tourists, and the art school students who are something in between.
It's like the city making a mix cd for your eyes. And like songs, you can spend hours just wondering about people, inventing their histories, and even getting them stuck in your head.
The girls, of course, my favorite. French girls really are the epitome of unstudied, effortless, super cool. I would love to walk a day in their shoes to figure out how they do it. (And because they wear really cute shoes).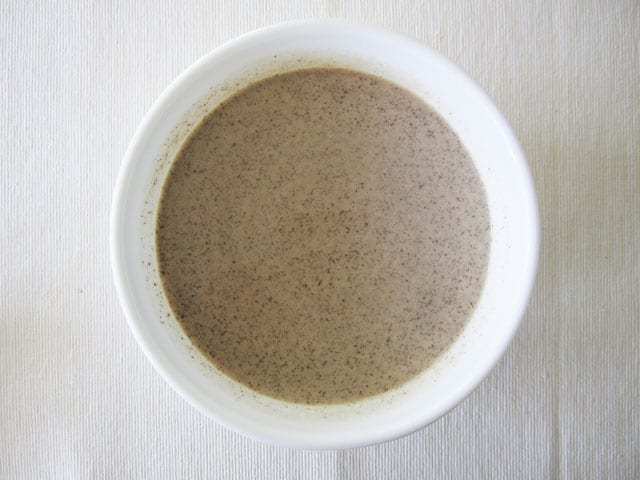 I have a few theories. Maybe it's the butter. Or maybe it's that they're not trying to be perfect, so they never look like they're trying too hard. They don't overdo anything, which makes everything they do have that natural easiness to it.
Which brings me to this crêpe. Not only is it the official snack of le people-watching, it's the perfect recipe for channeling your inner French girl.
A good crêpe is crispy on the edges, chewy in the middle, and easy to make. The hard part is choosing what to put in it. I noticed this sugar and lemon one is what the girls order.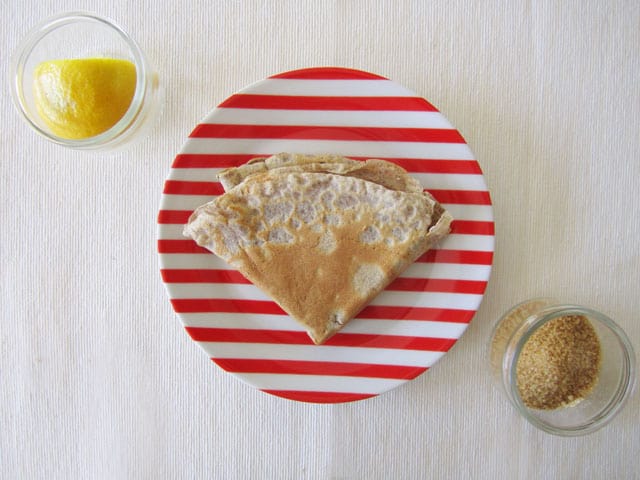 Crêpes with Sugar and Lemon
(adapted from Julia Child's Julia's Kitchen Wisdom)
Makes about eight 10″ crêpes.
1/2 c. all-purpose flour
1/2 c. buckwheat flour (or more all-purpose)
2/3 c. cold milk
2/3 c. cold water
3 TB butter, salted or unsalted, melted and cooled slightly, plus more for the pan
1/4 tsp. salt (leave it out if you're using salted butter)
sugar (turbinado is nice here)
lemon
In a blender or food processor, combine the flours, milk, water, melted butter, and salt. Blend until smooth. Refrigerate at least one hour, overnight is better.
Stir the batter before you begin — it should have the consistency of heavy cream. Add a little more water if needed.
Heat a crêpe pan or skillet over medium-high heat until drops of water sizzle on it. Rub the pan with butter and pour in the batter, just enough to thinly coat the pan as you swirl it around. I used a scant 1/4 c. for a 10″ pan.
Cook the crêpe for about a minute, until golden brown. Doing your best French girl impression, flip it. Cook this side for a few more seconds.
Sprinkle with sugar and squeeze lemon juice on top, not too much of either. Fold, plate, and find some people to watch.
Musical Pairing: