There is no season better than summer. Sure, other seasons have their charms, but from the time we are small children, we are instilled with a love for summer. Summer is being able to run in the grass barefoot. Summer is staying out later than you normally would because you don't realize it's already nine o'clock because it's stillhttps://www.turntablekitchen.com/wp-admin/media-upload.php?post_id=1183&type=image&TB_iframe=1 light out. Summer is girls in sundresses. Summer is picnics in the park. Summer is falling in love (or at least in lust). I could keep going because, if you haven't guessed already, summer is my absolute favorite season. I've grown to love others–fall, for example. But summer still holds a special place in my heart for a number of reasons.
With summer, comes bounty. Stone fruits–peaches, apricots, nectarines. When summer rolls around, I fill my grocery bags with so much stone fruit, I feel like I need to eat four seasons' worth. I dream of those fuzzy-skinned fruit all winter and spring long and mourn their demise in the fall. Most of all, I think I love summer because it is full of life. Vibrant colors, tastes and smells. Summer makes people happy.
Summer's bounty also provides for an abundance of delicious dishes that don't require much complexity. When you have peak of season ingredients, you don't need much to end up with something delicious. Like this salad, that I pulled together as a side to some fantastic steaks Matt and I grilled up using some Kona coffee spice rub that we got from Kauai. The ingredients are approximated because there's really no way you could go wrong: toss together some fresh arugula, peach slices, quartered cherries, toasted pecans and goat cheese with a bit of olive oil and balsamic vinegar. Salty, sweet, nutty, creamy and lightly bitter–all in one mouthful.
Sometimes, when I bite into a peach, I feel like it sets off a long chain of happy thoughts. Love is a chain of loves and on a summer day like today, I'm sending my chain to a very special someone that would probably really enjoy this peach.

Summer Stone Fruit Salad
*serves 2-3
3 cups of arugula (organic, if available)
1-2 two small peaches, cored and sliced thinly
1/4 cup of toasted pecans
6-8 cherries, pitted and quartered
1/3 – 1/2 cup of crumbled goat cheese
extra virgin olive oil, to taste
balsamic vinegar, to taste
freshly ground pepper
1. Combine the arugula, peach slices, cherry quarters, pecans and goat cheese in a large salad bowl.
2. Drizzle with olive oil and balsamic vinegar, to taste (approximately 1-2 tablespoons of the former and 1 tablespoon of the latter). Season with freshly ground pepper and toss to combine.
Musical Pairings: Wild Nothing – Gemini + Summer Stone Fruit Salad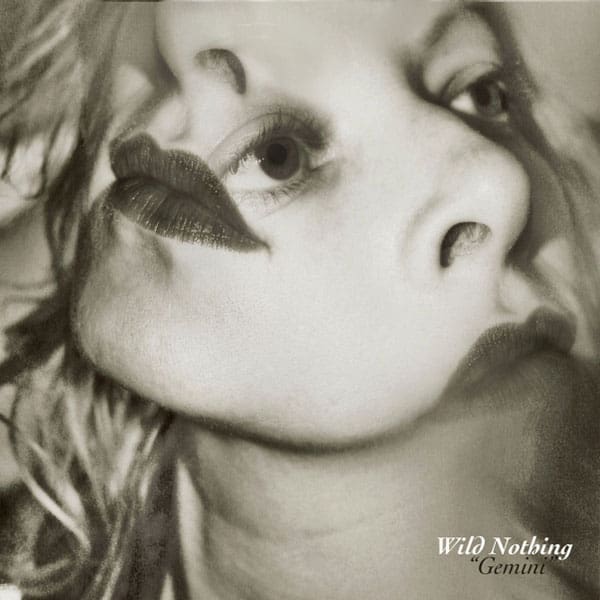 The summer stone fruit salad that is featured on eating/sf today is fresh, light and summery. It is flush full of flavor and feels surprisingly substantial. Today's pairing is an album that is similarly fresh, light and summery – and an album that also feels substantial: Wild Nothing's Gemini. Wild Nothing is the solo project of Virginia's Jack Tatum, and his debut was just released on Captured Tracks. The album is a smooth blend of nostalgia-inducing synth, trebled-washed guitar riffs, and crisp drum-machines. Words like "hazy," "dreamy," and "nostalgia" have been getting a lot of play in describing bedroom recording artists recently, but make no mistake, Wild Nothing has more in common with 80's pop music than with chillwave. More over at Musical Pairings. –Matthew