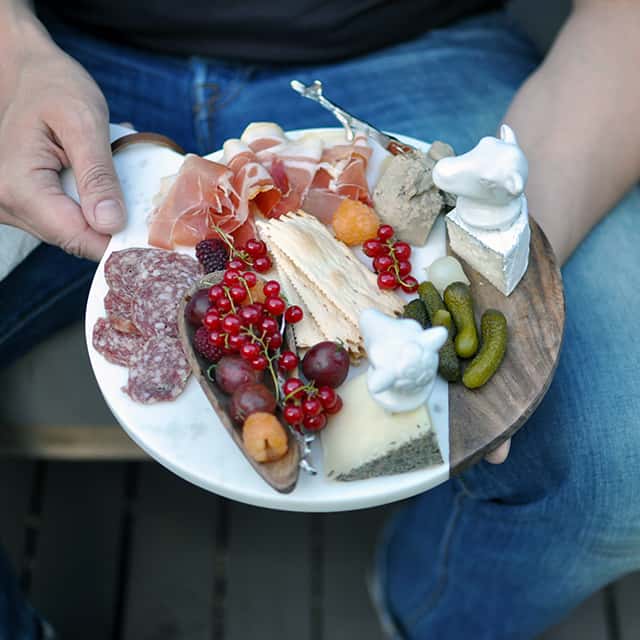 Charcuterie plates have gained major traction over the last couple of years but I like to think I've been creating and eating them well before they were ever 'cool.' Being Russian, I'm very familiar with the concept of eating a plate of cold cuts, pickles, and vegetables as a pre-dinner appetizer (we call them zakuski). Growing up, there was never a shortage of kielbasa in the fridge, in every shape and form. My dad and I could easily survive on pickles and meats alone. And now, it seems, I've passed down my love of all things pickled and cured to my daughter, who is happy to nibble on salami, as long as it isn't spicy.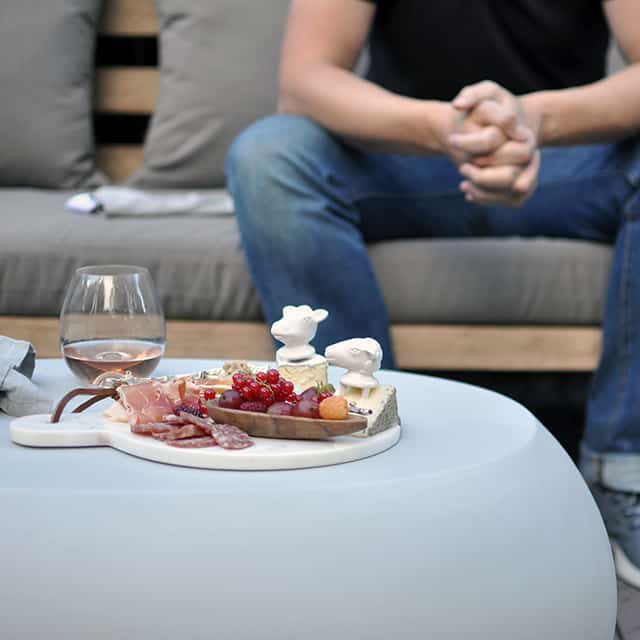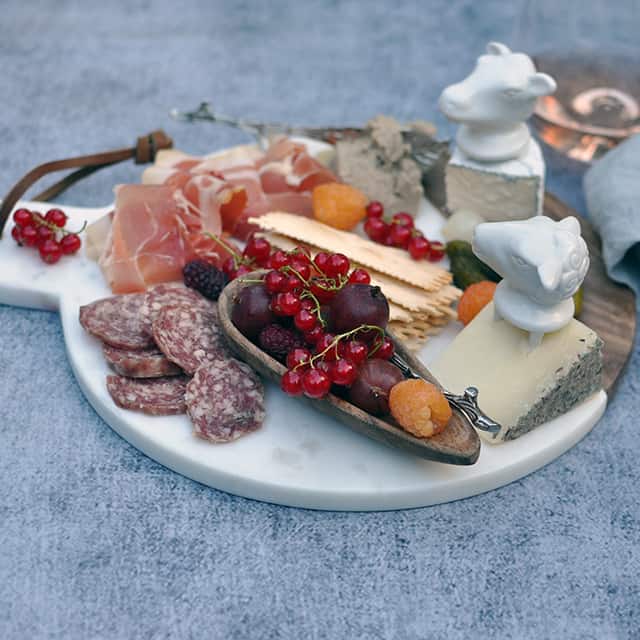 Traditionally, a charcuterie plate is comprised entirely of meats: sausage, bacon, pâtés, terrines, and the like. So, basically a bunch of pork on a plate in a variety of forms. But these days, we use the original concept more as a foundation than the rule for building a charcuterie plate.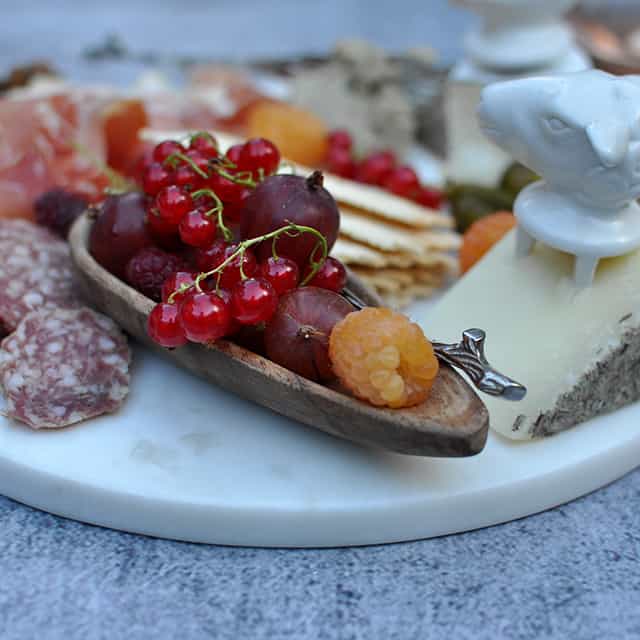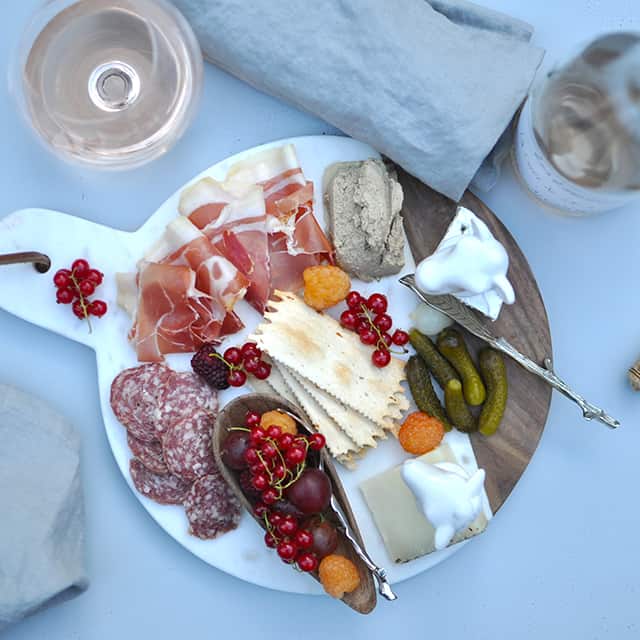 The beauty of the charcuterie plate is that it's infinitely flexible to accommodate the season, and the occasion. We've been spending a ton of time in our backyard these last few months because I've been told that living in Seattle, now is the time to live it up. It stays light out well past 9 pm and we finally have a nice deck setup, which includes this awesome outdoor couch and concrete table from West Elm. A few days ago, we stocked up on a ton of local berries, and enjoyed a variety of meats and pâtés kindly sent to us by Les Trois Petits Cochons so I thought I'd share with you my easy approach to building a charcuterie plate.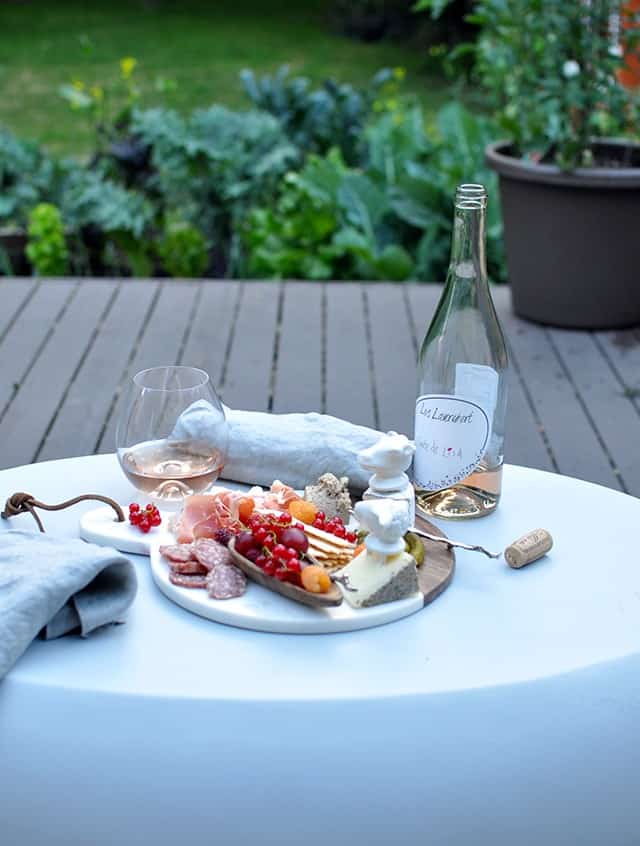 Grab a board. Any board will do, really, but a nice wooden cheese or cutting board really ups the presentation. The combination of marble and wood looks lovely on a table, in my opinion.
Start with meats. I think the key to a good charcuterie plate is a wide variety of options. Good choices include: prosciutto or bresaola, Saucisson Sec, confit, and a spreadable pâté. By mixing up textures, you have the option of eating the meat with your hands, putting it on a cracker, or spreading it on some crostini.
Add crackers and bread. My go-to crackers are thin and crisp: they're more of a vessel to carry the meet and cheese than the star of the show. If you have the room, provide a variety that includes herbed crackers, and maybe some with dried fruit. I also like to add thinly sliced baguette to the board, giving you the option of using it as a base of spreadable pâtés, creamy cheeses, and preserves.
Introduce cheese. The selection of cheese presented to you at any gourmet grocery store is staggering but you really can't go wrong with one hard and one soft cheese option. Ask the cheesemonger for their recommendation. My favorite charcuterie board cheeses include Manchego (a Spanish sheep's milk cheese), Mt.Tam (a creamy cow's milk cheese from Northern California made by Cowgirl Creamery), and Humboldt Fog (a delicious, soft goat cheese made by Cypress Grove Chevre). If you're having a party, use cheese markers to let your guests know what you're serving.
Throw in some pickles. Whether homemade or store-bought, pickles are a great addition to your charcuterie plate. Tiny little gherkins, pickled carrots and beets, and caperberries are all excellent choices.
Dress up with color. Now that you have your meats, cheeses, and carbs, it's time to bring some color into the mix. This is where the 'seasonal' element plays in. In the summer, I love to add berries (raspberries, currants, gooseberries, and blackberries). Grapes are always a good choice and come fall, I can't get enough of figs. When fresh fruit is out of season, swap in preserves, both savory and sweet. My favorites are fig, wild berry, and cherry. Honeycomb is another excellent choice for a charcuterie plate, as are dates.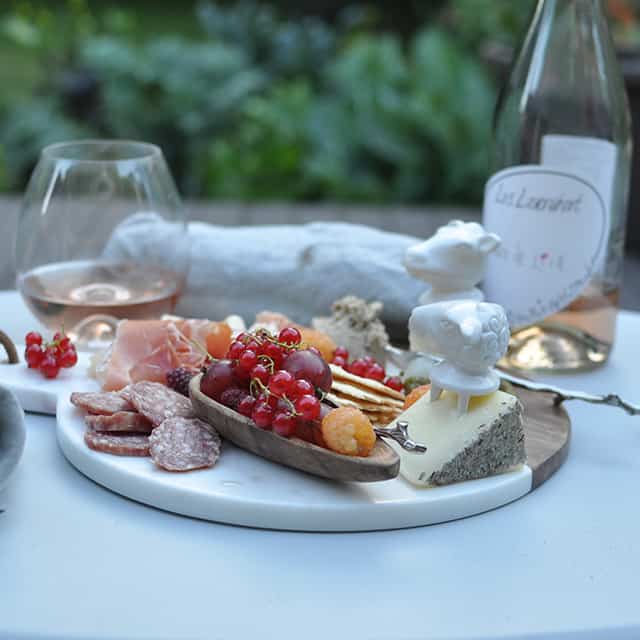 So there you have it! My stress-free approach to building a charcuterie plate that'll take you from this summer to the next. I highly recommend pairing your charcuterie plate with a bottle of rose. Hope you all had a great fourth of July! Can you believe it's already Wednesday?
P.S. One year ago, today!
Les Trois Petits Cochons sent us a variety of their products to try, but this post is NOT sponsored and as always, all opinions are my own.