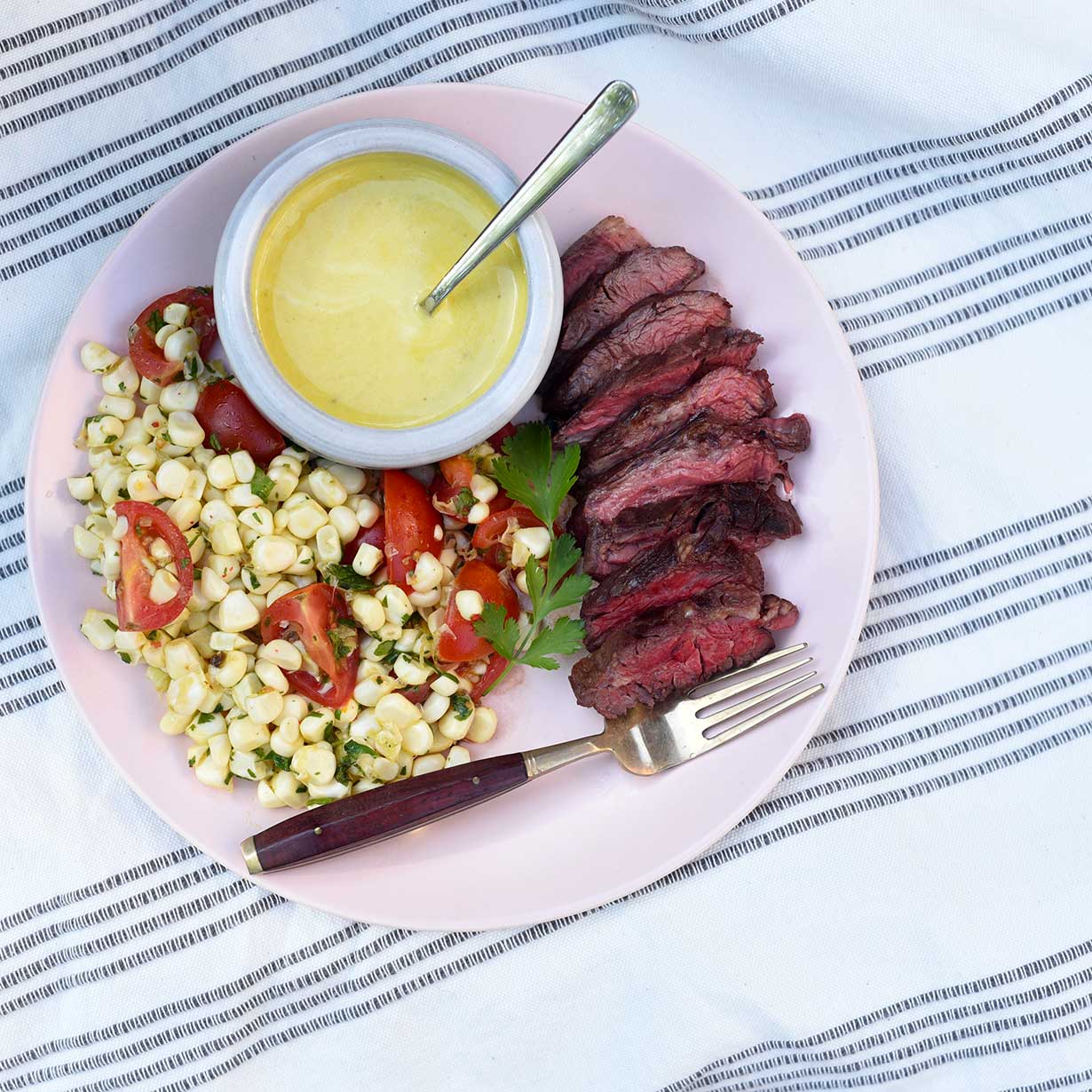 This is a sponsored post in partnership with Oregon Country Beef, a family ranch-owned co-op, and PCC Community Markets. All words and opinions are our own. Thank you for supporting the brands that help us do what we do!
I often feel an insatiable thirst for summer long before it's arrived, and long after it has ended. I'm one of those people who truly believes there is no better season. As someone who's particularly routine-oriented, and (let's face it) a bit uptight, I find that summer is a time to let your bearings loose a little.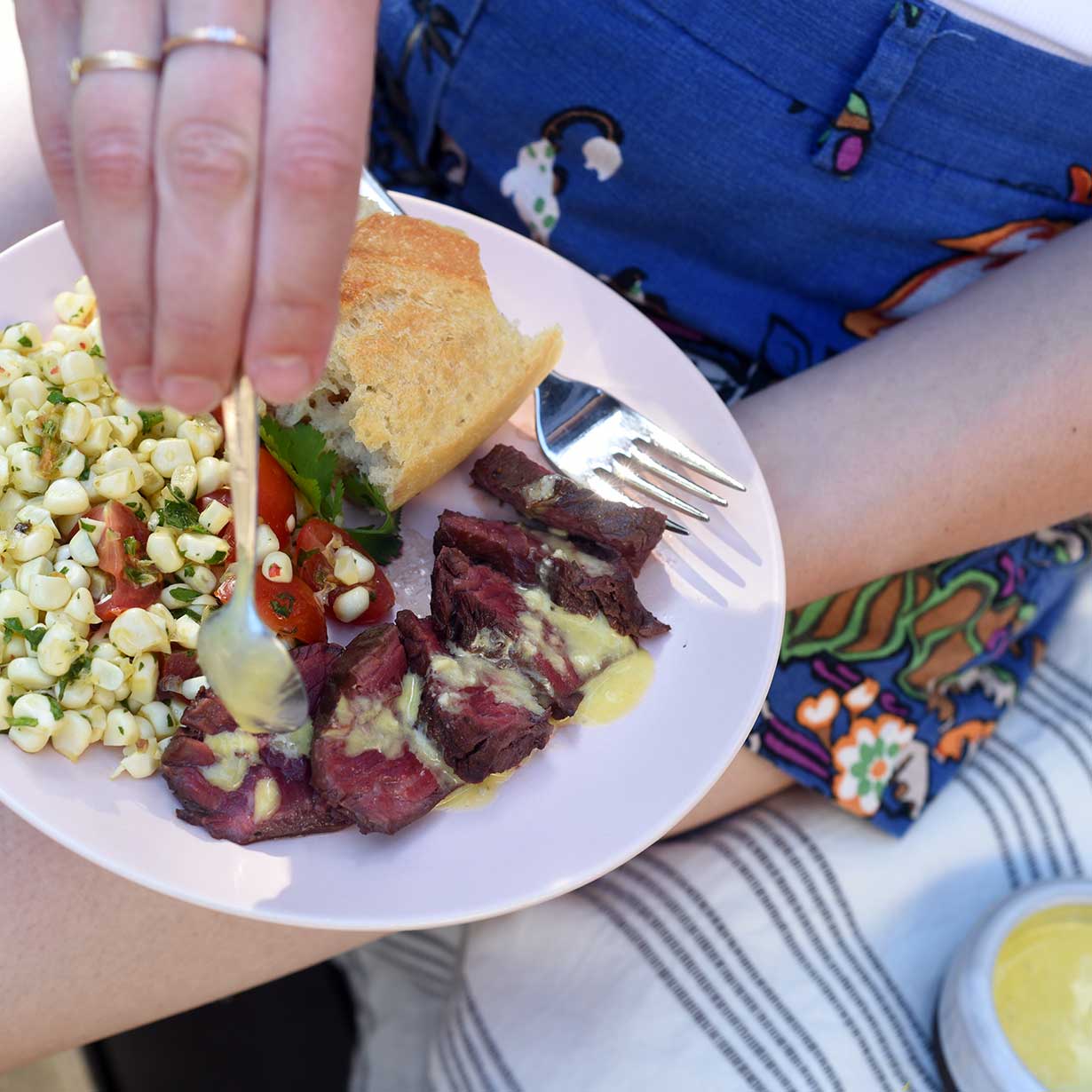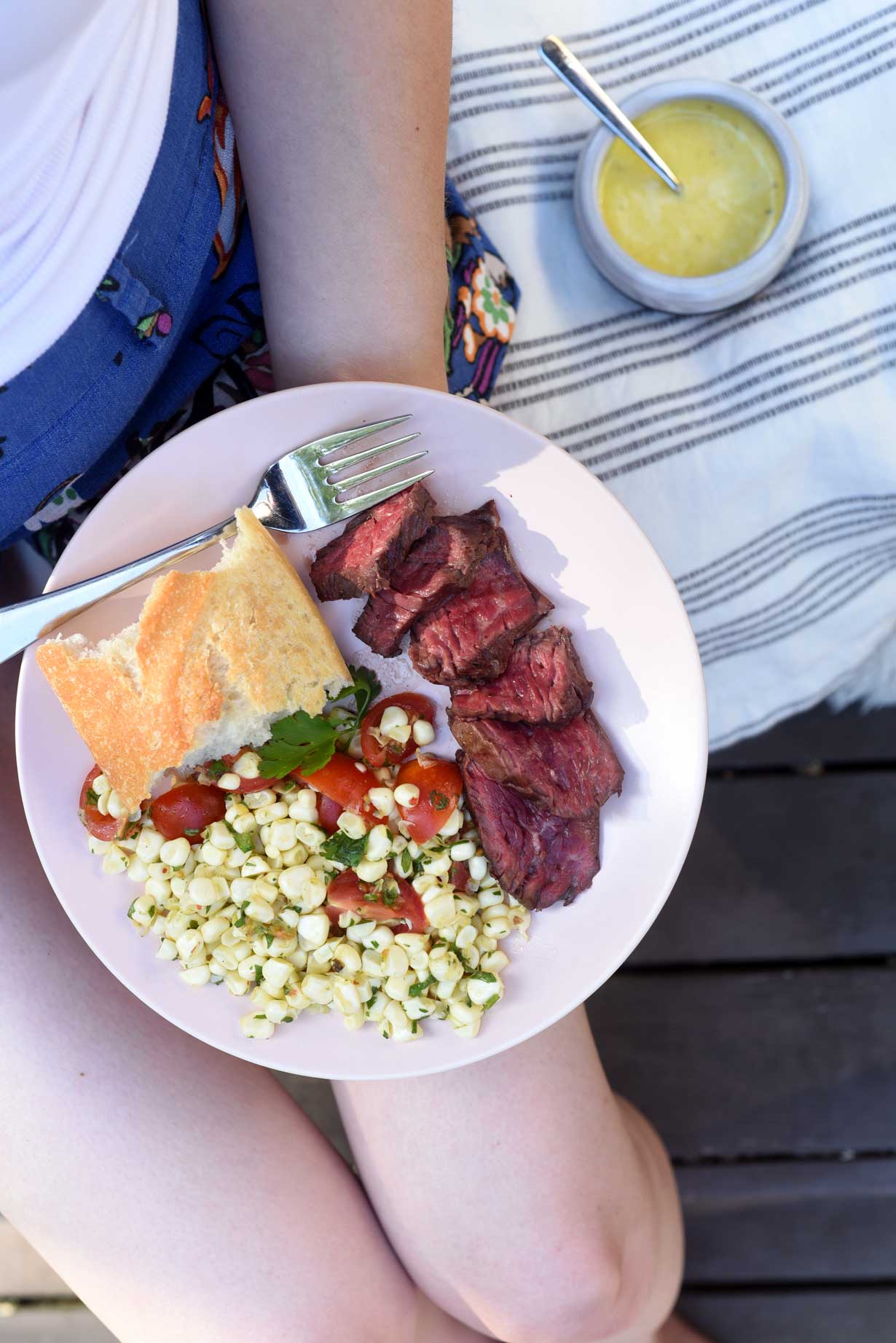 For me, that usually means an increased intake of ice cream and wine (during the DAY, if possible), an outrageous amount of berries (or really any seasonal, organic produce available at PCC Community Markets), and a looser bedtime for the kids. If only I could extend my own to make up for it! If there's one reason to live in Seattle, it's definitely for the summers. They make you (briefly) forget all about the cold, gray, misty winters just long enough to refill your cup and stock up on vitamin D.
In the summers, our house feels 10x bigger because our living room "extends" into our backyard. I highly recommend outdoor daybeds, if you have a spot for them. Most weekends — and most weekdays, really — you can find us grilling, using premium ingredients like natural beef from the family-owned ranches of Oregon Country Beef. We grab our speakers, a bowl full of fruit, chips, and some adult beverages, and park on the deck for a few hours. This is the life.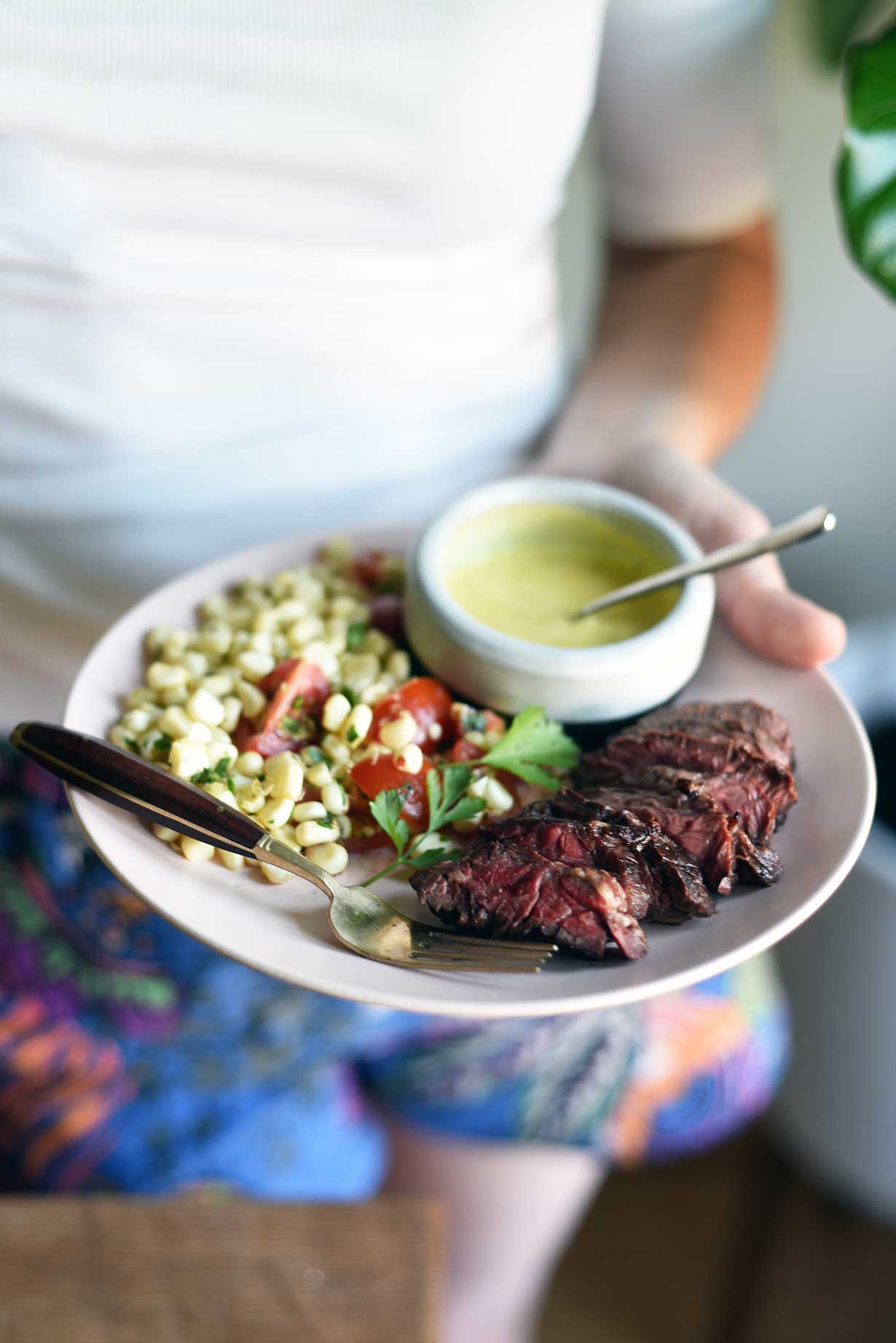 A few weeks ago, we created a Cuban-inspired grilled hanger steak with a tangy (but totally kid-friendly) mojo sauce using ingredients from our friends at PCC and OCB. Like me, they're passionate about cooking with high quality, seasonal ingredients. Plus, like all products at PCC, OCB's beef has passed rigorous product standards, and is free of antibiotics and added hormones.
I paired it with the summer equivalent of my winter slaw: a lime-marinated corn salad. Like ceviche, it "cooks" in the lime juice but retains that lovely sweet crunch. I brightened it up with pink peppercorns, which you can pick up at your local PCC. Traditional Cuban mojo sauce is made with garlic, olive oil, and plenty of citrus juice; we blitz ours in a high-powered blender to make it extra smooth.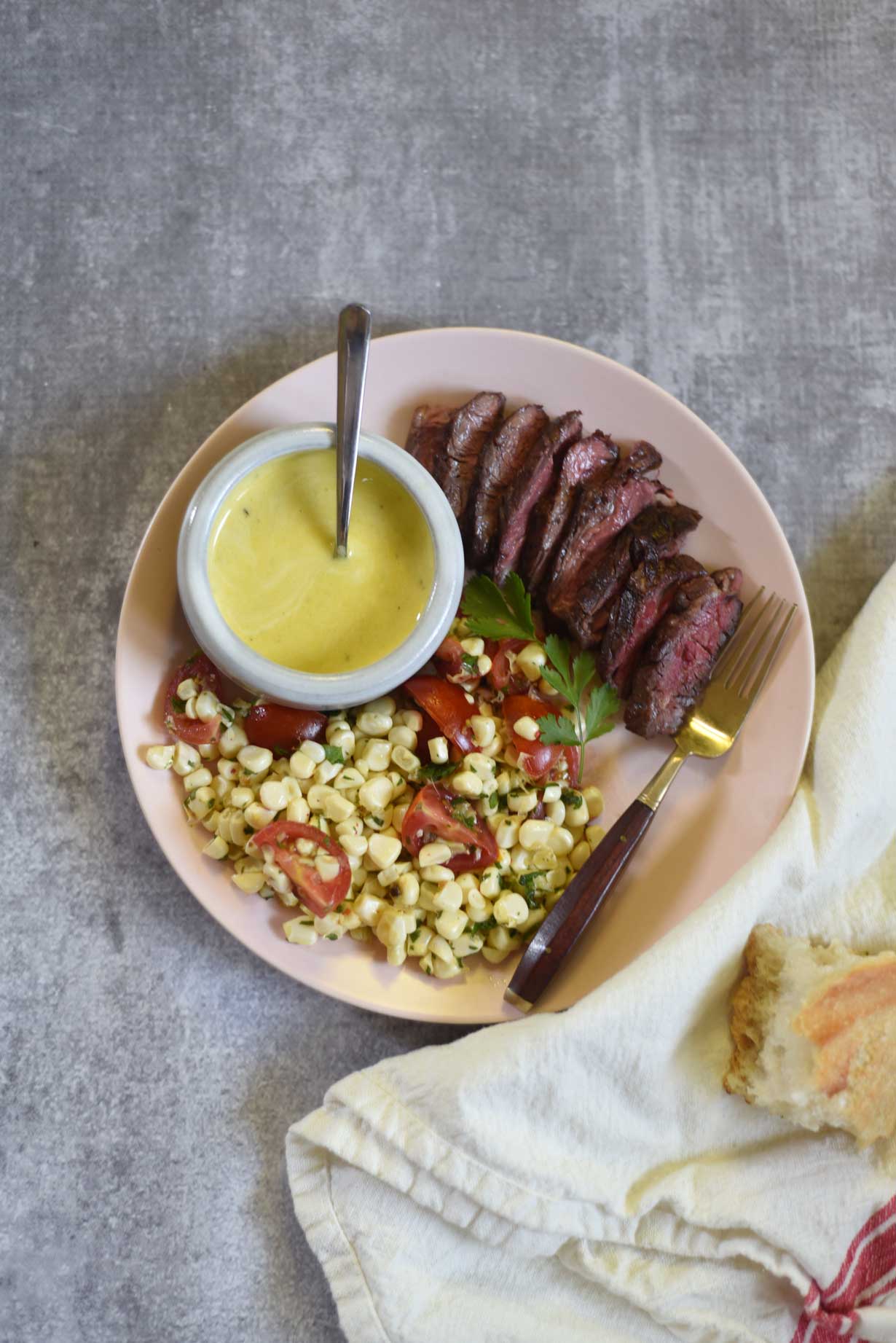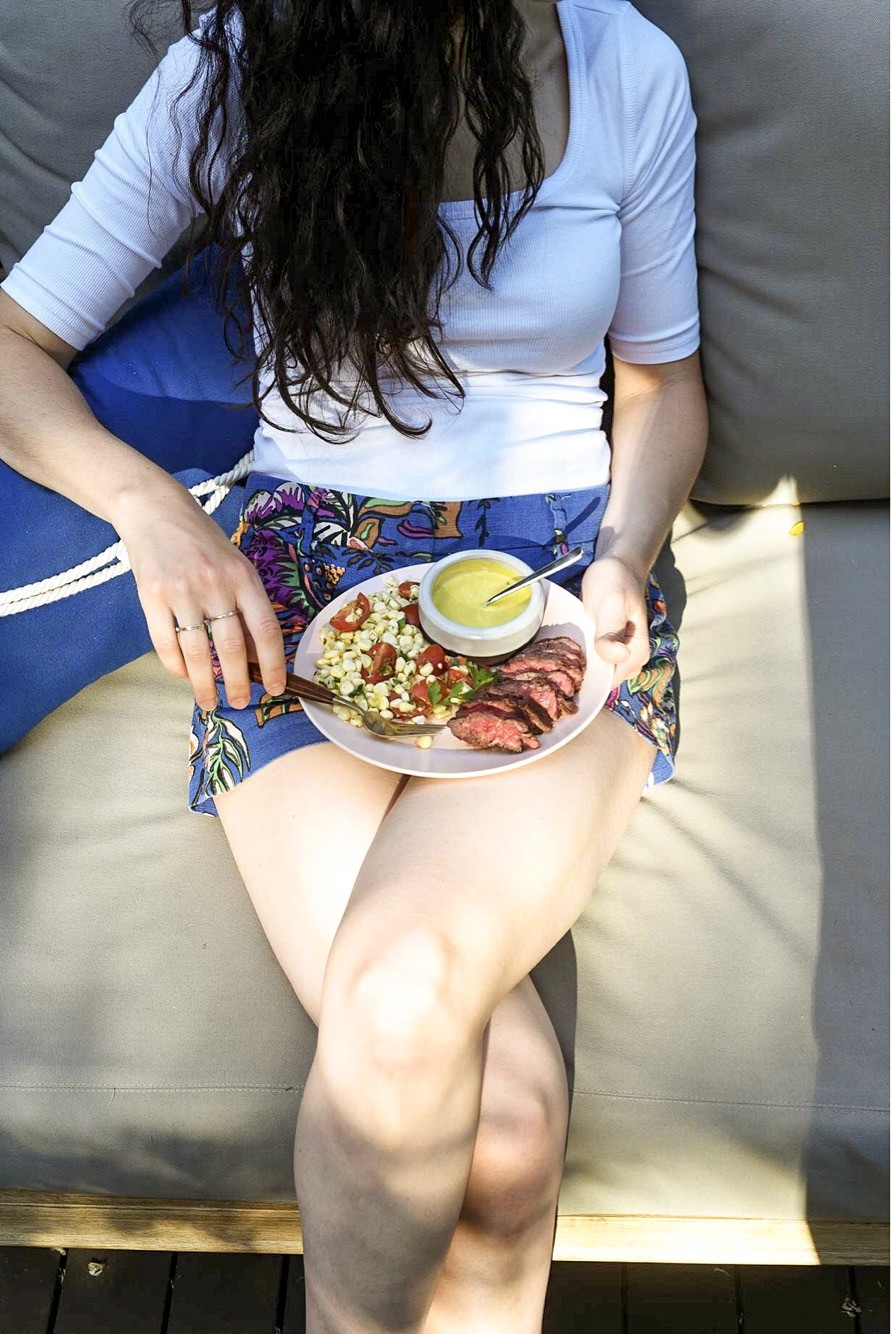 Hanger Steak with Mojo Sauce and Lime-Marinated Corn Salad
For the steak:
2 pounds of hanger steak (we used Non-GMO Project Verified meat from Oregon Country Beef)
For the marinade:
6 sprigs of cilantro
1 shallot, finely chopped
4 cloves of garlic, finely chopped
1 teaspoon of black peppercorns
Kosher salt, to taste
2 tablespoons of olive oil
For the mojo sauce:
1/3 cup of olive oil
1/3 cup of fresh-squeezed orange juice (from approximately one orange)
1/3 cup of fresh squeezed lime juice (from approximately two limes)
12 cloves of garlic, finely minced
1/2 teaspoon of dried oregano
1 teaspoon of dried cumin
kosher salt, to taste
For the corn salad:
5 ears of corn
¾ cup of cherry tomatoes, quartered
¼ cup of freshly squeezed lime juice
¼ cup of olive oil
Flaky sea salt, to taste
1 teaspoon of pink peppercorns, crushed using a mortar and pestle
1 handful of cilantro leaves, finely chopped
1. Place the steak in a bowl and rub generously with olive oil.
2. Add all the remaining ingredients and rub to evenly cover steak. Move the steaks to a freezer bag and refrigerate for about two hours.
3. To make the mojo sauce, add all the ingredients to a blender and blitz until smooth.
4. To make the corn salad, cut the kernels off the cobs, and add to a large bowl. Add in the cilantro and tomatoes.
5. Whisk together the lime juice and olive oil.
6. Season the corn with sea salt and crushed pink peppercorns. Drizzle in the dressing and toss to coat. Season to taste and add more salt and pepper, as needed. Let sit for at least 30 minutes in the refrigerator before serving.
7. Preheat an outdoor grill to high heat shortly before you're ready to grill your steaks.
8. Place the steaks directly on the grill and cook for about 4-5 minutes per side for medium rare (until a meat thermometer inserted in the steak reads 140 degrees), or slightly longer for medium (until an internal temperature of 155 degrees is reached).
9. Slice the steak into thin slices against the grain.
10. To serve, spoon some corn salad onto a plate. Arrange steak slices on the side. Serve the mojo sauce on the side and spoon over the steak, to taste.
Recommended Musical Pairings:
Whitney – Light Upon the Lake
Whitney's debut album is a warm and woozy album of softly strummed guitar riffs, lifting strings, and bright, slurred brass. It's the musical equivalent of a warm summer night and an obvious pick for a backyard cookout with family and friends.
Janelle Monáe – Dirty Computer
Monáe's latest offering is a joyous, vibrant, and sonically eclectic pop album that touches on inspirations ranging from Radiohead to Prince. It's bright, it's big and it'll give your outdoor shindig plenty of 'oomph' just like our mojo sauce.
Tom Petty – Full Moon Fever
What can we say? Grillin' out in the backyard and Tom Petty are as classically American as you can get and Full Moon Fever is packed with so many hits it might as well be a greatest hits collection. There big hits like Free Fallin', I Won't Back Down, and Runnin' Down a Dream, alongside equally awesome but less celebrated classics like Love Is A Long Road and Yer So Bad.