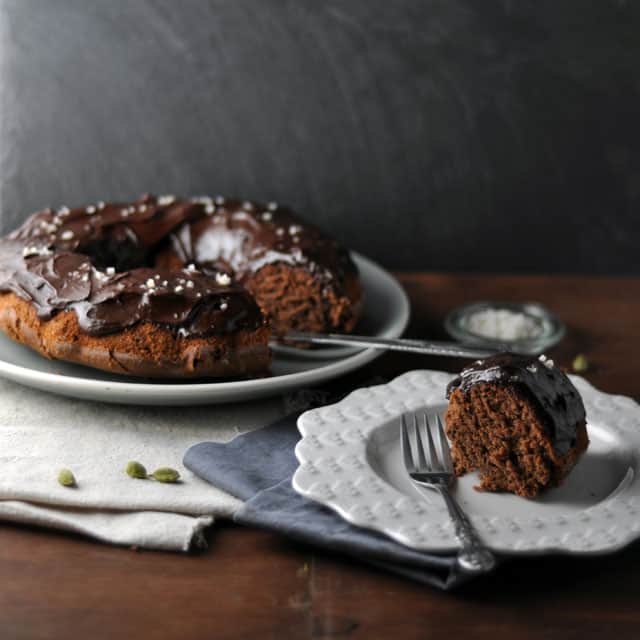 A few weeks ago, I was listening to NPR in my car, as I often do. In between world news and the circus that is a presidential election year, came a refreshing story about forming habits. I learn about all sorts of things on NPR, and this day was no exception. The talk was about a new book, written by a New York Times business reporter, and its focus was on the formation of habits and, in particular, how brands and advertising can actually help us form habits. You may not think, if brushing your teeth is a habit, that this activity is just that: a habit you've formed. But how did it evolve? It's likely when you were young, your parents instilled this habit in you. And their parents instilled it in them. And who instilled it in their parents? Possibly, the advertiser behind the very first toothpaste brand, which made people believe that brushing your teeth should be a habit.
All this talk about habits made me wonder about my own daily and weekly habits, and how difficult it is to break out of them. For example, try asking me to not eat something sweet after dinner. Or, try making me sleep on the left side of the bed. Give me the challenge of never again putting chapstick on my lips. Habits, I've found, can be both positive and negative influences in our lives. For example, in high school, I stopped drinking soda and began drinking only water, making it a habit to carry around a water bottle everywhere I went. This habit transitioned into drinking 8 or more glasses of water per day. I've made it a habit to exercise at least twice per week in some form or fashion (walking, going to an exercise class, riding my bike). Weeks when I get too busy or am traveling, I miss this healthy 'addiction'!
I've been thinking: if  habits can become such an internalized part of our everyday lives, is the hardest part the commitment to actually make something a daily routine or decide to break the cycle? That very first day. Getting over the hump. We, as people, are inherently habit-forming creatures, after all.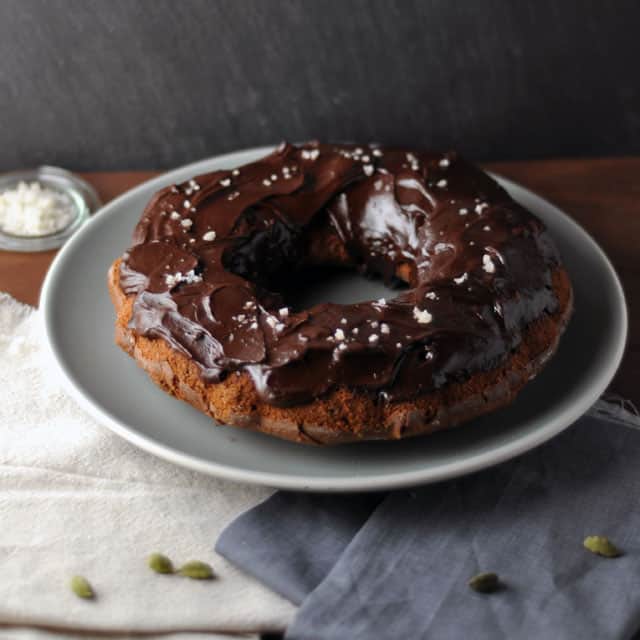 There's one (good) habit I've formed lately and it's baking with whole grains. I give thanks to Kim Boyce and her incredible first book, Good to the Grain. Kim, I attribute my overflowing pantry to you! These days, it's full of whole wheat, amaranth, barley, rye, buckwheat, graham, and corn flours. And, each time I decide to bake, I just can't help dumping in a little of this and a little of that.
As a creative person, I think it's actually healthy to revisit your habits, and decide which ones are worth keeping and which you should kick to the curb. The people I admire — be they writers, photographers, entrepreneurs, artists, or poets — are people who are consistently breaking habits; their own and others'. And today, I'm inspired by this call to break a few more of my own (baking with whole grains isn't one of them!).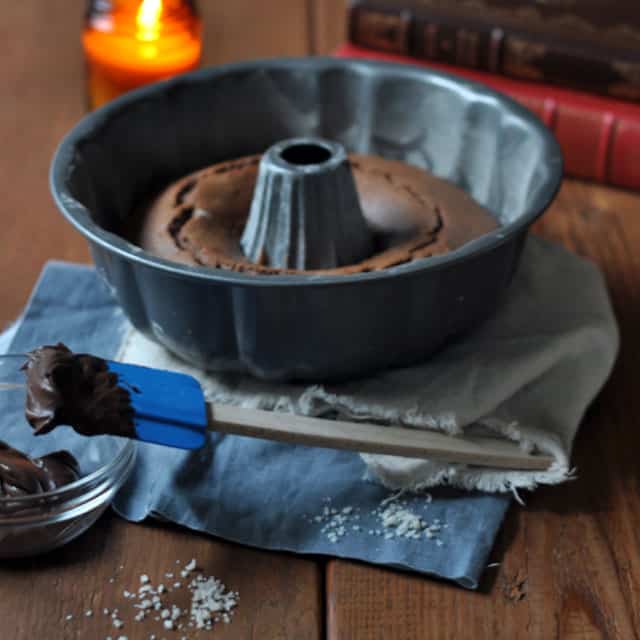 This cake, which I baked several weeks ago, was inspired by a stunning image from Heidi Swanson. She baked this gorgeous chocolate stout bundt and I was ogling over it for days, until I found the inspiration to create a cake of my own, in Kim's book, of course. I don't bake a lot of bundt cakes, and this one was a good reminder to use some of my under-loved baking-ware. I love spicy chocolate and I must say that the salty chocolate frosting was the special touch that took this spiced cake a little over the top. In a good, habit-forming, way.
Spiced Whole Grain Chocolate Cake with Salted Chocolate Frosting
Cake recipe generously adapted from Good to the Grain, frosting adapted from 101Cookbooks
Those of you on the receiving end of the April Pairings Box will enjoy this month's Premium ingredient, cardamom (also known as the 3rd most expensive spice in the world!). Use it to also make this cake! Order your Pairings Box today.
1/2 cup of amaranth flour
1/2 cup of whole wheat flour
1/2 cup all-purpose flour
1/4 cup of cocoa powder
1/2 cup of brown sugar
1/4 cup + 1 tablespoon of cane sugar
1 1/2 teaspoons of baking powder
1/2 teaspoon of kosher salt
1/2 stick of unsalted butted, diced into cubes
2 eggs, separated
1/2 cup of milk
2 tablespoons of apple butter
1 green cardamom pod
For the salted chocolate frosting:
3/4 cup of powdered sugar
1/4 cup of cocoa powder
1/4 cup of heavy whipping cream
French Gray Sea Salt
1. Preheat the oven to 350 degrees F and generously grease (with oil or butter) a bundt pan. Flour it generously, making sure it's well-greased and floured in all of the crevices.
2. Sift together the flours, cocoa powder, baking powder and salt into the bowl of a stand mixer. Whisk in the brown sugar and 1/4 cup of cane sugar.
3. In a separate bowl, whisk the egg yolks (set the whites aside in a small bowl) with the milk and apple butter.
4. Stir the egg mixture into the dry ingredients until well-incorporated. Add the butter and beat on medium speed until fluffy and completely smooth. Break open the cardamom pod with a blunt object. Remove the black seeds and grind them as finely as you can with a mortar and pestle, or a spice grinder. Add the ground cardamom to the batter and beat briefly to incorporate. Transfer the batter into a separate bowl and clean the bowl of your stand mixer. Wipe it completely dry. Switch the beater attachment for a whisk.
5. Add the egg whites to the bowl of the stand mixer and whisk until they are light and fluffy. Add a tablespoon of sugar and whip until the egg whites are glossy and hold peaks (though not stiff). Scrape in half of the egg whites into the batter, folding in gently. Add the rest of the egg whites until fully incorporated.
6. Transfer the batter into the pan, smoothing the top.
7. Bake for about 30- 35 minutes, rotating halfway through the baking time, until the edges of the cake start to pull away from the pan and the top springs back lightly when you gently press down on it.
8. While the cake bakes, make the frosting. Combine 3/4 cup of powdered sugar, 1/4 cup of cocoa powder and 1/4 cup of heavy whipping cream in a bowl. Whisk until creamy and thick (thin it out by adding milk, no more than 1 tablespoon at a time).
9. Once the cake has been inverted, frost it and sprinkle it with French Gray sea salt, to taste.
Musical Pairings: Tanlines – Mixed Emotions + Spiced Whole Grain Chocolate Cake with Salted Chocolate Frosting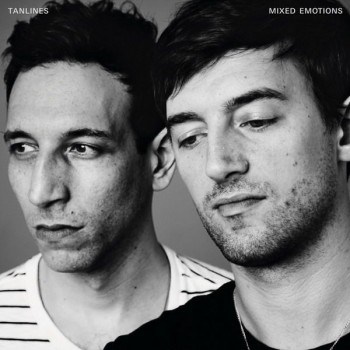 More on the Turntable.