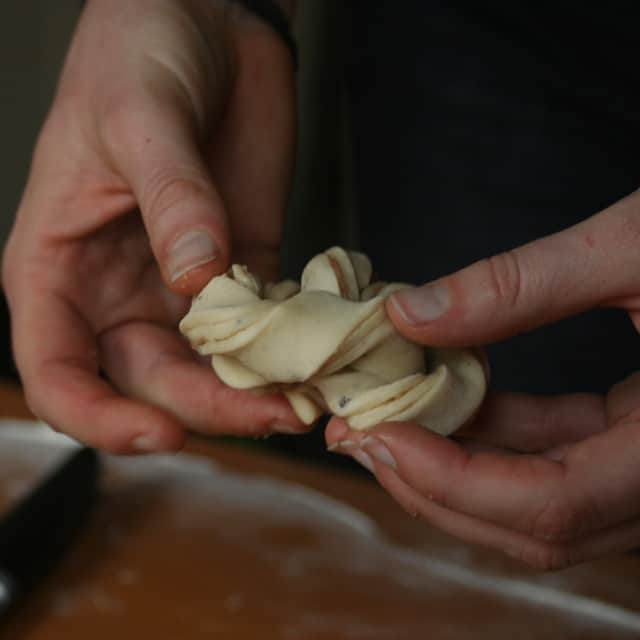 Anna has been a lovely reader of Turntable Kitchen for some time, so when she came to us suggesting she pull together a special playlist and recipe for Swedish Cinnamon Rolls, we were smitten with the idea. We hope you enjoy a special Saturday treat in the form of Kanelbullar, and some Swedish tunes to go along with them, courtesy of Anna Brones. Thanks, Anna! — Kasey 
You can't talk about Swedish kanelbullar — cinnamon rolls — without talking about fika.
Ask a Swede to tell you one Swedish word that you should learn, and there is a large chance that they will respond with, "fika." Loosely translated, fika means coffee break. But like with all foreign languages, the true meaning gets lost in translation. Any Swede will be quick to tell you that fika isn't just a word, it's an activity; the act of sitting down to enjoy coffee and baked goods. It is such a time honored tradition that you will find fika scheduled into the workday of any Swedish establishment. Volvo, IKEA, Ericsson – they all have a break in the day for fika; Swedish efficiency is fueled by coffee.

But back to the cinnamon rolls.
Fika can be a combination of coffee and a wide variety of baked goods and cakes, but kanelbullar are fika in its most classic form. You will find them at any café, any grocery store and board a train in Sweden and there will be at least one passenger in your car that has taken along a cinnamon roll to enjoy on the ride.
Mormor — my Swedish grandmother — always has a stash in her freezer that we can put in the oven to defrost when I come to visit. There in her third floor apartment in the heart of Sweden, we have fika at 10 and 2 (give or take half an hour), and her home baked cinnamon rolls are served with a white thermos full of Löfbergs Lila on her balcony. She brings out porcelain coffe cups. The kind that only a grandmother would use on a regular basis, intricately painted and with matching plates. The cinnamon rolls line a tray, which she places in the center of the table. The paper baking cups are crisp from having been in the oven, and crinkle as you peel away the cinnamon roll, which always has a strong scent of cardamom, the preferred spice of Swedish baked goods. Mormor always has a variation on the classic theme, which as long as I have known her has been a dough and almond paste combination that only she can make. Grow up on Mormor's kanelbullar and you start to have high expectations of your coffee breaks.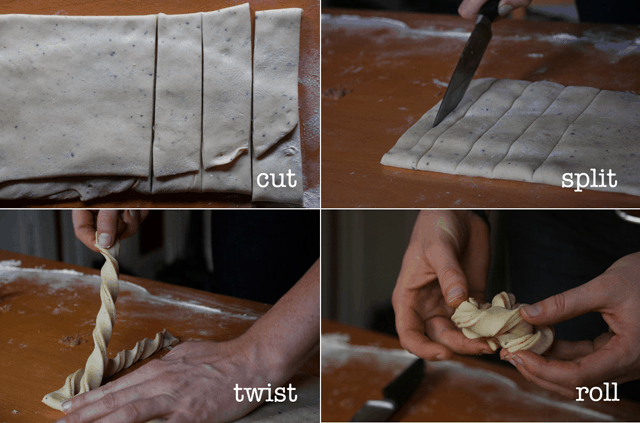 As a baked good, kanelbullar are relatively simple, but the trick is in the spices and the filling. I use the tried and true dough recipe from Sju Sorters Kakor — a cookbook first published in 1945 and that is a staple in the Swedish kitchen — but with a little tweaking to ensure there's plenty of cardamom and that the center has a cinnamon and almond paste mixture. The result is a pastry that will have you making an extra French press just so you can eat another one. Pair it with this Swedish playlist and you'll have the ultimate fika.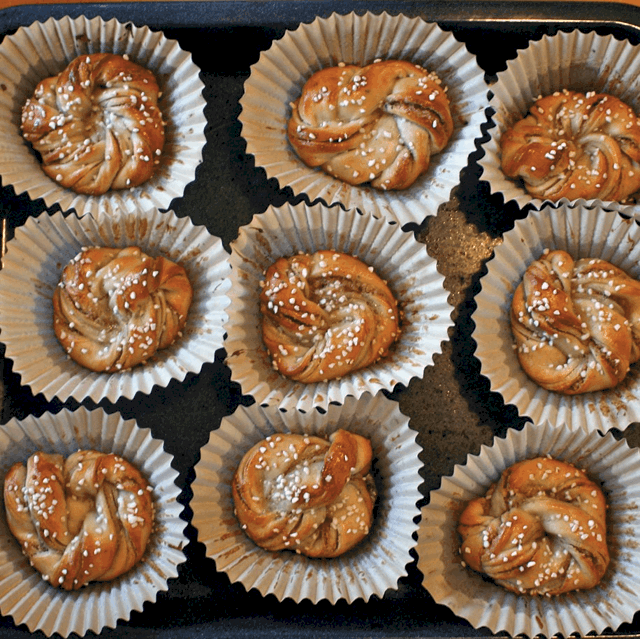 Kanelbullar
Dough:
2/3 cup butter
2 cups milk
2 tablespoons active dry yeast
½ teaspoon salt
½ cup sugar
2 teaspoons ground cardamom (I prefer to start with whole cardamom seeds and grind them myself, because you end up with larger and more flavorful bits)
5 cups all-purpose flour
Filling:
1 cup almond paste (I cup blanched almonds + 1/8-1/4 cup sugar blended in food processor)
8 tablespoons butter at room temperature
3 teaspoons ground cardamom
3 teaspoons cinnamon
Garnish:
1 egg, beaten
Pearl sugar (you can find pearl sugar at select grocery and import stores)
Other:
Paper baking cups (you will need 24-30 depending on the size of your cinnamon rolls)
1. Melt the butter in a saucepan and add milk. Heat to 110-155 degrees, which if you are testing by touch, should be slightly warmer than lukewarm.
2. Place yeast in a bowl and add a small amount of the mil mixture, stirring until the yeast is dissolved. Add the remaining liquid, salt, sugar, cardamom and about 2/3 of the flour, mixing to combine. Knead the dough until it's smooth and elastic. Add in more flour, but keep a ½ cup aside. The dough is ready when it no longer sticks to the sides of the bowl. Cover with a cloth and set in a warm place to rise. Let it rise until the dough has doubled.
3. While dough rises, make the almond paste and prep the filling, by combining all ingredients in a bowl and mixing together until smooth.
4. Punch the dough down and knead a few times in the bowl, then turn out onto a lightly floured surface. Knead in the remaining flour.
5. Roll out the dough into a large rectangle on a lightly floured surface.
6. Spread the filling over the dough and fold into thirds, lengthwise, first lifting a third of the dough towards the middle, then folding the top third down so it aligns with the bottom edge of the dough.
7. Cut the dough into strips, about 2 cm wide. Cut each of the strips to split them down the middle but stop about 2 cm from the top. With each 2 cm strip, twist the two parts together to make a rope. Twist into a bun and place in a paper baking cup.
8. Cover and let rise for an additional 30-60 minutes.
9. Brush with beaten egg and sprinkle with pearl sugar.
10. Bake at 425 degrees Fahrenheit for 8-10 minutes.
A Swedish Afternoon: Track List
Let Go –jj
It Feels Good to Be Around You – Air France
Ström (192 kbps) – Bam Spacey
Last Waltz – Six Figure Transatlantic
Jag Behöver Inte Mer – Lisa Ekdahl
Forever Today – I'm From Barcelona
Beautiful Life – jj
Socker – Kent
A New Name to Go By – Deportees (Featuring Lykke Li)
Luminary Ones – Rebecca & Fiona
DJ Ease My Mind – Nikie & The Dove
Blommorna (Niva Remix) – Jonathan Johansson
Kom Igen Lena! – Håkan Hellström
Elden – Lars Winnerback
Alla Vill Till Himmelen – Timbuktu
Längesen (featurning Veronica Maggio) – Petter (Kaveh Azizi Remix)
Be Mine! – Robyn
Kommer Ifrån – Shook
Från Och Med Du (Adrian Lux Remix) – Oskar Linnros
En High 5 & 1 Falafel – Timbuktu
Anna Brones is a writer and new media strategist with a love for food, travel, coffee, bikes and the outdoors. She has lived in Sweden, France, Guadeloupe and the Pacific Northwest. She works as Marketing Manager at EcoSalon where she also pens the popular column Foodie Underground. 
Images: Rachel Meyer and Anna Brones