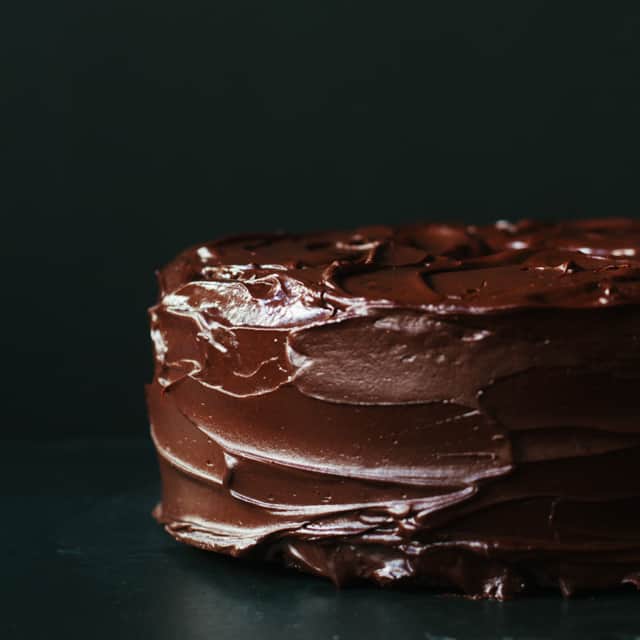 Back in May, I had the pleasure of spending an evening at my friend Veronica's house, where I got to meet — in person — a number of my favorite food bloggers, writers and photographers. I had stumbled upon Yossy's blog, Apt 2B Baking Co, a while ago and have been oggling over her gorgeous photos and recipes ever since. When Yossy and I finally met in person, I was pleased to discover that the person behind the blog was as lovely as I had imagined. While we live on opposite coasts (she in New York and I in San Francisco), I feel like we're very often on the same wavelength. It's so wonderful to have her here. I'd love a slice of this cake right about now! — Kasey
Hi all, Yossy here from Apt 2B Baking Co. I am absolutely thrilled that Kasey asked me to guest post while she and Matthew take some time off to get to know their brand new baby girl. We haven't known each other very long but Kasey is one of my first internet turned real life friends and I know that her kind and generous spirit will serve her well in motherhood. In honor of the newest addition to the Hickey family I offer up a celebratory, rich and elegant cake from one of my all-time favorite bakeries, the chocolate cherry pound cake from Macrina Bakery in Seattle.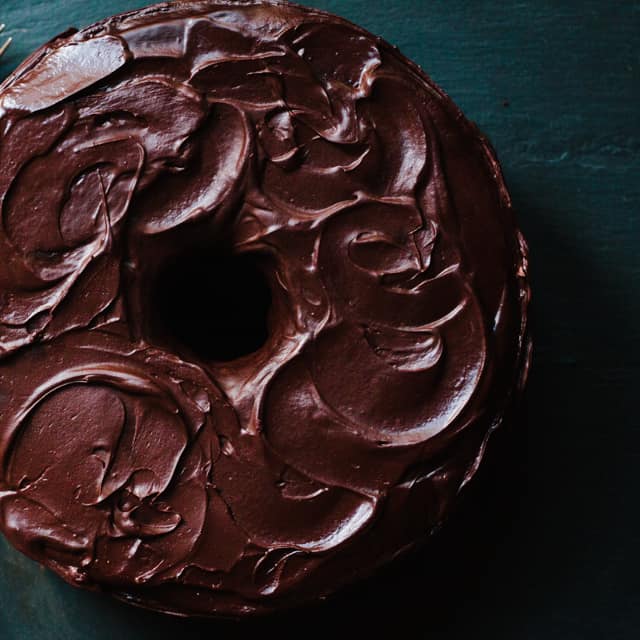 I love bundt cakes like this one because they make a big impact and feed a lot of people (or make a lot of leftovers) without much effort. This particular cake is a real chocolatey dreamboat that looks incredibly impressive, but it's just a simple poundcake batter enriched with dark cocoa powder, tart dried cherries, and chopped bittersweet chocolate. Then, the cake is enrobed in a rich chocolate ganache that is a cinch to put together with just three ingredients. I like to give my ganache a little flair by swirling it with the tip of an offset spatula, but it tastes just as good when the ganache is simply drizzled over the top if you don't feel like getting too fancy. The finished product is dense and intensely rich so I suggest enjoying by the sliver with a hot cup of coffee or tea. Keep the extra cake in the freezer, sliced and wrapped in individual servings for any late night cake emergencies. You guys have cake emergencies too, right?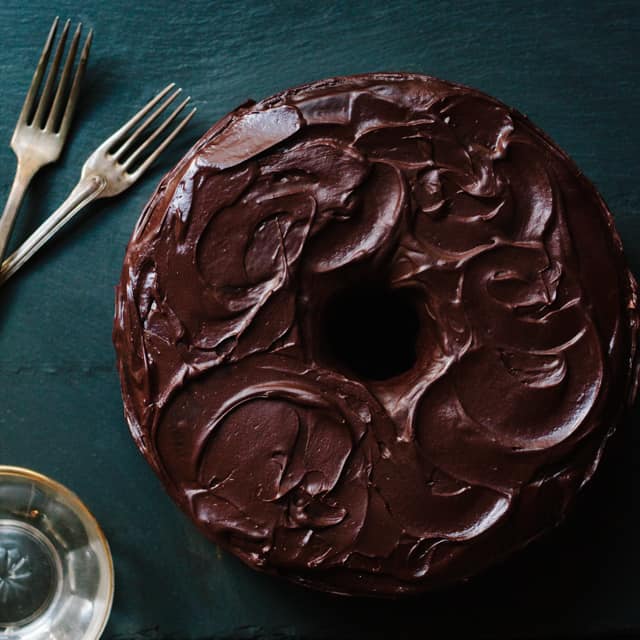 Chocolate Cherry Pound Cake
adapted from the Macrina Bakery Cookbook
makes one bundt
1 cup dried tart cherries
2 cups dark cocoa powder (I used Callebaut)
2 cups all purpose flour
½ teaspoon baking powder
1 teaspoon salt
12 ounces unsalted butter, softened
3 ¼ cups granulated sugar
5 eggs, at room temperature
1 teaspoon instant espresso powder
1 tablespoon vanilla extract
1 ¼ cups buttermilk, at room temperature
1 cup chopped dark or bittersweet chocolate (chips would work as well)
Preheat oven to 325º and butter and flour the inside of a 12 cup bundt or tube pan.
1. Cover the dried cherries with warm water and set aside to plump while you prepare the cake batter.
2. Sift the cocoa powder, flour, baking powder and salt into a medium bowl, then sift the mixture one more time.
3. Combine the butter and sugar in the bowl of a stand mixer. Beat on low until thoroughly combined. Then, scrape down the sides of the bowl and turn the mixer up to medium. Mix for 5 minutes or until the butter and sugar are light in color and very fluffy. Add the eggs in one at a time, mixing for 30 seconds before adding the next egg. Mix in the espresso powder and vanilla extract. Scrape down the sides of the bowl.
4. Alternately add in the flour mixture and buttermilk, one quarter at a time. Mix until just combined. Drain the plumped cherries and fold them, along with the chopped chocolate into the batter. Spread the batter evenly into the prepared pan and slide into the oven. Bake until a skewer inserted into the cake comes out clean, 75-95 minutes. Cool completely before glazing.
Ganache Glaze
1 cup heavy cream
2 cups chopped dark or bittersweet chocolate
pinch salt
Add the chopped chocolate and salt to a medium glass or metal bowl. Heat the cream in a saucepan until just simmering. Add the hot cream to the chocolate and whisk until smooth. Cool slightly before using, then pour the glaze over the cake, smoothing with an offset spatula if desired. This cake keeps well at room temperature for a few days or wrapped tightly in the freezer for a few weeks.