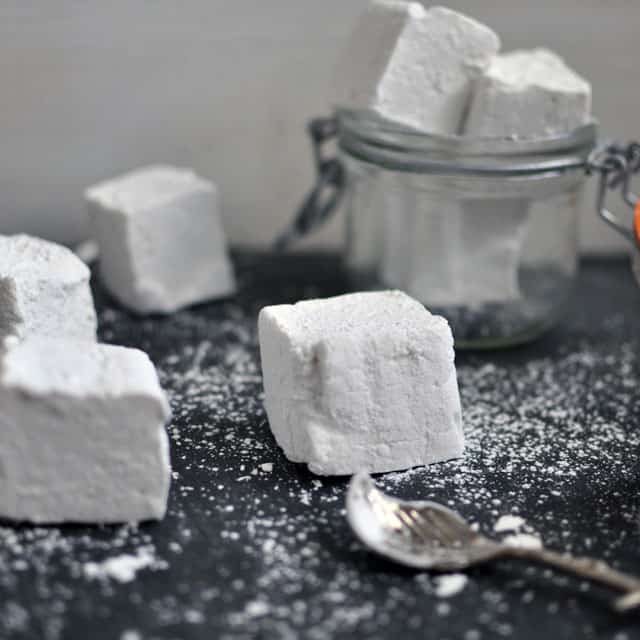 If you would have asked me a week ago what I would be doing this week, I would not have predicted I'd be in my kitchen making marshmallows, rectifying a prior marshmallow disaster of epic proportions. But, such is life. Sometimes, you find yourself making marshmallows on a Tuesday afternoon, wearing an apron that barely fits around your 40-week pregnant belly. I'm quite the sight.
You see, a week ago, I was still working my full-time job, convinced by my doctor (actually, two doctors at my clinic) that I'd be lucky if I didn't have the baby smack in the middle of the holidays. But babies, they don't really care about your predictions or your schedule. It's a hard lesson I'm still trying to fully grasp as an only child. And yet, here I was, several days past my due date, home on a sunny but cold afternoon, questioning my purpose in life, still checking my work emails after I'd told work that I needed to take a few days off to relax before the baby came. Thing is, I forgot to take into account something about myself I've known for years: I don't really know how to relax. I'll tell you: when you're crazed at work and busy beyond words and going to Target and getting your oil changed feels like a monumental feat in the midst of so much other stuff, it's easy to think of all the ways you could be spending your free time. Until you find yourself with some free time.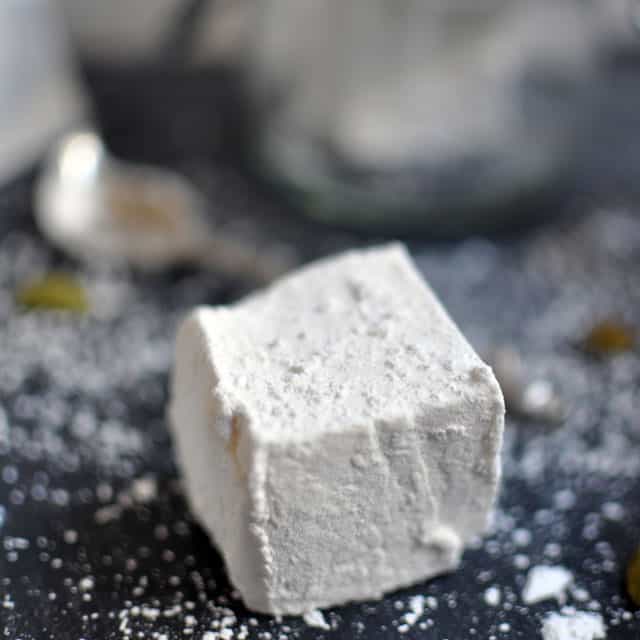 In preparation for our soon-to-be-arrival, I was meticulous about getting everything in my life in order. I began by tackling every major work project and prepping my co-workers months in advance of my leave. I started and finished purchasing everything for the nursery and decorating it. I organized all of our baby shower gifts and went through my registry to get every necessity that hadn't been accounted for. I tested, prepared, photographed, and finalized the recipes for the February Pairings Box. I wrote nearly all of my thank you cards. I have been obsessively vacuuming my house nearly every other day. I've done all the laundry. The other day, on the morning of yet another doctor's appointment I didn't think I'd make, I woke up and thought to myself: I've done everything. It's a strange thought to have when you're used to running behind and knowing your to-do list is continually being added to.
Despite the fact that I know her arrival is imminent, and so is the return of chaos (of a different kind) to my life, I can't seem to just enjoy this blissful sense of freedom. The sleeping in and the long mornings of reading and Pinterest and walks through the park. A few weeks ago, I was dreaming about having a few moments like this. In a few days (dear God, I do hope it's only a few more days) I do hope I kick myself for feeling like I've 'wasted' this time because I have to continually remind myself that this time is a gift. This quiet house. My kitchen. Having to stand arms-length away from the counter so as to make room for this basketball-shaped belly. This human being that is constantly squirming and stretching her feet out into my sides. This person who doesn't exist in my world yet, but who has given her mama a chance to feel like she's read the entire Internet, tackled her to-do list, and finally make homemade marshmallows that didn't end up smeared on every cupboard door and stuck in her hair like last time.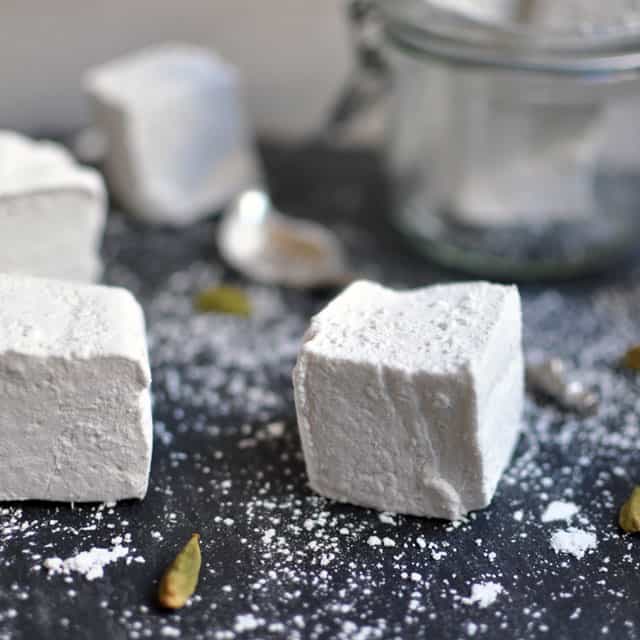 I've been scared of trying my hand at homemade marshmallows again for quite a while now. I've seen a number of recipes for homemade marshmallows, many of which involve eggs. This recipe, which I adapted from Molly's, is fantastically straight-forward and surprisingly not very time-consuming. There are no eggs (phew). Just some sugar, corn syrup, a few of my favorite flavors, and gelatin. I went a little wild and used both vanilla extract and a whole vanilla bean, in addition to adding crushed cardamom for good measure. I poured my marshmallow base into a 9 x 9 inch brownie pan and sliced my pieces into big, fluffy squares. I kind of like my marshmallows towering — you don't want them to melt in your hot chocolate right away! This time around, I schooled those marshmallows.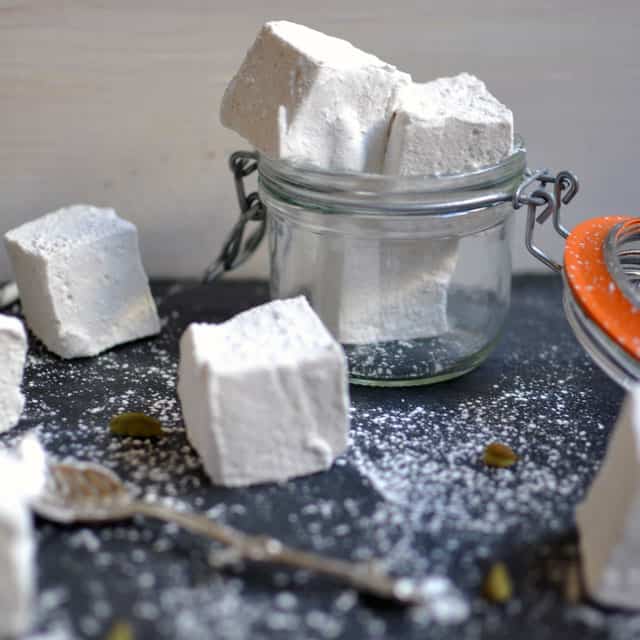 Double Vanilla and Cardamom Marshmallows
*makes approximately 45-50 1 1/2 – 2 inch marshmallow squares
adapted from this recipe
Note: Be sure to use the highest quality spices and extracts here as you will taste them. If you're going to make these, get real vanilla extract, use high-quality vanilla beans, and yes, crush your own cardamom seeds (they're infinitely better than powdered cardamom).

Nonstick vegetable oil spray or vegetable oil
1 cup of cold water, divided
3 1/4-ounce envelopes of unflavored gelatin
2 cups of sugar
2/3 cup of light corn syrup
1/4 teaspoon of salt
1 teaspoon of pure vanilla extract
1 whole vanilla bean (on sale in the TK Market)
2 green cardamom pods, seeds removed and finely crushed with a mortar and pestle
1/4 cup of cornstarch
1/4 cup of confectioners' sugar
1. Line an 9 x 9 inch metal baking pan with foil and generously coat it with oil (either using a pastry brush or spray, depending on what you have on hand).
2. Add 1/2 cup of cold water to the bowl of a stand mixer fitted with a whisk attachment. Sprinkle gelatin over the water and allow it to rest and soften for about 15 minutes.
3. Meanwhile, add the sugar, corn syrup, salt and the remaining 1/2 cup of water to a medium saucepan. Heat over medium-low and stir the ingredients with a silicone spatula until the sugar has dissolved. Attach a candy thermometer to the pan and bring the syrup to a boil. Continue cooking, without stirring, until it reaches 240 degrees F (this should take approximately 8 minutes, but watch carefully).
4. Once the mixture has reached the desired temperature, remove the saucepan from the heat. Turn the mixer on to low speed and carefully (and slowly) pour the syrup down the side of the bowl and into the gelatin. Once you've poured out all of the syrup, increase the speed to high and beat for about 15 minutes, until the mixture is fluffy, white, thick and stiff. While the mixture is being whisked, slice open the vanilla bean and scrape out the little black seeds. Beat in the vanilla bean seeds, extract, and crushed cardamom until well incorporated.
5. Use a wet silicone spatula to transfer the mixture to your pan and smooth the top. Let stand for at least 4 hours at room temperature (I would allow it to rest for 6-8 hours) or until it is firm.
6. Sift together the cornstarch and powdered sugar into a medium bowl. Sprinkle a generous amount of the mixture onto a cutting board. Turn out the marshmallow slab onto the cutting board and peel off the foil. Use either a very sharp knife or pizza cutter coated with oil to cut the slab into desired shapes (I just cut large cubes). You may need to clean off your knife and re-oil it as you work your way through the slab. 
7. Transfer about a third of the cornstarch-sugar mixture to a large freezer bag and add about 6-8 marshmallows to the bag. Seal and shake to coat. Shake off any excess mixture and transfer coated marshmallows to a tupperware or plate. Continue adding marshmallows, in batches, to the bag, to fully coat them all. Add more of the cornstarch-sugar mixture to the bag, as needed.
The marshmallows will keep in a tightly sealed container for about two weeks.
Musical Pairings: Foxygen – We Are The 21st Century Ambassadors of Peace and Magic + Double Vanilla and Cardamom Marshmallows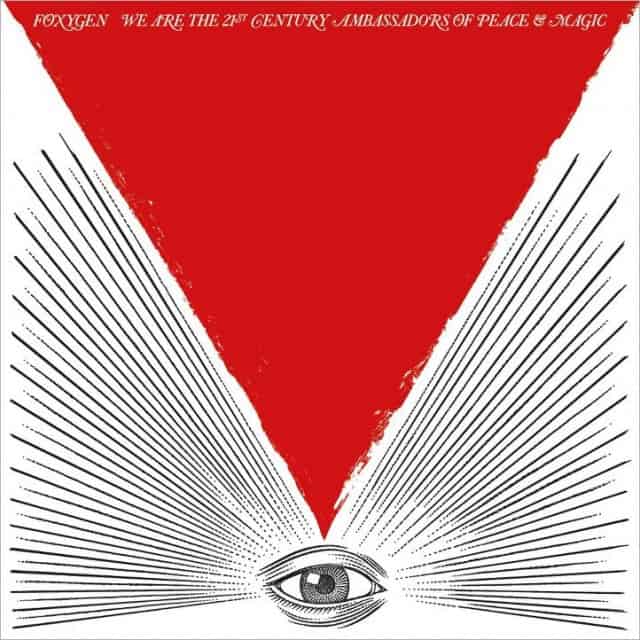 More on the Turntable.