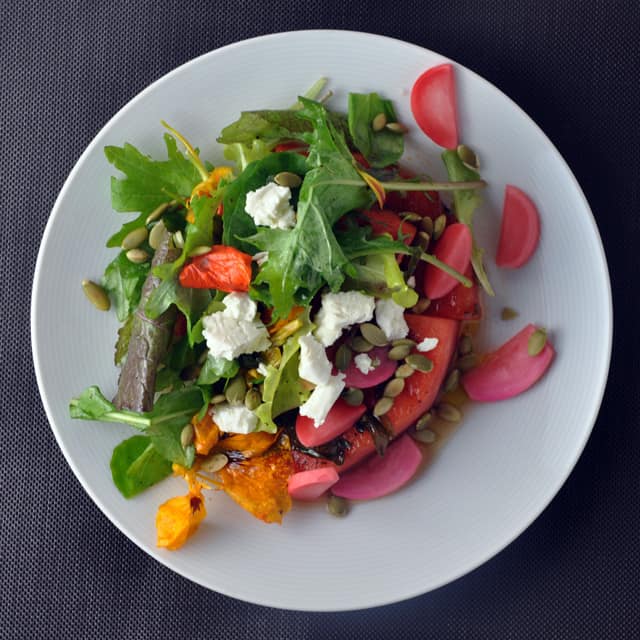 I've been in sort of a tizzy this week. I was crazy nervous to see the Cooking Channel segment that Matt and I filmed ages ago with Tracy and Megan, a completely surreal experience. It happened and I talked (very seriously) about being obsessed with poaching eggs. We had a little viewing party with friends the other night and it was just so nice to have such a great group of supporters surrounding us as we crowded around our television — many of us on the floor. I sat next to Matt, holding his hand and at the end of it, he gave me a little kiss that just said, "We made this together. This place that people come to." There I was, with my husband next to me, and a room full of friends, having just talked to my mom and dad and my heart felt full.
It's been a weird week in the world, don't you think? Chaos in the financial markets, riots in the UK, and a personal story that seems to have touched virtually everyone in the food community: the death of blogger Jennie Perillo's husband. Even though so many of us have probably never met her, reading her blog and her tweets, and trying to wrap our heads around someone in their 30s, with two small children, having a heart attack….Well, it just was heartbreaking, for lack of a better word. We are fragile. Old age is fragile, but youth is fragile, too.
These moments, these times we have with our families and friends. They are fleeting. I am reminded of this on occasion, when I get caught up in the details of life.
Every summer, when I feel like my belly will explode from all of the peaches, cherries, strawberries, corn, tomatoes, nectarines, and apricots that I eat, I am reminded of nature's time. Everything has its time. Watermelon reminds me of youth and warmth, of summers outdoors, and sticky fingers. I eat it every summer as though it will be the last time the watermelon will ever have its season.
Let's eat watermelon together. Always like it's the last time.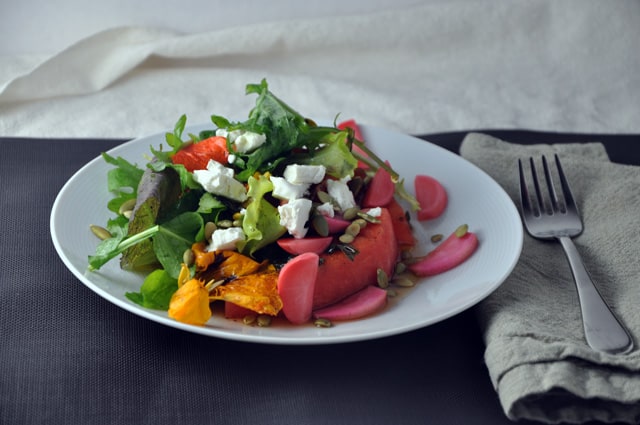 Grilled Watermelon Salad
*serves 2
my take on this salad, from Bon Appetit
half of 1 small watermelon, sliced into wedges, with the rind removed
1 handful of toasted pepitas (pumpkin seeds)
salt and pepper, to taste
a handful of pretty salad leaves (I used a mix from my farmer's market)
1 large stem of basil
1/4 cup of olive oil, plus more
2 ounces of feta cheese
pickled radishes*, to taste
*Recipe, below.
1. Heat 1/4 cup of olive oil in a small pan over medium-high heat and add the basil. Let the basil cook for several minutes, releasing its flavor into the oil. Remove the pan from the heat and let cool.
2. Preheat an indoor grillpan and brush it with oil. Place the watermelon wedges down on the grill and cook for two minutes, without moving them. Flip the wedges and grill on the other side, until you see some beautiful char marks. Remove the watermelon and set aside.
3. Toss the salad leaves with a tablespoon of olive oil and some salt and pepper.
4. Arrange the salad: place a few wedges of grilled watermelon on each plate. Top with some salad leaves, a few sliced, pickled radishes, toasted pepitas and feta. Drizzle with the basil oil (you'll have more than you need, so save some for another use).
Pickled Radishes
adapted from Bon Appetit
10 large radishes, trimmed and quartered
10 garlic cloves
1 teaspoon of black peppercorns
2 cups of vinegar
1 teaspoon of kosher salt
1 teaspoon of sugar
1. Sterilize a 1-quart glass jar. Then, add the radishes, garlic and peppercorns.
2. Pour in the vinegar and add the salt and sugar. Close the lid tightly and shake the jar until the sugar and salt dissolve.
3. Refrigerate the radishes for a couple of days. Shake the jar (if you remember) once per day.
Musical Pairings: Evenings – Lately + Grilled Watermelon Salad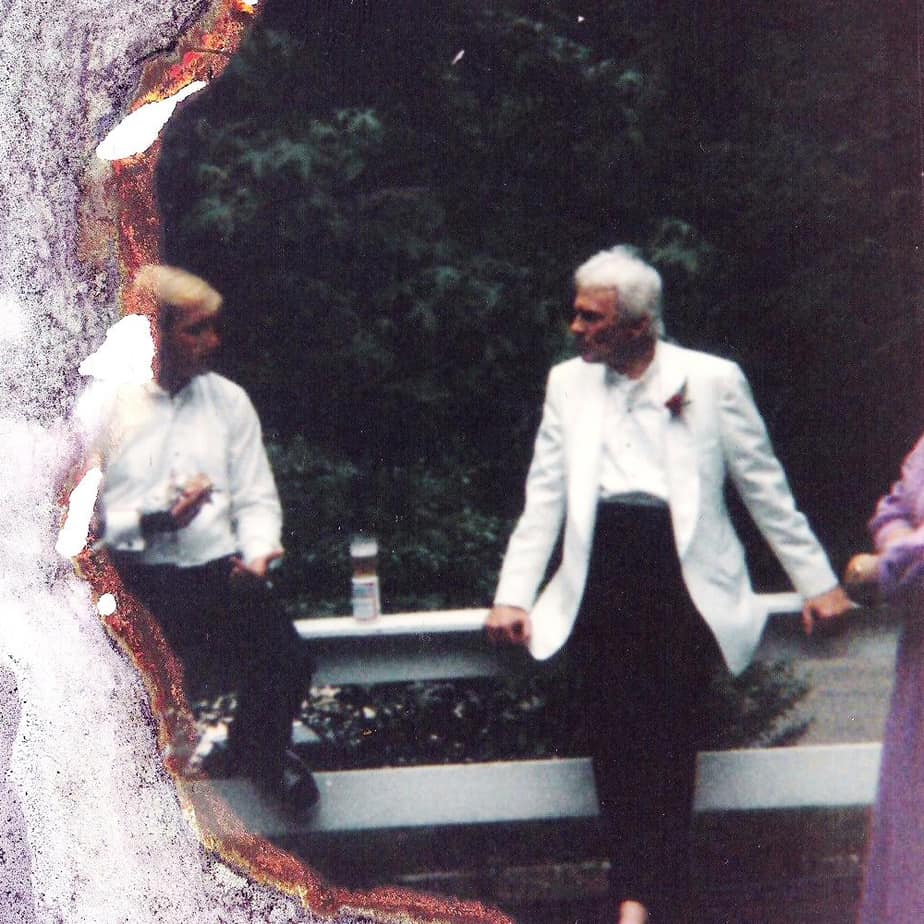 More on today's Pairing, on the Turntable.