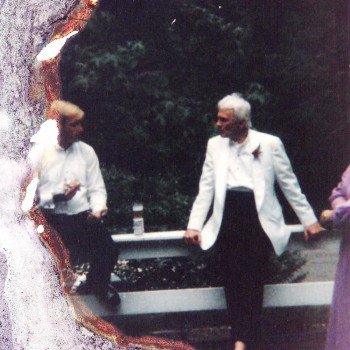 Last year's North Dorm EP by Nathan Broaddus (a.k.a. Evenings) was one of the year's most solid and enjoyable listens in the electronic music scene or otherwise. Despite having only released that EP and a pair of loose singles (including the TK-premiered "Beta Thought") Broaddus demonstrated a "knack for creating evocative melodies using beautifully textured tones and clever, interesting rhythms that warmly envelope the listener."  The impression it left with me was sufficient to make today's release of his first full-length record, Lately, an event.  Like it's predecessor, Lately is exquisitely evocative, thoughtful and well-arranged.  Again, Broaddus takes care to tease out small pleasures reveling in a rainy monsoon of textures and tones. It's nimble and meditative, and as a result of the sequencing and song-structures, it has a naturally steady ebb and flow like an active tide rising and falling along a sandy beach.
Written while Broaddus was living in France, Lately reveals an uncanny ability to sonically simulate the wide-eyed excitement of exploring a foreign city. The centerpiece is the gently sprawling "[I] Softly, We Go…" which is a pensive groove built along a plucked taut acoustic guitar sample and reedy whistling tones that softly unfurl before reaching an epiphany-like finale. On the one side, Lately is supported by the introspective, phosphorescent and rhythmically cyclical electronic hymn "Lo-Vélo" (a personal favorite) and the mirthfully alive "Genève."  The latter has a melody that swirls in irregular circles before springing into a smooth, yet stuttering groove.  On its other side, Lately is supported by the agile "Saône" (named after a river in Eastern France) which flows, as its name might suggest, with a twinkling serenity that captures the warm ambiance of city lights reflected off the surface of water at night.  The album closes with "[Lately] See You Soon" — which features bright, crisp percussion and twinkling keys that glide along a shuffling and hypnotic melody like the rhythm created by windshield wipers during an afternoon rainfall.  In all, Evenings has offered another fantastic collection that is sure to grace at least TK's year-end list.
Lately is colorful, unpretentious and undeniably contemporary.  As a result it pairs well with Kasey's Grilled Watermelon Salad recipe.  The salad is bright, full-flavored and clean.  It's a unique and refreshing treat for the spring and summer months.
Evenings – [Lately] See You Soon
Download Lately LP from Bandcamp.  Then head to the Kitchen to read the recipe for Kasey's Grilled Watermelon Salad.