It's hard to believe that summer has come and gone and nearly a year has passed since Matt and I got married. Almost one whole year! A year of being a wife and enjoying the benefits of the kitchen-oriented wedding gifts that we received from our family and friends. A year ago, I was knee deep in wedding planning, honeymoon planning, working full time and blogging regularly still. I'm proud of the life that Matt and I have created and I'm also proud of our dual hobbies, that have allowed us to be even closer friends. I like to credit myself for introducing Matt to foods that he'd never heard of before, but loves now –Lobbio, young walnut jam, dolmas, etc. I give Matt full credit for introducing me to some of my favorite bands–including Yeasayer, the xx, Cults, Iron and Wine, and Jose Gonzalez. He has also taught me that patience is a virtue (I am still learning), you can never say 'I love you' too many times, and it is better to do the dishes immediately following dinner, rather than leaving them in the sink until the next day (my dad would appreciate this).
I'll probably ponder the first year of marriage and what I think I've learned closer to my actual anniversary, but since it's been on my mind a lot already, I thought I'd get a head start. As much as I can hardly believe that it has been a year since I got married, I can hardly believe that it's already September! Last weekend, I saw apples at the farmer's market for the first time, and my parents brought us two bag-fuls of apples from their tree. Fall is inevitably upon us.
Naturally, I am hoarding mode–trying to capitalize on the dwindling supply of heirloom tomatoes, corn, peaches, nectarines, squash, etc. When I spotted this recipe in Bon Appetit, I immediately knew that I had to make it. It incorporates all of my favorite summer fruits and vegetables in one main course. Brilliant! For this dish, I chose to use a beautiful, large whole heirloom tomato and giant fresh scallops from the seafood counter. Make sure you have good corn, too, as it is not cooked in this dish, but rather, tossed in a dressing. What I like about this recipe is that it leaves a lot of room for interpretation–use peaches or nectarines, make more or less basil peso (thicker or thinner, to taste), whatever kinds of tomatoes you like, etc. It's the embodiment of summer to me and that is why I am sharing it with you today–just in the nick of time!
Grilled Scallops and Nectarines with Corn and Tomato Salad
adapted from Bon Appetit
*serves 2
For the Dressing
3 tablespoons of lime juice (from 1-2 limes)
1 1/2 teaspoons of lime zest
2 pinches of smoked paprika
3 tablespoons of extra-virgin olive oil
sea salt, to taste
For the Basil Puree:
1/2 cup of fresh basil leaves
3 tablespoons of extra-virgin olive oil
Sea salt
For the salad:
12 fresh, large sea scallops, patted dry
2 nectarines, cut into wedges
Olive oil
1 ear of corn (kernels cut off the cob)
1 large heirloom tomato, cut into large, bite-sized chunks
sea salt and pepper, to taste
fresh basil leaves, for garnish
1. To make the dressing, whisk together the lime juice, zest, olive oil and smoked paprika in small bowl. Season with salt and pepper and place in the refrigerator.
2. Make the basil puree: bring 2 cups of salted water to a boil and briefly blanch the basil leaves. Drain them and pat them dry. Chop roughly and combine with the oil in a blender. Puree until relatively smooth (add more fresh basil leaves and olive oil to reach desired consistency). Season with salt and pepper.
3. Heat a well-oiled grilled pan on your stove over medium-high heat. Meanwhile, brush the scallops and nectarines with olive oil and season with salt and pepper.
4. Grill the scallops for about 2 minutes per side and don't flip frequently to allow grill marks to develop.
5. Place the scallops on a plate and set aside while you grill the nectarines until they develop grill marks (a few minutes per side).
6. In one bowl, toss the corn with the dressing. Toss the tomatoes with the dressing in a separate bowl and season both with salt and pepper.
7. To plate: divide the scallops among 2 plates. Sprinkle the corn around the scallops. Spoon the tomatoes over the corn and arrange the nectarines around the plate. Spoon the basil puree over the scallops, sprinkle some fresh basil leaves over the plates and sprinkle with sea salt and pepper, to taste. Drizzle any additional dressing over the plate.
Musical Pairings: MillionYoung – Be So True EP + Grilled Scallops and Nectarines with Corn and Tomato Salad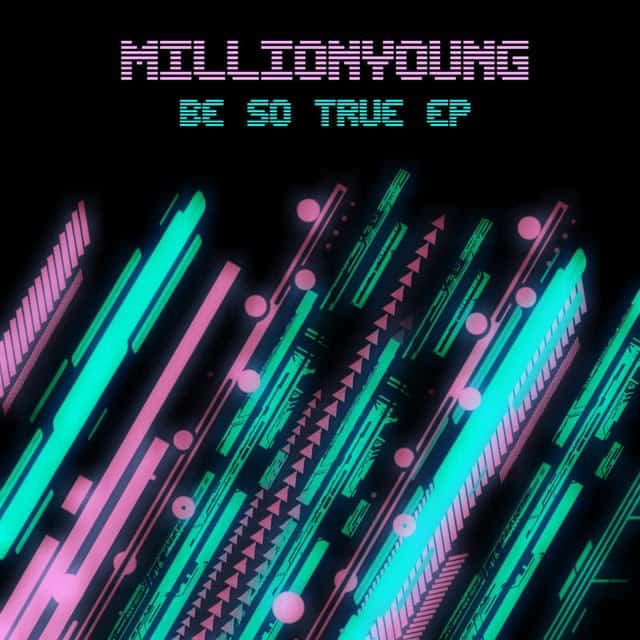 Grilled scallops and nectarines with corn and tomato salad. Featuring deliciously seasonal ingredients, the recipe just screams "late summer / early fall" meal. It has a slightly tropical flair that is perfect for one of those evenings when the air starts getting cool (but not cold), and you are still desperately clutching white-knuckled onto the final days of summer. And for that reason, it pairs well with the shimmeringly upbeat Florida-based synth pop songwriter Mike Diaz (a.k.a. MillionYoung)'s Be So True EP. To read the rest, head to Musical Pairings' home. —Matthew