When the publishers of Falling Cloudberries sent me a copy of the book I had been ogling over for months, I already had my eye on a certain teatime treat. But as I began flipping through the gorgeous tome, I started bookmarking all sorts of recipes. The cookbook, which can almost be called a scrapbook of Tessa Kiros' life and family history–in Finland, South Africa, Greece/Cyprus and Italy–is one of the most warming and beautifully-photographed cookbooks I've laid my eyes on in some time.
Kiros thoughtfully describes recipes from her childhood and adulthood, pulling from her multi-cultural background, her travels and the friends she's met along the way. I've found myself flipping through its pages on numerous occasions–even when I'm not specifically in search of a recipe–because I simply love Kiros' voice and her je ne sais quoi approach to life. I related to her somewhat strange combination of recipes–I, too, grew up eating across worlds, so to speak. One week could include borscht, hummus AND French Fries. While at first glance, the mix doesn't seem to make sense, once you start to get a sense of her family history and the path that her life took, you start to understand why recipes don't always have to stick to a genre but rather be analogous to photo albums that capture different moments and times.
One of the recipes that is featured towards the end of the book in a section of miscellaneous 'collected recipes over time' is this coddled egg and anchovy salad, which, most of all resembles a lighter version of the traditional Caesar. I adapted the recipe quite a bit–omitting the sliced celery, swapping in lighter, sweeter butter lettuce in place of bitter greens. I also halved the dressing recipe, but should you choose to double it, it would be great tossed over virtually any green salad. Kiros suggests it could also be poured over grilled asparagus which, I imagine, would be delicious. I should mention that I am slightly allergic to mustard, so I typically omit it from recipes, but in this amount, I did not find it to be too offensive!
I've already made 4 or 5 other recipes from the book and I can't wait to share them with you!
Coddled Egg and Anchovy Salad
adapted from Falling Cloudberries
*serves 2
For the salad:
2-3 small heads of butter lettuce
1 small fennel bulb, finely sliced
For the dressing:
1 sprig of rosemary
1 clove of garlic
4-5 anchovy fillets (packed in oil), chopped
1/2 tablespoon of dijon mustard
1 tablespoon of fresh-squeezed lemon juice
1/4 cup of vegetable oil
1/4 cup of olive oil
1 egg (at room temperature)
1. Bring 3 cups of water to a boil in a small pot. Salt lightly and then drop the rosemary and garlic inside. Boil for a few minutes before removing with a slotted spoon.
2. Take the leaves off of the rosemary stem and finely chop both the leaves and the garlic.
3. Add the rosemary and garlic to a medium bowl. Whisk in the mustard, lemon juice, chopped anchovies, black pepper and a few tablespoons of olive and vegetable oil. Continue whisking until the dressing starts to get creamy and thickens.
4. Boil an egg for about 3 minutes (the yolk should be soft, but the whites cooked). Peel the egg and drop it into the dressing, whisking it in and breaking it up into small bits. The yolk will get incorporated while the whites will remain in small chunks.
5. Whisk in the rest of the oil and about a teaspoon of warm water.
6. Tear the lettuce leaves and toss them into a large bowl along with the fennel slices. Dress, to taste, tossing to make sure that the leaves all get soaked. Season with freshly-ground pepper.
Musical Pairings: Local Natives – Gorilla Manor + Coddled Egg and Anchovy Salad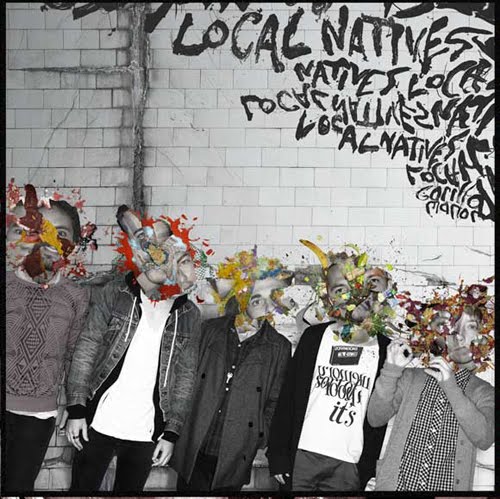 I occasionally struggle finding albums that feel like good pairings for Kasey's salad recipes. I can't really explain why that is, but it is true nonetheless. Still, this one wasn't quite as difficult as usual. Kasey is featuring a coddled egg and anchovy salad that prominently highlights fennel and crisp, fresh greens. It is stylishly rustic, crisp and clean. And with that in mind, Local Natives' debut Gorilla Manor, seems like a perfect pairing for this recipe. It is a sophisticated and yet exuberant album featuring lush compositions that have a tendency to explode from meditative ballads into full-blown rockers; clattering woodsy percussion; three part harmonies; and bright-eyed, plaintive lyrics that embrace travel and self-exploration. What's not to love? Don't forget to head over to Musical Pairings to download tracks and read the rest of the review. –Matthew