It seems rather ironic that I am sharing a recipe with you today for chicken and dumplings. Why? Well, after a frigid, season-long winter this summer, the Bay Area–and San Francisco, specifically–is finally experiencing some actual HEAT. That said, while I have spent my summer eating hearty winter meals, I'm in a place where all I can think about is ceviche and gazpacho and sushi. Weather, you are a cruel force sometimes. I won't complain about the heat, and I will still share with you one of my favorite meals of the season, which, as you can imagine, translates to any season.
This recipe comes from one of my favorite, go-to cookbooks, the Canal House series–a series of books that are published seasonally by former Saveur magazine editors. These books–which I have raved about before–are really spectacular in their simplicity. I've been taken by them ever since I got them for my birthday, and have fallen in love with a handful of recipes that have not done me wrong. While this dish sounds relatively mundane, it's actually quite delicate and surprisingly complex. The chicken essentially steams atop a bed of tender leeks and celery, only to be topped with pillowy scallion-studded dumplings for a grand finale. I prefer to mix my dumpling dough before starting on the chicken and sticking it in the fridge. I've found that letting the dough cool a bit lends to fluffier, puffier dumplings. However, you could also mix the dough while the chicken cooks.
This is the kind of meal that requires the minimal effort, the minimal list of ingredients and delivers the maximum bang. You know that Martha Stewart saying about hosting like a duck–looking calm above the surface, but paddling like mad under water? Well, this meal allows you to slide effortlessly–above and below the water. If you're hosting a dinner–trust, your guests will be impressed. And if you're just trying to feed a household of hungry people after work? Well, it's great for that, too. In summer, I'd serve this with a cold glass of wine white–something slightly sparkly and refreshing. For a complete dinner party, start the evening off with some prosciutto-wrapped melon and finish off with a seasonally-appropriate cobbler.
What could be better?
Chicken and Scallion Dumplings
adapted from Canal House Cooking, Volume 3, Winter and Spring
*serves 3-4
1 pound of boneless, skinless chicken thighs
2 leeks, washed and sliced thinly (white and light green parts, only)
5 celery stalks, sliced thinly
1/4 cup of flat-leaf parsley, chopped finely
3 tablespoons of butter
1 garlic clove, sliced thinly
salt and pepper, to taste
1 cup of chicken stock or dry white wine

For the dumplings:
1 cup of all-purpose flour
1 egg, lightly beaten with a fork
1/2 cup of half-and-half
4 green onion/scallion stalks, finely chopped/sliced
1/2 teaspoon of salt
1/2 teaspoon of sugar
1 teaspoon of baking powder
1. Make the dumplings by whisking together the dry ingredients. Then, gently stir in the egg and half and half–be careful not to over-mix. Stir in the green onion–the dough will be sticky and wet. Put the dough in the refrigerator while you prepare the chicken.
2. Add the butter to a large pot with a lid. Heat to medium heat.
3. Once the butter has melted, add all of the vegetables and garlic, stirring until softened (about 10 minutes).
4. Place the chicken atop the vegetables, season with salt and pepper and pour in the stock or wine.
5. Cover and reduce to a simmer. Cook for 30 minutes.
6. Take the dumpling dough out of the refrigerator and use a tablespoon or ice cream scoop to drop mounds of dough atop the chicken (you'll have about 8 large dumplings).
7. Cover the pot and cook for another 5 minutes (until the dumplings have puffed and cooked through).
Musical Pairings: Arcade Fire – The Suburbs + Chicken and Scallion Dumplings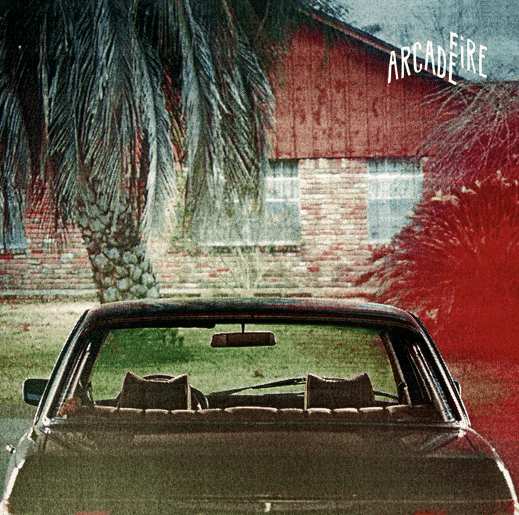 I tend to associate certain foods with certain places. For example, I associate chicken and dumplings with the suburbs. This may be because it is one of those recipes that my mom used to make for me as a kid back in good-old suburban Beavercreek, Ohio; just as I suspect countless moms have made the recipe for their kids in suburbs all across the country. But just because it is from the 'burbs, doesn't mean it is boring and beyond a little culinary jazzing-up. In fact, the chicken and scallion dumplings recipe that Kasey is featuring today is definitely a little more "culinary-sheik" than your average chicken and dumplings recipe. Nonetheless, it still retains the heart and soul of the recipe many of us know and love. And so I chose Arcade Fire's latest album, The Suburbs, as my pairing for this recipe, which, according to Arcade Fire frontman Win Butler, "is neither a love letter to, nor an indictment of, the suburbs – it's a letter from the suburbs." Want more music? Head to Musical Pairings. –Matthew