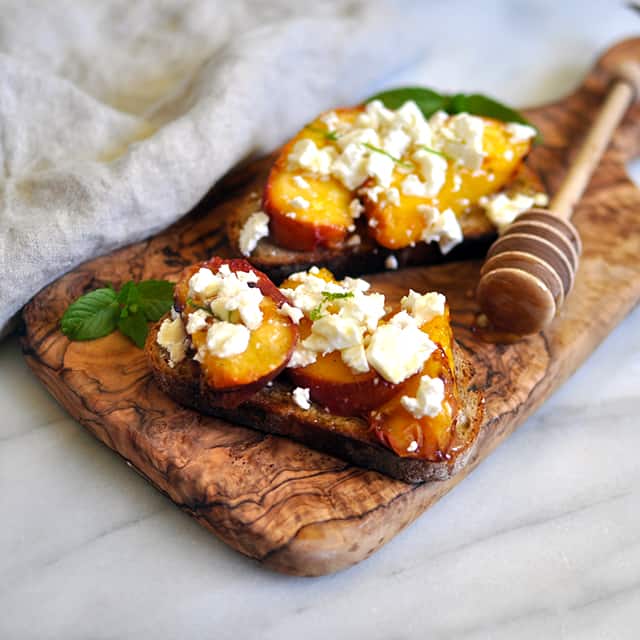 This post is sponsored by Idyll. All opinions are my own. Thanks so much for supporting the brands who help us do what we do!
A few months ago, I came across a lovely new food brand called Idyll, whose products and mission — to support small-scale organic producers in Greece — immediately stood out to me. I had recently read an article that organic honey in the U.S. has been disappearing as a result of the diminishing population of bees. So if you want to find organic honey, you have to look elsewhere.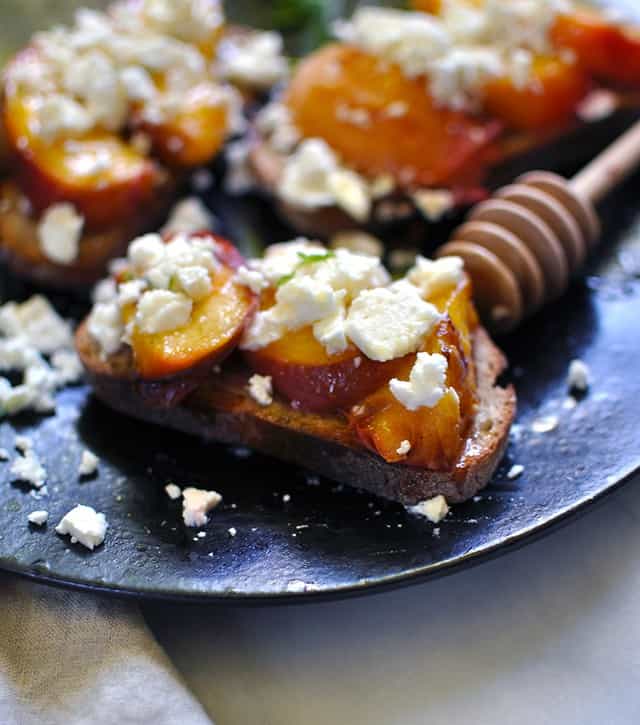 What I love about Idyll is that they're supporting small producers while focusing on sustainability and while their products are imported, they're importing responsibly, helping the local economy, and combining modern knowledge with tradition. In a word: awesome. Their packaging is also gorgeous. I'm dying to go to Greece but since that trip isn't on the horizon anytime soon, I love that I can teleport myself there through Idyll's honey and other delicious products including olive oil, vinegar, and salt — all organic.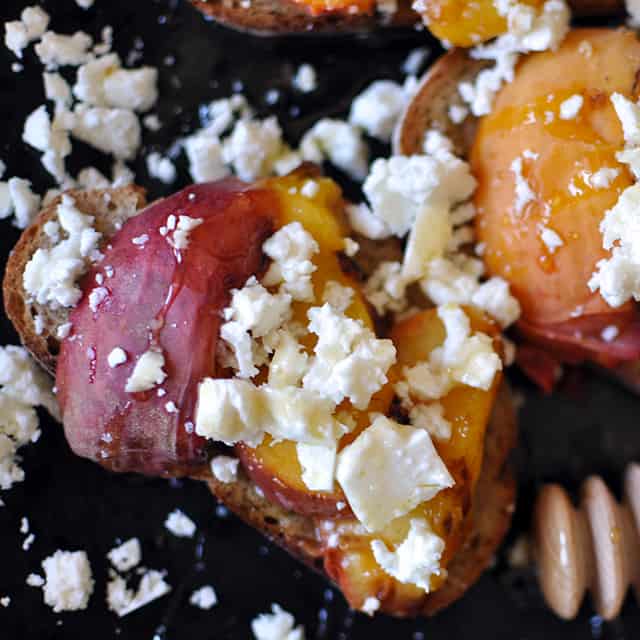 I recently teamed up with Idyll to develop a summery recipe highlighting their Fir Honey, which is aromatic, rich, dark, and caramel-y. Because peach season is in full swing here in Seattle, I paired the honey with some yellow peaches we threw on the grill, arranging them on some toasty grilled bread and topping with plenty of Greek feta, naturally. Oh, and if you didn't know, lime zest is a nice flavor to pair with peaches.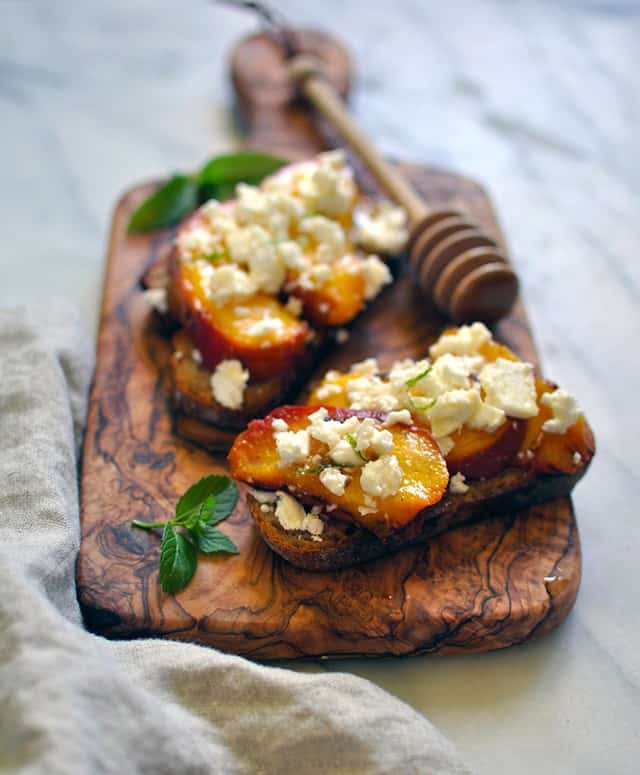 A little bit of Idyll's Organic Extra Virgin Olive Oil goes a long way, and a sprinkle of their Fleur de Sel is mild enough that you can lick your fingers after you dip you hand in the jar. You can order Idyll products directly from their website, or from Amazon (available on Prime!).
I hope you enjoy this recipe, which would pair very nicely with some Greek wine.
Grilled Peach Crostini with Feta and Fir Honey
Serves four, as an appetizer
developed in partnership with Idyll 
Small loaf or rustic-style bread, cut into 1 inch thick slices
2 large, ripe peaches, pitted and cut in half
½ cup of crumbled Greek Feta
Idyll Organic Extra Virgin Olive Oil, for drizzling
Idyll Organic Fir Honey, for drizzling
Idyll Fleur de Sel
lime zest for garnish (optional)
Note: if you do not own an outdoor grill, you can certainly grill the peaches on a stovetop grillpan, such as Lodge.
1. Preheat an outdoor grill to high heat.
2. Brush both sides of the sliced bread with a generous amount of the olive oil.
3. Place the peaches round side down directly on the grill. Place the bread slices directly on the grill. After a few minutes, flip both the peaches and the bread, allowing both sides to develop grill marks, but watching both closely. The peaches are done when they are tender and aromatic, about 5-8 minutes total. The bread should be ready in about 4 minutes.
4. Remove both the peaches and bread from the grill.
5. Place the peach halves on a cutting board and carefully slice them into fourths.
6. Place the grilled bread on a serving platter and top each piece with a few slices of grilled peach (depending on the size of your crostini, you may want to cut the peach slices into smaller pieces). Top with a generous portion of crumbled feta.
7. Next, drizzle with olive oil and fir honey and add a pinch of fleur de sel to each. If you're using it, top with a thin strip or two or lime zest. Serve and eat warm.
This post is sponsored by Idyll. All opinions are my own. Thanks so much for supporting the brands who help us do what we do!