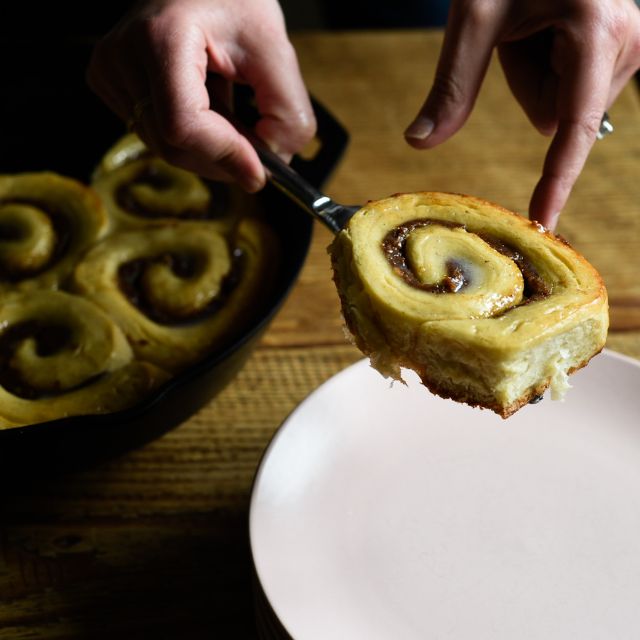 I've reached the stress baking portion of quarantine. I haven't quite made it to the sourdough starter and bread-baking stage. Nor have I invested in a 50 pound bag of flour. But I am getting there, folks! I've got two small containers of highly-coveted yeast in my fridge.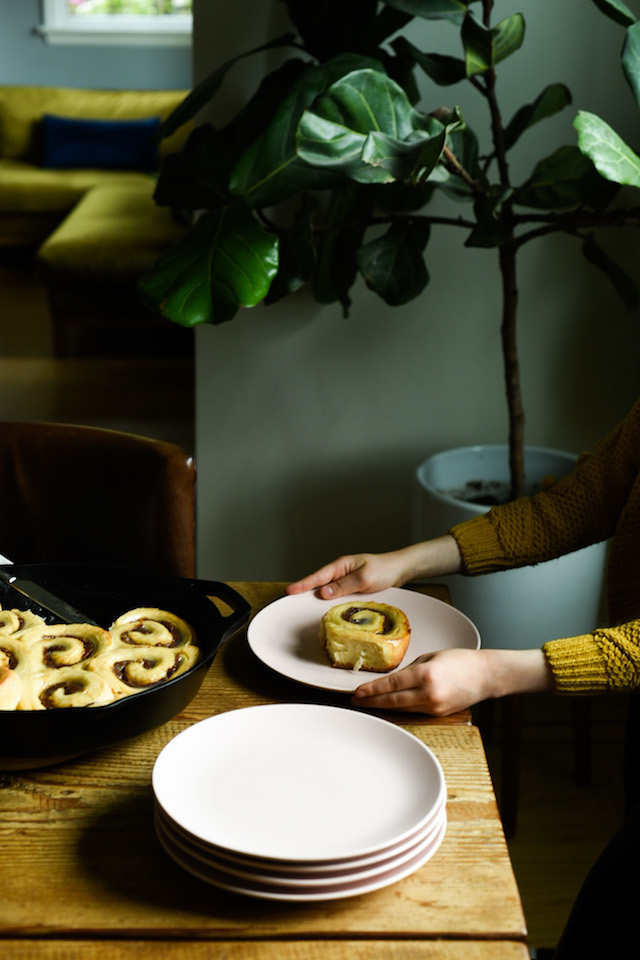 I have to be honest: hearing that our shelter in place has been extended through the end of May broke me a little. I had naively thought that by the time my birthday month rolled around, things would be a little less bleak. That I could perhaps even plan some sort of socially-distanced get together. And yet, the news continues to feel like opening up a bag of horrors. Or hornets. You know what I mean. 2020 just keeps sticking it to us.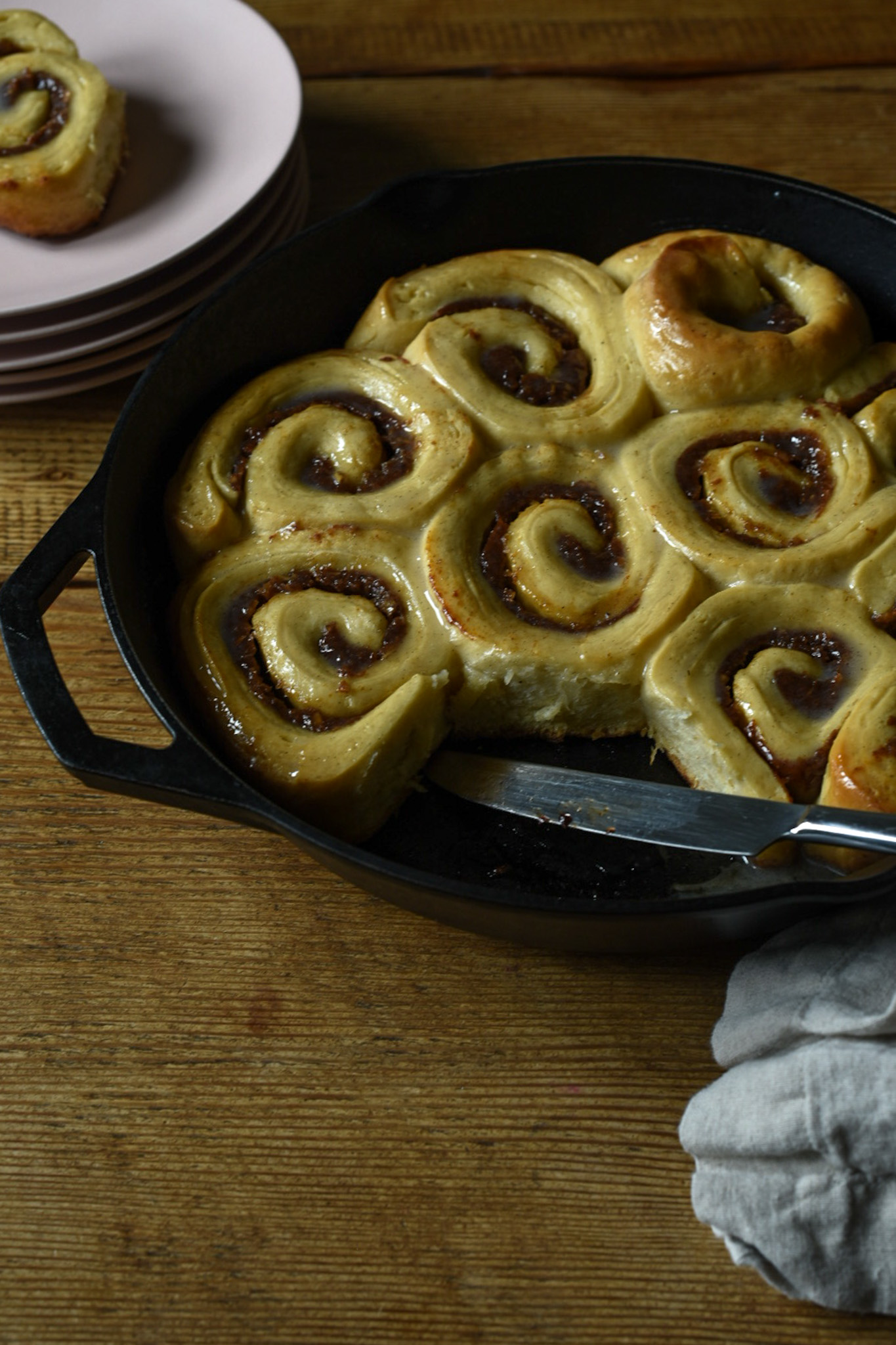 I usually save my cinnamon roll baking for Christmas morning. But these days, in which time feels like a weird vortex, I thought, why save the cinnamon rolls? Why wait for anything at all? I did, however, try my hand at a new recipe: these Cinnamon-Date Sticky Buns which grace the April cover of Bon Appetit. Earlier this year (pre-Covid), I wrote about how I'd lost myself creatively in 2019. I was cooking less. In the last few weeks, I've found my way back to the kitchen in a way that I haven't in a long time. It has been a silver lining of sorts to this whole heartbreaking ordeal we're all experiencing. We are cooking and eating through our grief, our fear, our loneliness, and yes, our hope, too.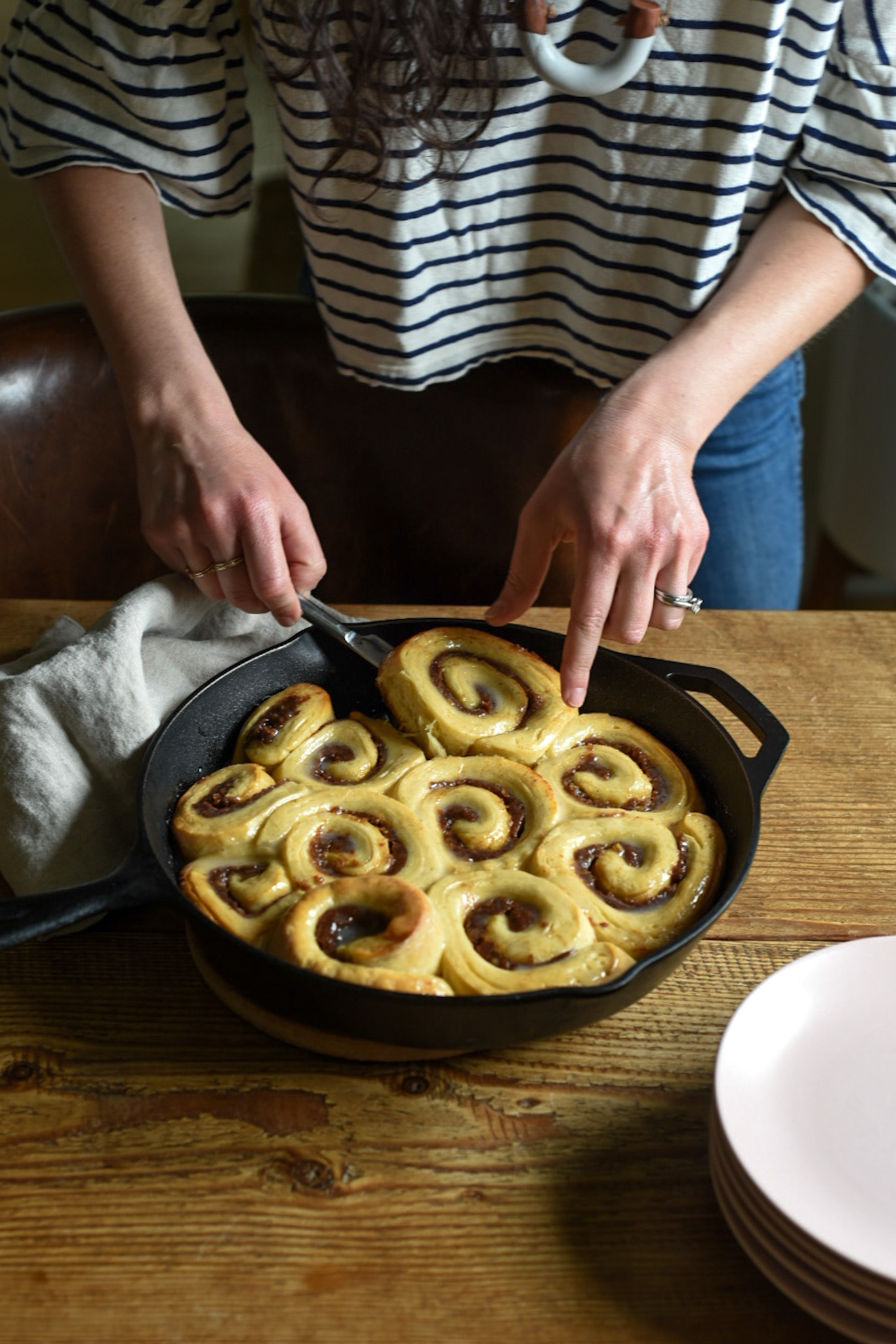 There is no FOMO. There is no living for next week or next month. Because we truly don't know what next week or next month or the next three months after that will bring. We wake up each morning with a short list of things to do: work, homeschool, water the garden, wash the dishes, do the laundry, and venture out on either a walk or bike ride through the neighborhood. We see the blue jays that land on the fence. We notice every new development in our garden. I never realized just how much lilac grows in our neighborhood. We break things up by picking up weekly takeout from one of our favorite restaurants. Or ice cream. Or a wine delivery.
Time is moving forward. Spring has come and feels like it's slowly transitioning into summer. This weekend, for the first time, we ventured out for a hike (with masks ready). Our 80+ degree weekend warranted a run through the sprinkler, and our first bowl of watermelon.
We're signed up for our favorite summer fruit CSA. But there are no trips being planned. No date nights on the calendar. No bbq's or pizza parties. No end of the school year events.
And yet, week after week, we cook, we eat, we squabble, we hug, we dance, and we wait.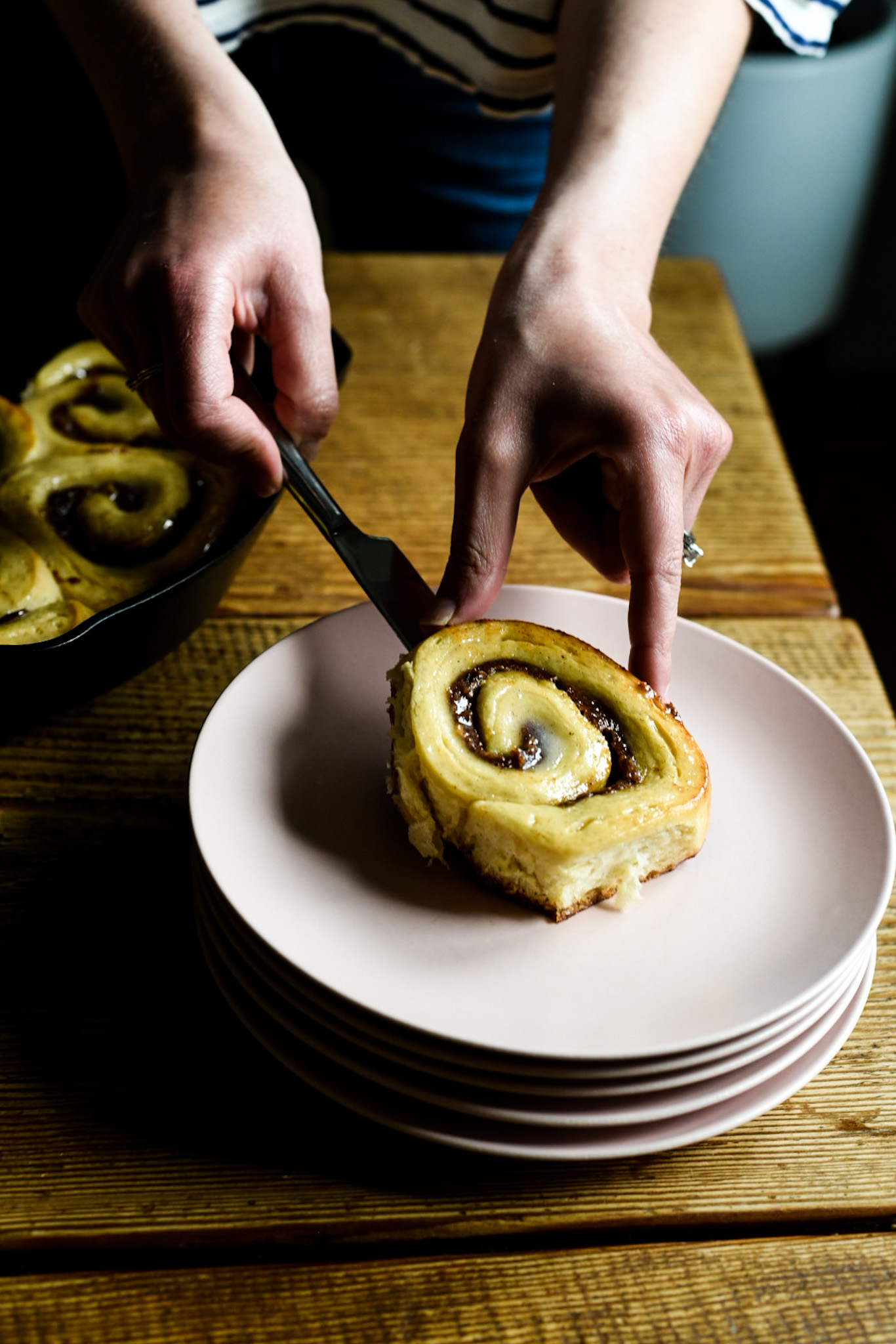 Cinnamon-Date Sticky Buns
Adapted from Bon Appetit
3/4 cup plus 3 tablespoons of buttermilk
10 tablespoons of canola or vegetable oil
1 large egg
2 1/4 teaspoons of active dry yeast
1/2 cup of dark brown sugar
3 cups of all-purpose flour
1 1/2 teaspoons of kosher salt
1/4 teaspoon of baking soda
1 cup of pitted Medjool dates
2 teaspoons of ground cinnamon
3/4 cup of powdered sugar
1 teaspoon of vanilla bean paste
1. Add 3/4 cup of buttermilk and 6 tablespoons of vegetable oil to a small microwave-safe bowl. Place in the microwave and heat for 10 seconds. Test the temperature, then heat again for another 10 seconds. Test again. Repeat for another 10 seconds, until an instant-read thermometer registers about 98 degrees F.
2. Whisk together the egg, active dry yeast and and 1/4 cup of dark brown sugar. Whisk into the buttermilk mixture.
3. Combine the flour, 1 teaspoon of kosher salt, and 1/4 teaspoon of baking soda in stand mixer fitted with a dough hook attachment. Add the buttermilk mixture and knead on low speed until the dough comes together and begins to pull away from the sides of the bowl, about 2 minutes. Continue kneading for another 3 minutes or so, until the dough becomes silky and stretchy.
4. Transfer the dough onto an lightly floured surface. Roll it out into a rough 8″ square. Fold it over itself, flatten, and then fold again, until you have a 4″ inch square.
5. Roll the dough back out to an 8″ square and repeat folding process (work your way back to a 4″ square).
6. Pour 1 tablespoon of canola or vegetable oil into a medium bowl and add dough. Turn to coat. Cover bowl tightly with plastic wrap and chill for 8 hours (overnight is fine).
7. Make the date filling: Boiling 1 1/2 cups of water, then add it to a heat-proof bowl. Add the dates and let sit and soften for about 10 minutes.
8. Drain and discard the water. Transfer the dates to a food processor. Add 2 tablespoons of canola or vegetable oil, 2 teaspoons of ground cinnamon, and 1/2 teaspoon of kosher salt. Puree until smooth, scraping down the sides as needed.
9. Remove the dough from the fridge (it should be doubled in size). Transfer the dough to a lightly floured work surface and roll it out to a 12″ square, about 1/4″ inch thick. If needed, add a little flour to prevent the dough from sticking.
10. Spread the date puree over the dough, leaving a 1/2 inch border. Sprinkle evenly with 1/4 cup of brown sugar.
11. Roll the dough into a tight log. Slice your log crosswise into 1 inch thick pieces.
12. Grease a cast iron skillet with 1 tablespoon of canola oil. Transfer the buns into the pan, spacing them out evenly.
13. Cover the pan with foil and let them rise for 1- 1 1/2 hours (until doubled in size).
14. Place the rack in the middle of your oven and preheat to 350 degrees F. Bake the buns, covered in foil, for about 20 minutes. Remove the foil and continue baking, for another 25 minutes or so, until golden.
15. Whisk together the powdered sugar, vanilla bean paste, and 3 tablespoons of buttermilk. Brush the glaze over the warm buns and serve directly from the skillet.