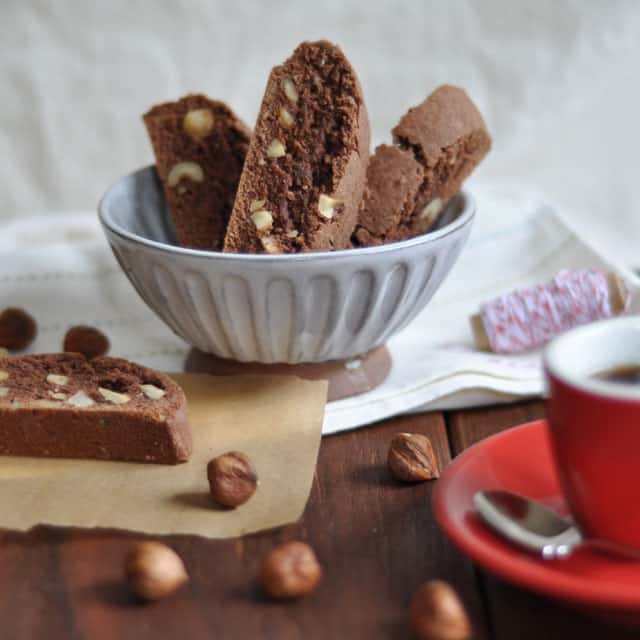 Note: We are now accepting new subscribers to the Turntable Kitchen Pairings Box, beginning with the April Pairings Box! Sign up and join the fun.
Before I started a blog, I wrote poetry. I found a certain pleasure in pulling out the deepest emotions and throwing them into a few concise unpunctuated sentences that left a burn on the page. There was room for interpretation, but the core message resonated more strongly than any underlying references. A poem is the sum of its parts. Somewhere along this journey, I began writing fewer and fewer poems and started writing more and more words. Until they became fully formed sentences and paragraphs. And soon, paragraphs interspersed with photographs and images.
We meander here. Go off on tangents. Talk about travel and then transition to spaghetti. Or technology. Or growing up. I like it that way. Because that is the way we make great discoveries, often. Find great treasures. Make great friends.
It's sort of the way I came to this biscotti. Frankly, I'm not much for biscotti. It's often tucked away into glass jars, separated from the gooey, buttery, dough-y treats displayed at coffee shops. Biscotti often feels like a small consolation prize: a little nibble to go with your coffee, in case you really don't want to splurge on The Real Deal. That's where I was when I ordered a biscotti from a little coffee shop, on my way to purchase some air plants for my apartment. It was just about closing and a mad craving hit my stomach. I didn't want a cupcake. Or a bear claw. I wanted a chocolately something. A little less sweet. A little more crumbly. Something to dunk into my afternoon caffeine jolt. I eyed the biscotti. A deep, dark, chocolate finger, dotted with halzenuts. And I went for it.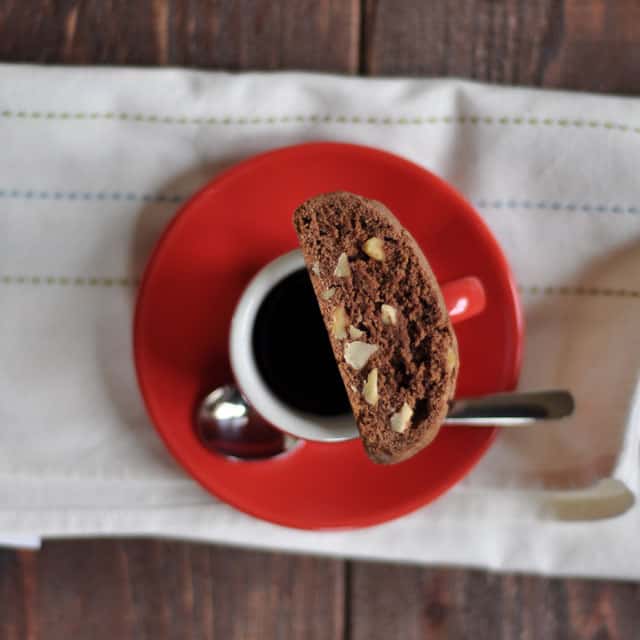 My first bite felt like a revelation: where have you been all my life, biscotto? I devoured one and considered another. And when I returned home, I realized that I must recreate this magic. That first bite sensation. I will tell you this: one batch of this biscotti was more dangerous than a tin-ful of brownies. I lost all self-control, even after trying to pass them off to other people, I found myself eating THEIR biscotti.
This biscotti recipe yields a more tender crumb, a bit of a chewier center. It has a distinct almond flavor, but also resembles Nutella, in cookie form.
A Special Treat for San Francisco readers from Rewinery
Matt and I (and a few San Francisco food bloggers) recently had the opportunity to meet the lovely folks from Rewinery, a new wine delivery service based in San Francisco. Their offering — 3 bottles of wine for $40 delivered to your door on the day you order it — is pretty fantastic. Having tasted their wines, we found them to be very drinkable — perfect for a casual night with friends (or just yourself!). If you live in San Francisco and want to give it a whirl, be sure to enter the promo code TURNTABLEKITCHEN and get $10 off your order until April 1st. That's 3 bottles of wine for $30, delivered to your door. Learn more about how they do it and place your order.
Chocolate-Halzelnut Biscotti
technique adapted from Tartine
1/2 cup of hazelnuts
1/2 cup of unsalted butter, softened
3/4 cup of sugar
3 large eggs
2 cups plus 2 tablespoons of flour (I used half all-purpose, half whole wheat pastry)
1 1/2 teaspoons of baking powder
1/4 teaspoon of salt
1 teaspoon of almond extract
1/2 teaspoon of vanilla extract
1/4 cup of cocoa powder
1. Preheat your oven to 350 degrees F. Place the hazelnuts, in a single layer, on a baking sheet and toast them for about three minutes. Transfer the nuts to a towel and rub them together to remove most of their skins.
2. Roughly chop the hazelnuts and set them aside. Reduce the oven temperature to 325 degrees F. Line a baking sheet with a Silpat or parchment paper.
3. Place the butter in the bowl of a stand mixer and beat for 2 minutes. Add the sugar, in a steady stream, and beat for another two minutes (until pale and fluffy). Add two of the eggs, and continue beating, scraping down the sides of the bowl with a spatula, as needed. Beat in the almond and vanilla extracts. Next, add the flour, baking powder, cocoa powder and salt, and beat until the mixture is just combined. Lastly, stir in the nuts.
4. Lightly flour a work surface and transfer the dough to it. Divide the dough into two equal sized lumps, and shape each into a log approximately two inches in diameter.
5. Place the two logs on the baking sheet, side by side. In a small bowl, beat the third egg with a fork. Brush the logs with the egg wash and bake for about 25-35 minutes — until they feel pretty set when you touch them. They should be baked all the way through. If in doubt, let them bake for a few more minutes.
6. Remove the logs from the oven and let cool for about five minutes on a wire rack. Transfer the logs to a cutting board and carefully slice them, on the diagonal, into 1/2 inch thick slices. If you choose to cut your slices thicker, note that the biscotti will be less crispy and more cookie-like. Transfer the slices back to the baking sheet, cut side down, and bake for another 5-10 minutes (or until they are lightly toasted). Allow the biscotti to cool. They'll keep in a tightly sealed container for at least a week.
Musical Pairings: Sharon Van Etten – Tramp + Chocolate-Halzelnut Biscotti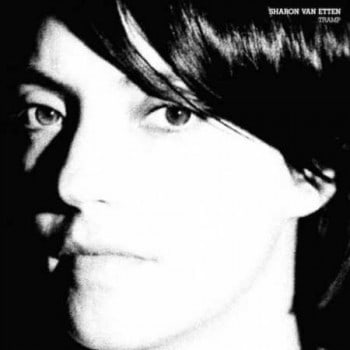 More on the Turntable.