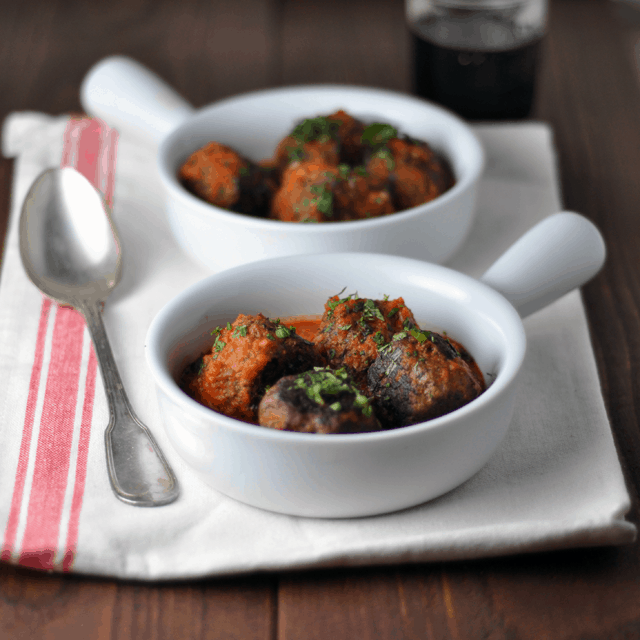 Meatballs are the sort of thing that unite us all — young and old, locals and tourists. A good meatball is hard to argue with. It's meaty, sure, but it has so many other good qualities that just cannot be overlooked. Unlike the meatballs you might eat on top of spaghetti, drenched in tomato sauce and showered with Parmesan, the meatball-forward plate is all about showcasing the star of the show, without all the extra fuss.
I grew up on meatballs, as I would guess so many of you have, too. My mom regularly made 'katleti' which, I only recently realized are basically just giant meatballs or hamburger patties. You could argue that meatloaf is really just a misshaped meatball and I ate plenty of that, too. Additionally, one of my favorite kinds of meatballs was what my mom affectionately referred to as 'hedgehogs' which, oddly, made me want to eat them even more. These meatballs were combined with white rice (thus the hedgehog reference) and often stuffed into red and green bell peppers. I ate my hedgehogs the way most kids eat oreos. Filling first, pepper second. As a child, I would have been happy to call half a stick of butter slathered on bread 'dinner,' so my mom clearly had to go to great lengths to seduce me into eating things like meat.
Recently, I've noticed that meatballs have become 'a thing.' Like cake pops, bacon candy, sweet potato fries, and brioche burger buns. I began seeing meatballs on virtually every restaurant menu and, unsurprisingly, have come to find that the way that people make their meatballs says a lot about them. First, there's the meat. Most people make meatballs out of a mixture of pork and, sometimes, veal. Though, there are those who make theirs with turkey and beef, or a mixture of both. Sauce is usually a given as dry meatballs are sort of uninspired. The herbs, too, vary. Parsley is the workhorse of the meatball and, in my opinion, should always make an appearance. The Italian, flat-leaf kind is the one I reach for at the market these days.
As someone who rarely cooks with pork and doesn't eat veal, I tend to make my meatballs out of beef and sometimes a mixture of beef and turkey. And I like them that way. Today I am going to tell you about some meatballs that I think are pretty fantastic. They are made with a hearty amount of Pecorino Romano cheese, one of my favorite Italian hard cheeses. It has that same salty bite that Parmesan does, and sometimes, I break off little chunks and nibble on them as a I cook. The nice thing is, too, that once you break a little chunk, lots of other little chunks will fall off and, of course, you'll have to eat them! My meatballs do not contain any dried herbs. Honestly, if you're going to use herbs, you should always use fresh herbs; the flavors just don't compare. They're made with Panko breadcrumbs, which, I believe, contribute to their moist centers. They have a slightly crunchy outside, which gives them a certain matter of character. But here's the number one reason I am full-heartedly obsessed with these meatballs: mint. Yes, mint. I'm finding myself cooking more and more with mint, an herb which is, in fact, a weed. But this little weed is magical. It adds, shall we say, a freshness to these meatballs, which, as we've already discussed, are moist on the inside and slightly crusty on the outside.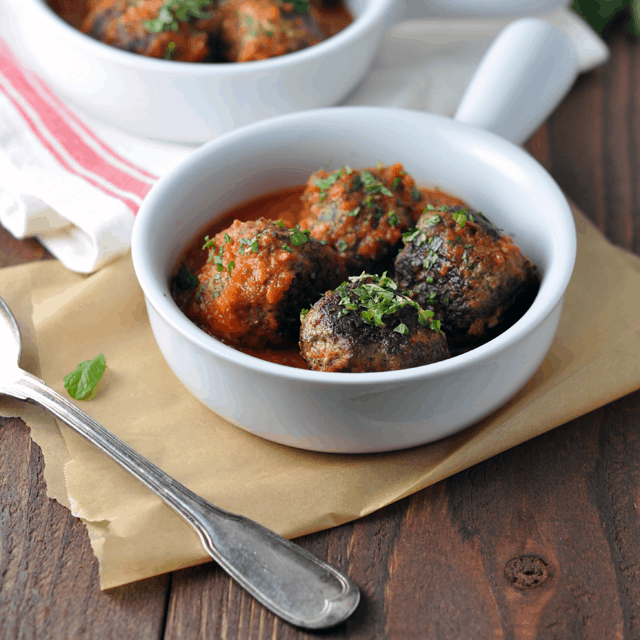 I could go on and on about why a bowlful of meatballs swimming in a shallow pond of tomato sauce is a delicious dinner any night of the week. I think what makes me really happy about this dish is knowing that, for the past 20-some years, I have been eating meatballs everywhere I go. And they keep making the rounds. Following me. There's a comfort there. And I suppose that's why they're having having their moment now.
Meatballs with Mint & Parsley in Tomato Sauce
*serves four
For the meatballs:
1 pound of ground beef
1/3 cup of grated Pecorino Romano, plus more to serve
2 large eggs
1/4 cup of finely chopped mint leaves, plus more to serve
1/4 cup of finely chopped flat leaf parsley
kosher salt and freshly ground pepper, to taste
1/3 cup of Panko breadcrumbs
1 1/2 teaspoons of freshly grated nutmeg
For the tomato sauce:
1 28 ounce can of diced tomatoes
2 cloves of garlic, minced
2 sprigs of thyme
1/2 teaspoon of red pepper flakes
salt and pepper, to taste
4 tablespoons of olive oil
1. To make the meatballs, combine all of the meatball ingredients in a large bowl and mix them gently with your hands. Form the mixture into 2 ounce balls and place them on a plate.
2. Add approximately 2 tablespoons of olive oil to a large cast iron skillet and heat it over medium-high. Cook the meatballs in batches, turning them occasionally, until completely cooked through and lightly browned on all sides (about 10-15 minutes per batch).
3. While you're cooking your meatballs, add 2 tablespoons of olive oil to a medium pot and heat it over medium-high heat. Add the garlic, pepper flakes, and thyme and saute for about a minute (until the garlic becomes fragrant). Stir in the diced tomatoes in their juice and lower the heat to medium. Cook the sauce for about 10-15 minutes. Season with salt and pepper and then use a hand blender to puree the sauce. You can also carefully transfer it to a blender to puree. Return the sauce to the pot.
4. Add the cooked meatballs to the pot with the sauce and toss gently to coat them.
5. To serve, ladle meatballs and sauce into shallow bowls. Sprinkle with some chopped mint and more cheese (if you wish).
Musical Pairings: White Rabbits – Milk Famous + Meatballs with Mint & Parsley in Tomato Sauce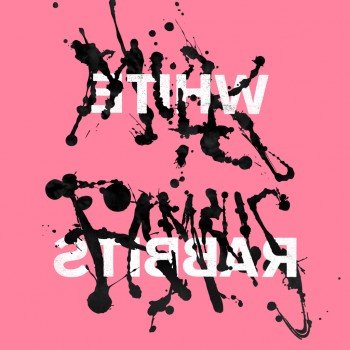 More on the Turntable.