Right now I feel a calm before the storm. Life is sort of at a standstill. I've been trying to kick a cold, and spent a deliriously happy weekend lounging around my home, with exactly two outings (a bachelorette party for a friend, and another friend's birthday). Aside from that, I baked cookies (and ate cookies), caught up on my television, and slept…and lot. Glorious. For the first time in a long time, I feel ready for Monday–and my usual weekday breakfast routine.
It's kind of amazing to me how many recipes I have amassed thus far on eating/sf. Yet, strangely, this is the very first appearance of granola. Truth be told, I'm a granola kind of girl. I used to exclusively eat the premade stuff from Trader Joe's, but recently, I've started to make my own granola and I'm finding fewer and fewer stockpiles of the packaged stuff in my pantry. I eat granola with plain yogurt and lots of fresh berries nearly every morning before work. I look forward to my routine, which often involves flipping through a Saveur, or New Yorker for 10-15 minutes before I grab my coffee and rush off to work.

Granola is everything I like in food: it's grainy and carb-friendly, crunchy and sweet, nutty and earthy and extremely filling. Until I made this granola, I sort of felt like all of the recipes I was finding were a little too complex–coconut flakes, sesame seeds, flax seed, macadamia nuts, wheat germ…The thing is, my favorite granola is kind of reflective of my personal style: it doesn't try to show off too much. One or two big staples for a statement, and that's it.

This recipe is about as easy as it gets, with a focus on oats, almonds, plump, dried cherries, and warm cinnamon and honey. I like to use a good aromatic honey when I make granola (clover works really well). I've often found that the usual recommended baking time for granola (45 minutes) lends to burnt oats and nuts. Mine browns nicely in thirty minutes. You could toss the dried fruit into the oven, but I prefer to add it in later–this keeps it from drying out and becoming too gummy.
I hope that your Monday–wherever you are–is a good one. And, I hope that you make this granola this week, so that you could look forward to your mornings just a little bit more.
2 cups of rolled oats
1/3 cup of almonds, chopped roughly
1/4 cup of dried cherries
roughly 1/2 cup of aromatic honey (minus 2 tablespoons or so)
1/8th cup of oil
1-2 teaspoons of cinnamon
1. Preheat the oven to 300 degrees F and line a baking sheet with foil, or a Silpat.
2. In a small pot, heat the honey and oil together over low heat, whisking to combine. Add in the cinnamon, whisking.
3. In a big bowl, combine the oats and almonds.
4. Pour the honey/oil mixture into the dry mix and use a silicone spatula to stir and coat everything well.
5. Evenly spread the mixture into the baking sheet, making sure not to spread too thin.
6. Place in the oven and bake for 10 minutes, then stir. Bake for another 10, stirring again. Bake for a total of about 30 minutes, until the oats are a nice golden brown. Stir frequently to make sure not to over bake.
7. Once done, place on cooling rack and toss in the dried cherries.
8. Once cool, pour into a container with a tight seal.
Musical Pairings: Gillian Welch – Time (The Revelator) + Cherry Almond Granola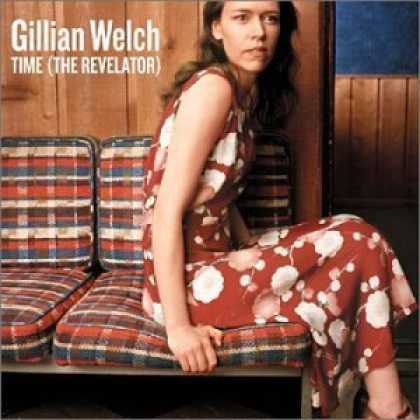 Negative associations are an interesting phenomenon. For example, granola gets a bad rap. I'm not sure how it started, but "granola" is frequently associated with hippies. Sure granola is rustic, healthy and earthy, but it isn't just for hippies. After all, I love red meat, bacon and a drum stick as much as the next guy, but I also think a good homemade granola mixed into some yogurt is a delicious breakfast. It's crunchy, but when mixed with dried fruit it is also sweet, flavorful, and aromatic. Dismiss it if you'd like, but you're missing out. And sure, I could pair granola with a "hippie" band, but I think that would miss the mark. Instead, I think this recipe calls for a pairing that is earthy, rustic and honest. And while very few would expect to find a musician born in New York City and raised in Los Angeles to be one of the best contemporary bluegrass musicians/songwriters–it's a fact. Gillian Welch's 2001 album, Time (The Revelator), is a collection of stunning, plaintive ballads, and works as the ideal pairing for this recipe. To read the rest of the review, click over to Musical Pairings @eating/sf. –Matthew