I've found myself tagging a slew of posts with 'summer.' As the weather misbehaves yet again, I'm forging ahead with BBQ and picnic-appropriate recipes. Luckily, this plum clafoutis (pronounced KLA-FOO-TI), is actually appropriate for any time of year. A clafoutis is essentially an eggy cake batter that is poured over fresh fruit and baked into a dense, custardy and homey dessert (if your home happens to be in France, especially).
I'd call this the French equivalent of the brownie–quick and easy, and big enough to serve a crowd. When your crowd happens to be 9 people and you serve them a brandied, custardy, oozy fruit dessert at an outdoor BBQ, it's amazing how quickly it disappears. And so was the case for this cake, which was the dessert that I chose to bring to my parents' BBQ to kick off the first meeting between Matt's and my parents.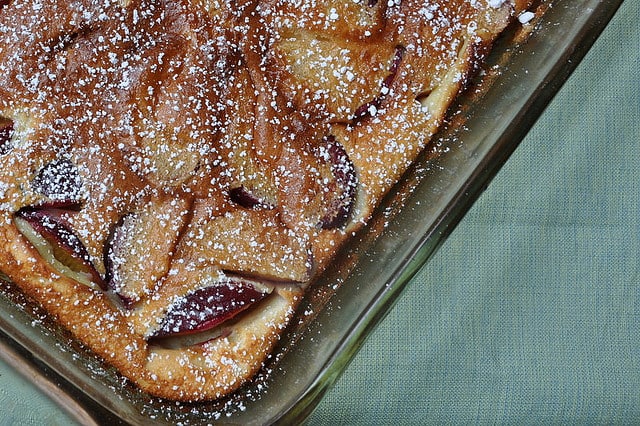 Despite not actually buttering my baking dish (shhh) and accidentally forgetting to add the butter to the batter and having to repour it back into the blender to fix my mistake–this dessert did not let me down. It puffed and tanned in just the right places, absorbed just the right amount of plum juices and brandy, and sank down into a dense, rich, custard just as it was supposed to. I hate when desserts behave badly (over-crisp cookies, burnt edges, melted messes). If you do too, this clafoutis is for you.
It's a dish that is slightly sophisticated, without being pretentious at all–the kind of end to a meal that fuels comfortable conversation and mellow tunes.
Plum Clafoutis
recipe c/o Gourmet
For the fruit:
1 pound of black plums, pitted
2 tablespoons of brandy
1 tablespoon of sugar
For the custard:
1/2 cup of sugar
4 eggs
1 cup of milk
3 tablespoons of butter, melted
1/2 cup of flour
1/4 teaspoon of salt
1/2 teaspoon of vanilla extract
1/8 teaspoon of almond extract
Powdered sugar
1. Preheat your oven to 400ºF, making sure your rack is in the middle. Butter a 2-qt glass baking/lasagna dish.
2. Cut each of the plums into eighths and toss them with the brandy and sugar in a medium bowl, letting them sit for about 15 minutes minutes at room temperature.
3. Using a slotted spoon, toss the plums into the baking dish, spreading them out evenly. Do not rinse the bowl just yet!
4. Pour the leftover juices into a blender, adding in the eggs, milk, melted and cooled butter, salt, flour, vanilla and almond extract, as well as the sugar.
5. Blend briefly (just until all of the ingredients are combined) and then pour over plums.
6. Bake for about 35 minutes, until the custard is a light golden brown, puffed, and set (check by inserting a toothpick into the center and make sure it comes out relatively clean).
7. Let the dish set for about 15 minutes–it will shrink down and the custard will become denser. 8. Dust with powdered sugar and serve by cutting into brownie-sized squares.
Need more clafoutis inspiration? Here are a few links:
Pear Clafoutis from Baking Bites
Blackberry Lemon Clafoutis from Cookworm
Plum and Chocolate Clafoutis from Bron Marshall
Apricot Clafoutis with Farmer's Cheese from nami-nami
Musical Pairings: Beirut – The Flying Club Cub + Plum Clafoutis
The plum clafoutis recipe that Kasey prepared for dessert is an adaptation on what has been described as a "quintessential French" dessert. It is custardy and sweet, and it was a huge success. We enjoyed this recipe on a warm summer evening following a delicious barbecue on her parents' back patio while my parents were visiting from Ohio. So I think the perfect Musical Pairing for this recipe would also be inspired by France, and would also be perfect for a lazy summer evening enjoying wine and happy conversation with family and friends. In other words, the perfect pairing is Beirut's sophomore release, The Flying Club Cup. To read the rest of the review, head over to Musical Pairings' home. –Matthew