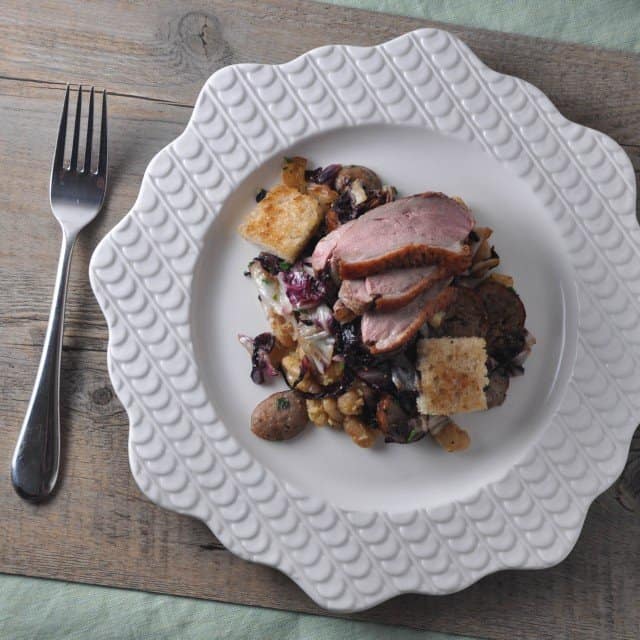 Plans change. Sometimes you're prepared, and sometimes you're not. Some people deal well with unexpected changes. They tell themselves to chin up, and they actually do – chin up, that is. Suck it up, take a deep breath, and put one foot in front of the other. I'm not usually one of those people, though I've always wished that I could be. It's surprising that I'm comfortable with adapting in the kitchen, because I have a hard time adapting to changes elsewhere. Take, for example, travel plan changes. How are you with unexpected travel changes? I do not deal well with them. I dread the ticket counter, the customer call line and the confirmation numbers. Frankly, all of these people and automated services give me sweaty palms, especially when my bags are packed and I'm ready to move full steam ahead.
As I sit here, following a day filled with dealing with travel re-arranging and anxiety, I can't help but think: don't a lot of good things happen when a wrench gets thrown into a plan? Many great romances, business breakthroughs and discoveries all come from…a little change of plans. So I'm trying to turn a sour mood into something positive. I'm doing my best, and that means fighting with myself a little. I didn't have another post planned for this week, but here I go…with a little change of plans. I thought I'd share a dish with you that I've been thinking about for a long time. And remind myself (and you, if you've ever felt the same way) that good things DO come to those who wait. So I'm slowing it down – my breathing, running, stressing. Taking it down a notch – or trying, as best as I can.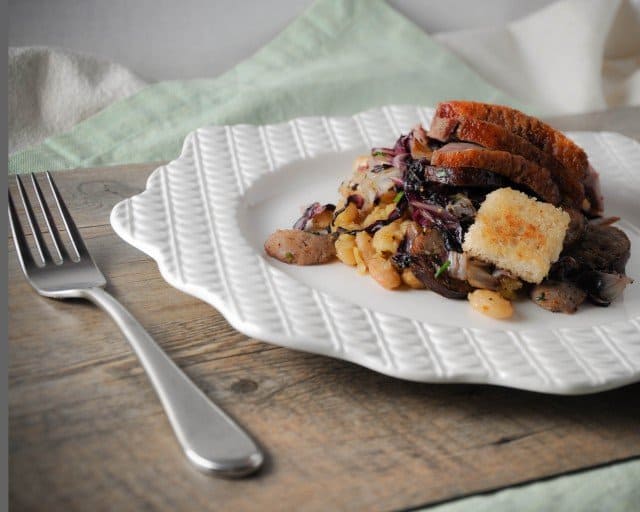 I've been hogging this recipe, developed by one of San Francisco's hottest chefs (a female!), for some time. I was waiting to unveil it like a pretty new dress, or a shiny set of pots. And you know what? There's no better day than today. What do you say? Ok, deal (I assume you're in). When we made it, several months ago, we weren't expecting a meal anything near the one we had at Melissa Perello's Frances. But, this meal, again, convinced me that anything is possible in a home kitchen.
There are so many brilliant elements here: the bean ragout, so buttery and creamy. The crispy-skinned duck. The croutons cooked in duck fat. The spicy sausage. The bitter greens, adding an assertiveness and refinement to the whole dish. It's a dish you make with love, and patience. Each element isn't specifically complicated, but requires attention and devotion. And if something doesn't go according to plan (for example, if you can't find escarole and have to throw in radicchio instead), well, that's ok. There is no better day to put your best foot forward.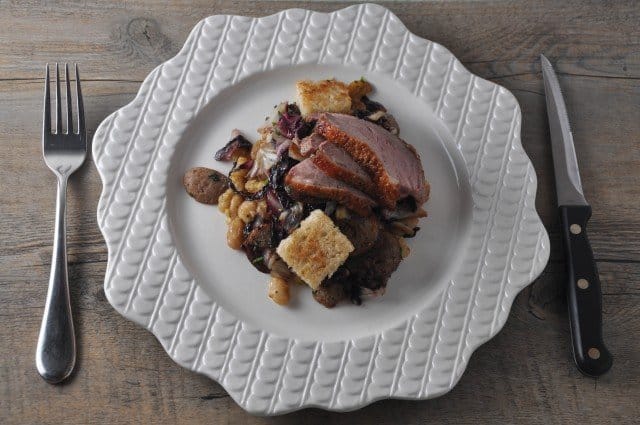 Sautéed Duck Breasts with White Bean Ragout and Escarole
adapted from Melissa Perello (Frances restaurant) via Bon Appetit
*serves 2
For the bean ragout:
3/4 cup of dried white beans (we used Rancho Gordo Mayocoba), soaked overnight
4 garlic cloves, peeled
2  fresh springs of thyme
1 bay leaf
pinch of whole black peppercorns
4-6 cups of chicken broth
1/4 stick of unsalted butter
1/2 shallot, minced
For the duck breasts:
1 pound of Muscovy duck breasts (1 large)
1/2 pound of spicy Italian sausages
For the croutons:
1 garlic clove, crushed
1 sprig of thyme
1 cup of crusty bread, cut into large cubes
extra-virgin olive oil
4 cloves of garlic, sliced thinly
2 cups of roughly chopped radicchio or escarole
1/2 tablespoon of sherry wine vinegar
1 tablespoon of flat-leaf parsley, chopped finely
1. Prepare the bean ragout (note that this will take about an hour). Cut a large square of cheese cloth to create a sachet: place the garlic, thyme, peppercorns, and bay leaf into the center of the cheesecloth, tying it into a knot, making a pouch.
2. Place the sachet into a medium saucepan, add the beans and cover them with about 4 cups of broth, to start. Bring to a boil, then reduce heat and simmer for about an hour, adding more broth if the beans start looking dry. Once the beans are tender, drain them, reserving 1 cup of broth. Throw away the sachet.
3. Melt the butter in the saucepan used to cook the beans. Add the shallot and saute it until it is soft. Add the beans and 1/4 cup of broth, stirring for a few minutes. Add more broth if the ragout seems dry. Season with salt and pepper and set aside.
4. Prepare the duck breasts: use a sharp knife to create a criss cross pattern about an inch apart in the skin of the duck (without cutting into the flesh). Season with salt and pepper. Heat a large nonstick pan over medium heat. Place the duck skin side down into the skillet and cook for about 10-12 minutes, until the skin is golden. Flip the breast and cook for a few more minutes. Preheat the oven to 400 degrees F.
5. Transfer the duck breast to a rimmed baking sheet and pour off the duck fat into a separate container (do not throw away). Set the duck aside.
6. Add 2 tablespoons of the duck fat back into the skillet and heat it over medium heat. Add the sausages, cooking them until they're cooked through and golden (about 15-18 minutes). Once they're done, cut them into thin rounds on a cutting board.
7. Clean the skillet, then add 2 more tablespoons of duck fat to it. Heat it over medium heat. Add the garlic, thyme and bread cubes, sauteing them until they're crisp. Remove the croutons from the skillet with a slotted spoon and set aside.
8. Place the duck in the oven and bake for about 15 minutes (on the more medium side of medium-rare is how we prefer it). Transfer it to a cutting board and allow it to rest while you prepare the rest of the dish.
9. Add about a tablespoon of olive oil to the skillet you used to cook the croutons. Toss in the garlic and let it brown slightly before removing it with a slotted spoon and setting aside. Next, add the radicchio or escarole, stirring and cooking for just a few minutes to let it wilt. Add the sausages, garlic and vinegar, cooking for another few minutes. Season with salt and pepper, then stir in the croutons and parsley.
10. Slice the duck breast into thin (approximately 1-inch) slices.
11. To serve: spoon some bean ragout onto each plate. Top with the sausage mixture. Place a few duck breast slices over the ragout and sausage mixture.
Musical Pairings: Lykke Li – Wounded Rhymes + Sautéed Duck Breasts with White Bean Ragout and Escarole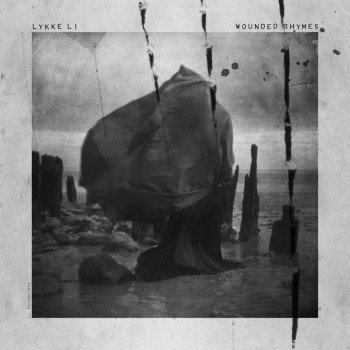 There's more on the Turntable!