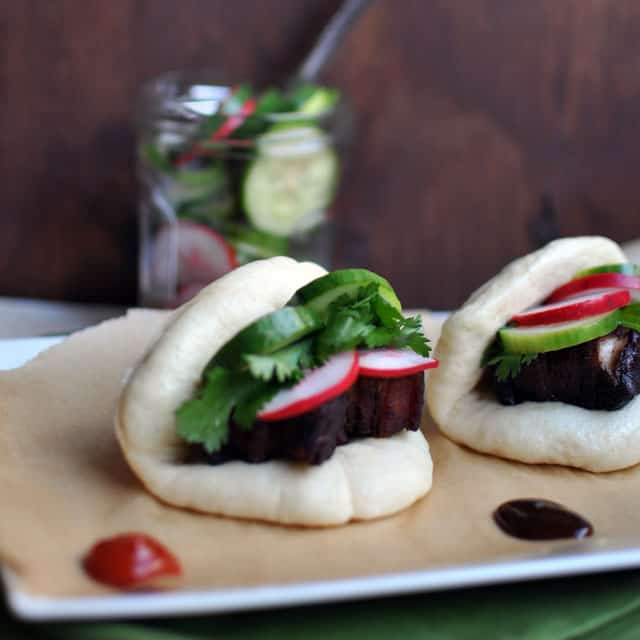 Last year, Matt and I took a few days off from work to go to New York and New Jersey for a family friend's wedding. Even though the wedding was in New Jersey, we decided to spend as much time as possible in New York City. We stayed with our friends Sarah and Grant and came up with a lofty list of places to eat. Realistically, we didn't have that much time in the city, so we made sure to prepare ourselves for a lot of overeating. Highest on Matt's list was Momofuko (I was especially excited to check out Milk Bar as well). After getting in on a red eye and taking a brief nap, we headed out to our first meal of the day.
I had heard that Momofuku Saam Bar is pretty crowded at all hours of the day, but we lucked out and snuck in before the lunch rush. We ordered a bunch of stuff and everything was exceptional. That said, the two dishes that stood out the most were — unsurprisingly — the chilled broccoli salad and David Chang's famous steamed pork buns. You may have guessed (or noticed) that we don't cook a lot of pork at home. Matt actually loves pork and orders it often when we go out to restaurants but I'm pretty particular about pork. I love cold cuts — proscuitto, salami, coppa — but I've never been a big fan of pork chops. I'll occasionally indulge in pulled pork at a good Mexican restaurant (like one of my favorites, Nopalito) and once in a blue moon, eat bacon. The fact that you're seeing a recipe for pork belly on Turntable Kitchen is surprising, even to me.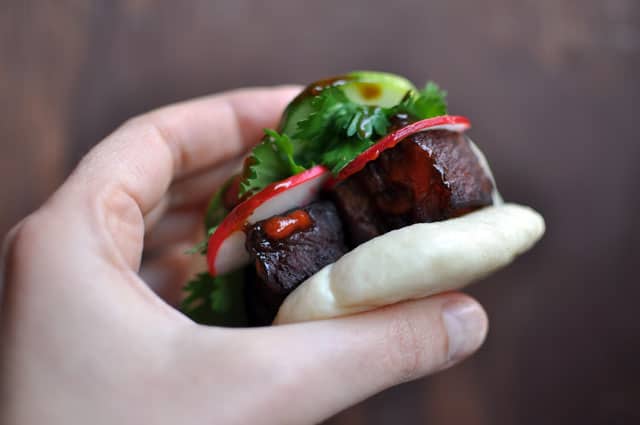 Pork belly is a cut that has become popular, especially here on the West Coast. Restaurants from Portland to San Francisco seem to have embraced this fatty cut and started putting it in on everything from pizza to grits. Pork belly has long been a popular choice for Asian chefs, but at this point, it's crossed over into New American cooking. Pork belly is a very fatty piece of pork. In fact, it's actually used to make bacon (which is much thinner, and all things considered, much healthier for you). The most common way to prepare pork belly is to cook it very slowly, letting the fat and the meat soften until they're super tender. Because pork belly is virtually all fat, you'll find yourself struggling to cut meat away from the fat. You'll just need to accept that you're going to indulge in something that's going to taste extremely fatty and delicious. We all gotta live sometimes!
We'd been dreaming about those pork buns Mr. Chang had perfected when, serendipitously, I stumbled upon his recipe for steamed buns around the same time we discovered that our neighborhood farmer's market had a new seller: a man who happened to have pork belly in his chiller. Knowing that the meat we were buying was sustainably and humanely raised, we decided we'd take on a weekend project. We combined a few different recipes to come up with our steamed pork buns, which we topped with some quick pickled cucumbers and radishes. It's been a year, as I mentioned, since I last tried Momofuku's pork buns, but if my memory serves me right, these are pretty darn good 'fakes.' The pork belly is flavorful — slightly sweet and tangy. The buns are feather-light and while you might gasp at the number of steps involved in making them, I will assure you that every step is pretty simple and homemade buns simply can't compare to store-bought (I've got a lot of dried nonfat milk leftover to make buns anytime I want).
Caramelized Pork Belly Buns on homemade steams buns
Pork belly recipe adapted from White on Rice Couple, Steamed Bun recipe adapted from David Chang, Momofuku Noodle Bar and Momofuku Ssäm Bar (via Gourmet)
Note: the pork belly in this recipe is cooked with a caramel sauce and fish sauce, so it appears much darker than what you might expect. Early in the process of cooking your pork, be sure to not allow it to brown deeply. The darker color certainly doesn't take away from the taste, but you might want to consider searing your pork briefly before braising it. 
For the pork belly:
2 pounds of pork belly, cut into 1 inch cubes
2 shallots, minced
1 tablespoon of vegetable oil
2 cloves of garlic, minced
2 tablespoons of fish sauce
1 – 1 1/2 cups of water
1/2 teaspoon of whole black peppercorns
3 tablespoons of sugar
2 tablespoons of warm water
For the buns:
1 cup warm water
1/2 teaspoon of active dry yeast
3 tablespoons + 1 pinch of sugar
2 tablespoons of nonfat dried milk
3 1/2 cups of cake flour
1 1/2 teaspoons of baking powder
Canola oil
For the quick pickled cucumbers and radishes*:
1 tablespoon of salt
2 teaspoons of sugar
vinegar
thinly sliced cucumber and radishes
cilantro leaves, Sriracha sauce and Hoisin sauce, to serve.
1. To make the steamed buns, first stir together 1/4 cup warm water with yeast and pinch of sugar. Let the mixture stand until foamy, 5 to 10 minutes. Next, whisk in the dried milk and remaining 3/4 cup warm water.
2. Combine the flour and 3 tablespoons sugar in a large bowl. Use a fork to stir in the yeast mixture until a dough begins to form. Knead the dough in the bowl until all of the flour has been incorporated.
3. Transfer the dough to a floured surface and continue kneading until the dough is smooth and elastic to the touch, but still soft. This should take about 5 minutes. Roll the dough into a ball, place in a larg oiled bowl and cover with plastic wrap. Let the dough rise at room temperature for about 2 hours, or until it has doubled in size.
4. While the buns are rising, make your pork belly.
5. Combine the sugar and water in a small sauce pan. Heat over medium heat and watch as the sugar begins to melt, caramelize and turn golden brown. Use a wooden spoon to occasionally stir the mixture. As soon as the mixture turns a medium shade of golden brown, remove it from the heat. If it's too thick, very carefully and slowly add some water, one tablespoon at a time. Mix with the spoon and set aside.
6. Add the oil and shallots to a dutch oven and heat it over medium heat. Cook the shallots, stirring occasionally, then add the garlic and cook until soft. Next, add the pork belly, cooking it on all sides for about 10 minutes (or until the edges are seared and it's lightly browned).
7. Add the fish sauce and cook for another 5 minutes before adding about 1 cup of water (or however much you need to cover the pork). Add the peppercorns, turn the heat to low and cook for 10 minutes. Next, stir in the caramel sauce and cook over low heat for 45 minutes – an hour, until the pork is fork-tender. Watch the pot and stir the mixture occasionally to make sure nothing is sticking to the bottom of the pot.
8. After the dough has risen, punch it down and transfer it to a floured surface. Flatten it into a disk, sprinkle baking powder in the center of the disk, then gather the edges and pinch the dough together to seal in the baking powder. Then, knead the dough, using more flour only as needed, until the baking powder has been incorporated (about 5 minutes). Place the dough back into the bowl, cover with plastic wrap and let rest for 30 minutes.
9. Cut out 16 pieces of wax paper (about 3 by 2 inches). Form the ball of dough into a log and cut it into 16 equally-sized pieces. Lightly dust with flour and cover with plastic wrap.
10. Flatten the pieces, one at a time, then brush with canola oil and fold in half, crosswise. Place each bun on a piece of wax paper and continue forming the rest. Cover the buns loosely with plastic wrap and let rise for another 30 minutes.
11. Add 1/2 inch of water to a pot with a steamer rack. Bring the water to a boil. Place 5-7 buns (on the wax paper) on the steamer rack. Be sure not to crowd the buns. Cover and steam over high heat for about 3 minutes, or until the buns are puffed and cooked through. Use a pair of tongs to transfer buns to a kitchen towel to keep warm. Discard the wax paper.
12. To assemble buns: Slip a few cubes of braised pork belly into each bun, add a few slices of pickled cucumber and radish and top with some cilantro leaves. Serve with sriracha and hoisin sauce.
* To make quick pickled cucumbers and radishes, simply combine the vinegar, salt and sugar in a non-reactive dish with a tight lid (we used tupperware). Cover and shake vigorously. Next, add the sliced cucumbers and radishes and let sit for 10-15 minutes.
Musical Pairings: Purity Ring – Shrines + Caramelized Pork Belly Buns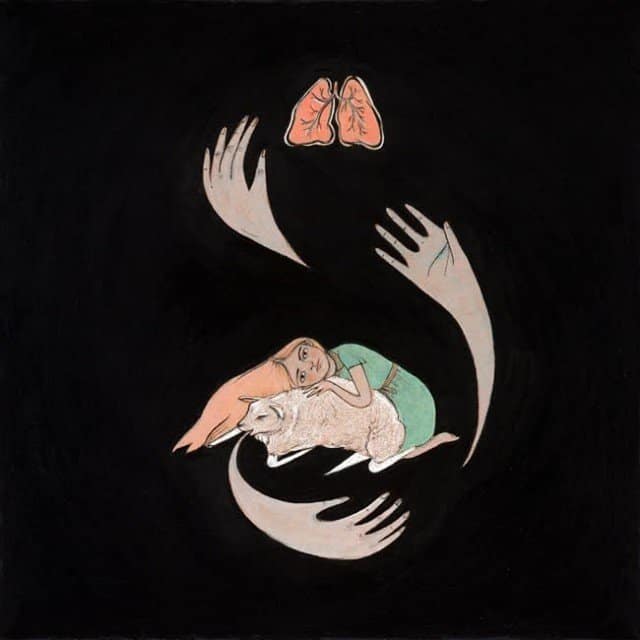 More on the Turntable.