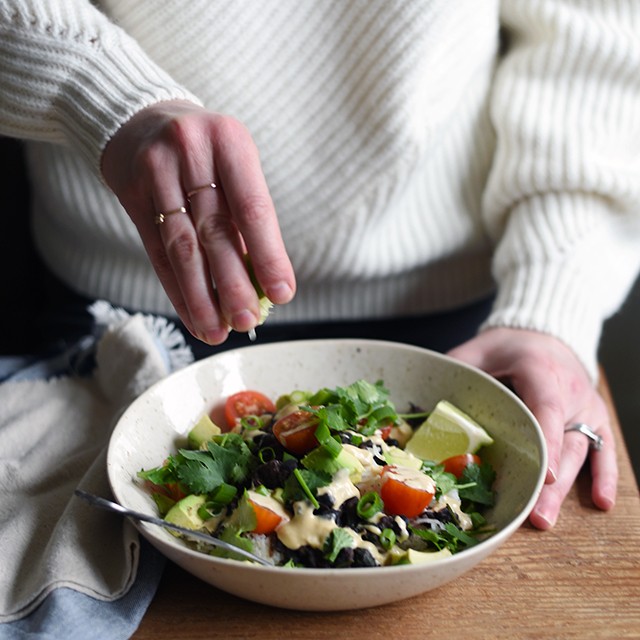 It took me a long time to feel comfortable in the kitchen. I began to enjoy cooking sometime in college, but back then, I owned exactly two cookbooks, and I cooked everything from them religiously (alternating only with the Food Network). Ina Garten became my beloved kitchen companion, encouraging me to make plenty of soups and showing me my way around scones and muffins. This was after I came back from studying abroad in Italy, where I had mastered the art of two dishes: a quick, pan-fried bistecca (steak) and a simple bowl of pasta with as much shaved Parmesan cheese as I could afford.
In Italy, I learned that you only buy hunks of Parmesan cheese (never the pre-grated kind). Back home in America, I experimented less because, let's be honest: I had Trader Joe's Pad Thai and San Diego burritos. As a Californian now living in Seattle, I can honestly say that everything tell you about Mexican food in California is true. Though, I will say something sacrilegious for most San Franciscans: I have never been a fan of Gordo's burritos. Spending my college years in San Diego spoiled me. Beach days in February, fish tacos, sunsets, bonfires, and the beautiful feeling of always having sand in your shoes.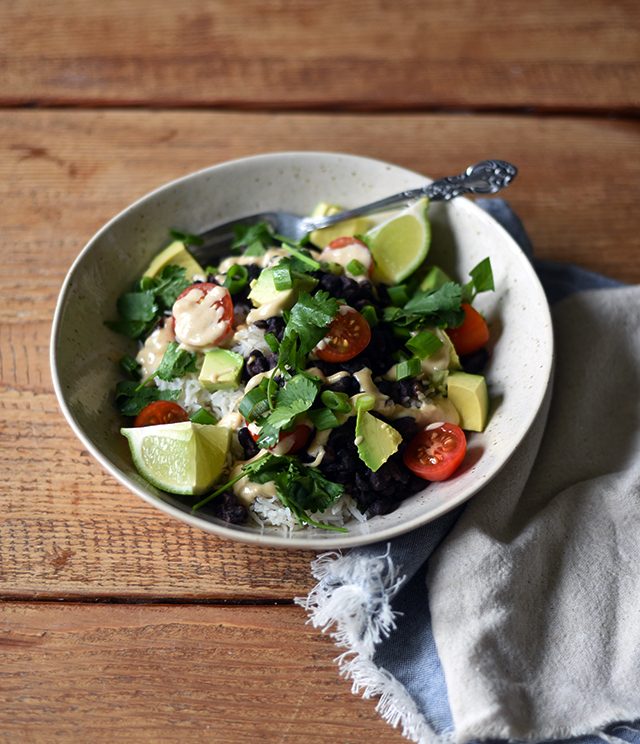 Like many college students, I wasn't a connoisseur, but when it came to Mexican food, I ate a lot of it. Upscale when my parents came to town, Chipotle when I was looking for something "fancy" myself, and everything in between. The fact that Tijuana was only a hop skip away from my dorm room meant that even "more real" Mexican food wasn't far.
Over the years, my love of Mexican food has not diminished. In fact, I can confidently say that I could eat Mexican most nights. That's because Mexican cuisine is actually incredibly varied — it's not all tacos and burritos. That said, tacos are still my favorite Mexican food (well, tacos and pozole). Burritos, however, have slowly faded into my past. Why? We Americans tend to treat them like we do most fast food: we overload them with the wrong ratios of meat to beans and rice, make them so huge they're impossible to eat in one sitting, and subject them to the dishonor of not being dressed with any of the delicious flavors so common in other Mexican dishes. There, I said it! As such, I rarely order burritos when I get Mexican food.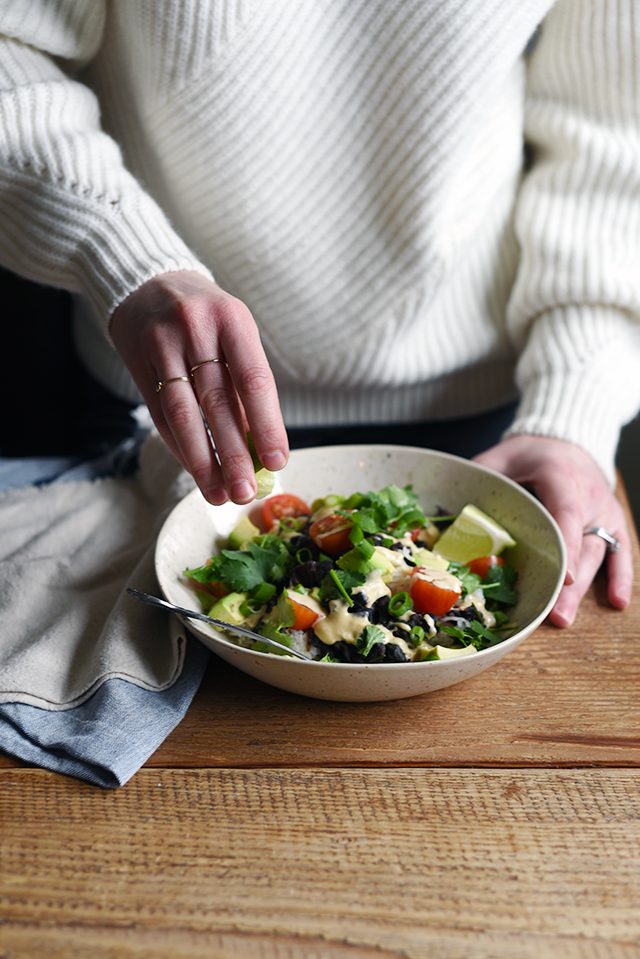 But. BUT! My friends Alex and Sonja are about to come out with a book that's changed my burrito game. Their burrito bowls (the recipe for which I'm sharing today) are fresh and light and dressed with an insanely flavorful (albeit, unconventional) sauce. These burrito bowls aren't "authentic" Mexican food but they're damn delicious.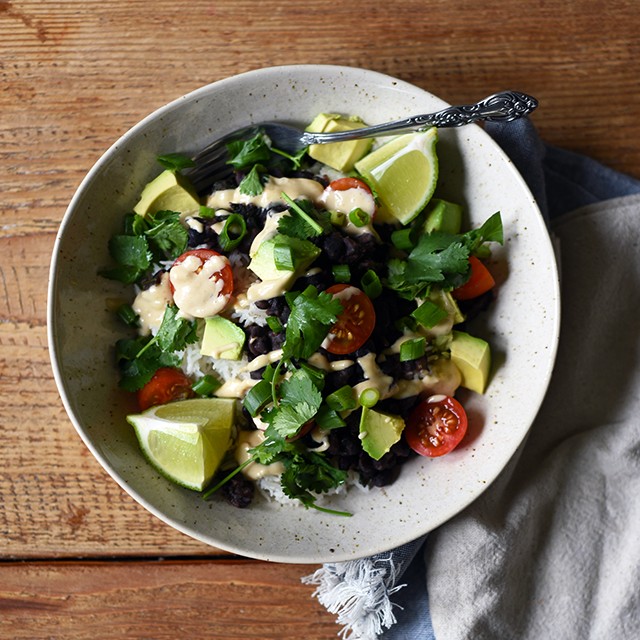 Speaking of Alex and Sonja's book, Pretty Simple Cooking, I couldn't be more on board with their approach. For many of us, cooking isn't a project: it's a way to feed ourselves and our families healthy and nutritious food. Simultaneously, cooking at home can start to feel exhausting and boring. Alex and Sonja offer fresh, seasonal,and largely vegetable-driven recipes that are entirely accessible for home cooks with a wide range of experience. Their goal? To make cooking feel fun so that you love it as much as they (and I) do. I think this recipe really exemplifies this approach. It's flexible enough to be tweaked by the more experienced cooks, adapted for picky kid eaters (ours skipped the slightly spicy dressing), and approachable for those who are just getting started in the kitchen. What's not to love?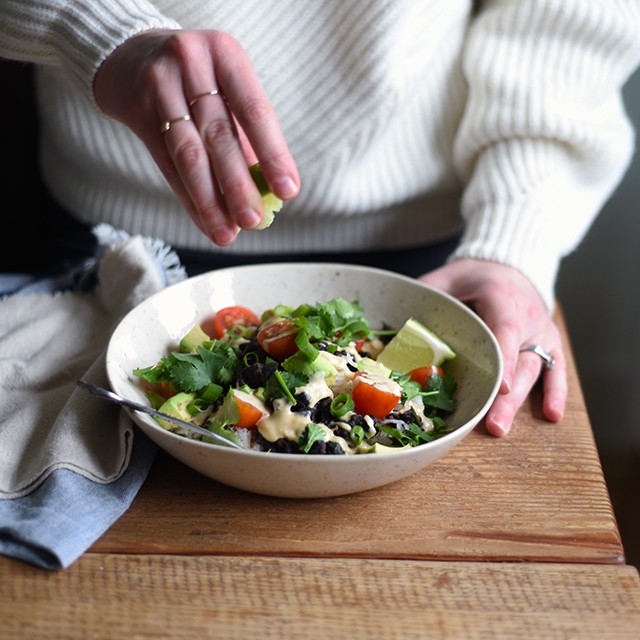 Burrito Bowl with Cumin Lime Crema
adapted from Pretty Simple Cooking (out February 6, 2018)
For the black beans:
2 15 ounce cans of black beans, preferably organic
1/4 cup of olive oil
4 garlic cloves, smashed and peeled
2 teaspoons of chili powder
1/4 teaspoon of kosher salt
4 green onions
1 handful of cilantro, finely chopped
For the cumin lime crema:
1 garlic clove, finely minced
1/4 cup of lime juice (from 1-2 limes)
3 tablespoons of well-stirred tahini
1 tablespoon of Mexican hot sauce (we used a local brand called Bonache)
1/2 teaspoon of ground cumin
1 tablespoon of olive oil
1/4 teaspoon of kosher salt
1-2 tablespoons of water
For the toppings and assembly:
1 pint of cherry tomatoes, sliced in half
1 avocado, pitted and sliced into cubes
handful of cilantro
thinly sliced green onion (green parts, only)
2 cups of cooked white or brown rice
Notes: the original recipe also calls for frozen or fresh corn as a topping, but we opted to skip it. Garnishing with leftover green onion was also our addition; feel free to skip if that's not for you, and just use cilantro.
1. Make the black beans: thinly slice the green onions. Use the dark green portion for the beans, and reserve the light green and white parts for the topping. Drain the cans of black beans, reserving 1/2 cup of liquid.
2. Add the olive oil to a small sauce pot and heat over medium. Add the dark green onion slices and whole garlic cloves. Saute for a few minutes, then stir in the reserved bean liquid, beans, chopped cilantro, chipotle powder, and kosher salt. Lower the heat and simmer for 10-12 minutes, stirring occasionally, until most of the liquid has been absorbed. Season to taste, and toss the garlic (if you wish).
3. Assemble the burrito bowls: start with the rice, then top with black beans, tomatoes, avocado, cilantro leaves, reserved green onion, and a generous drizzle of cumin lime cream. Eat immediately.