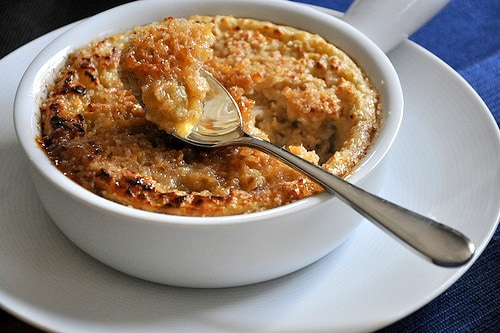 I waxed on about how much I love breakfast in my previous post. You get the picture. Breakfast is the first thing on my mind when I wake up in the morning–weekday or weekend. Which is why I have a difficult time with brunch. You see, I believe in giving your belly what it wants. And when my stomach starts furiously growling, I like to satisfy it before it sends a signal to my brain to be grouchy (I'm sure that my friends understand). Today, let's talk about the next best thing to creme brulee–a sneaky little healthier alternative, and a breakfast dish at the same time. Oh glory.
Oatmeal is a funny food–it's healthy yet it's still loved by us sweet tooths when it makes its way into cookies and pancakes. As a breakfast food, it can be quite boring, particularly when it is drowned and soupy in a paper cup. This weekend, though (which you can probably already tell was an indulgent one–at least as far as breakfasts are concerned)–oatmeal really surprised me.
In trying to replicate baked oatmeal that I recently had at a restaurant, I went in search of recipes that would create not only a chunky block, but one that was finished off with a sugary crust reminiscent of creme brulee. You know the feeling you get of cracking through that sugar crust on your creme brulee? This oatmeal–well–it gives you the same feeling. Creamy, yet firm, textured (thanks to unexpected bites of big, juicy golden raisins)–this oatmeal has a finishing sugary crunch that will make you forget that you're eating breakfast. I loved taking my first few bites and then drizzling a substancial amount of milk into the crevices.
Matt and I have been enjoying our individual-sized au gratin dishes, but you can certainly double this recipe for a crowd and bake it in a casserole dish. I admit, this serving is BIG and will leave you full until way past lunch. But, it's worth it, I promise you–to go the extra distance. You don't want to be clamoring for that last bite.
Bruleed Baked Oatmeal
adapted from a recipe on the QuakerOats website
*serves 2
1 cup of quick-cooking oats
3 tablespoons of sugar
1 1/2 cups, plus 3 tablespoons of milk
1 egg
1 teaspoon of pure vanilla extract
3-4 tablespoons of raw sugar
2-3 tablespoons of golden raisins
1 teaspoon of cinnamon
1. Preheat the oven to 350 degrees F.
2. Lightly oil 2 au gratin dishes.
3. Combine the oats, cinnamon, raisins and sugar in a large bowl and set aside. In another bowl, combine the egg, milk and vanilla, whisking with a fork until well-combined.
4. Pour the wet ingredients into the oat mixture and mix well.
5. Divide the mixture evenly between the two au gratin dishes, and bake for approximately 30-35 minutes (until the mixture has incorporated the liquid and is somewhat firm).
6. Turn your broiler on. Evenly sprinkle the raw sugar over each individual baked oatmeal.
7. Watch carefully for the next 1-3 minutes (until the sugar bubbles and begins to brown slightly).
8. Remove from the oven and let cool slightly.
9. Serve with milk or cream, and enjoy cracking that bruleed crust!
Musical Pairings: Electric President – The Violent Blue + Bruleed Baked Oatmeal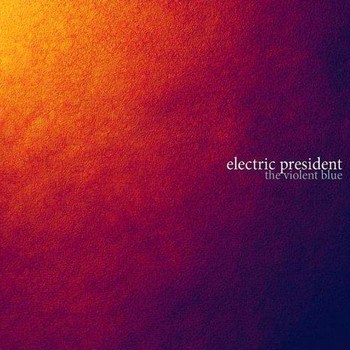 The bruleed baked oatmeal recipe Kasey is featuring on eating/sf today is a new favorite breakfast treat. The crisp, sugary crust pairs fantastically with the soft, almost custardy oatmeal underneath. It is a tasty, gratifying recipe that you'll want to savor. I did. And, as the name implies, it is the filling breakfast equivalent of creme brulee. Who could argue with something as awesome as that? And Electric President's latest album the Violent Blue is my selection for an awesome pairing for this recipe. Electric President is the Jacksonville, Florida duo of Ben Cooper and Alex Kane. The Violent Blue is the duo's third album, and their first stateside release on the Fake Four Inc. label. Rock-rooted but enhanced with lo-fi electronic elements, The Violent Blue is a beautiful, vast and pleasantly droning album inspired sonically by the sea. It is as exciting and gratifying as today's featured recipe. More at Musical Pairings' home. –Matthew