Can you ever really stop looking forward to cake? I mean, there's a reason you get one on your birthday and your wedding day. Cake is a celebration. I like cake as much as the next person but only to the extent that it is good cake. There's nothing worse than biting into a less-than-mediocre slice of cake (at least as far as desserts go). You know the kind that tastes like it came from a box, is either too moist or too dry and has no redeeming qualities or lasting memories?
When I was researching cake vendors for my wedding last year, I came across a few bakeries that prided themselves on making beautiful box cakes. As a lover of homemade desserts, I was quite horrified. Over my dead body would I serve cake to my guests out of a box. Horreur! You might think this makes me a cake snob but let me explain: a good cake doesn't require many more ingredients that those that come in a box. Most cakes require very few, in fact: flour, sugar, spices, butter, eggs. And the bottom line is, no matter how basic the recipe, your cake will always taste better than something that came out of a box.
I don't bake cakes very often, but when I do, I try to make them somewhat memorable. I tend to gravitate toward tarts or simple cakes (layer cakes are hardly my specialty). My perfect cake is homey, not typically frosted (or frosted lightly), aromatic, somewhat dense, and a good accompaniment to a cup of coffee or tea. I love chocolate, but when it comes to cakes, I tend to prefer buttery, spiced cakes that have a good crumb to them.
As you may have noticed, I've been obsessed with Kim Broyce's Good to the Grain (I've literally cooked through half the book), and this unassuming Muscovado Sugar Cake was one of the most recent things I've baked. I took a simpler approach to it, using regular brown sugar (light brown, at that), though next time I will definitely go out of my way to see what difference the Muscovado sugar would make. I whipped up some homemade whipped cream to go along with it (and a few sliced strawberries), and served it to guests visiting from the East Coast.
This cake was everything I love and more–the amaranth flour gave it a very unique aroma and flavor (a sweet grassiness), it was tender as could be (thanks to the addition of the homemade apple butter), and heavenly with a few dollops of whipped cream. Amaranth flour is pretty new to me, but pretty easy to find at whole food stores (I've used it to make biscuits, as well).
I realize it's Monday and most of us are probably still wishing it was the weekend, so I thought I'd share some cake.
Brown Sugar Cake
adapted from Good to the Grain
1/2 cup of amaranth flour
1/2 cup of whole wheat flour
1/2 cup all-purpose flour
3/4 cup of brown or muscovado sugar
1 1/2 teaspoons of baking powder
1/2 teaspoon of kosher salt
1/2 stick of unsalted butted, cold and cut into small cubes
2 eggs, separated
1/2 cup of milk
2 tablespoons of apple butter
1 tablespoon of white sugar
*homemade whipped cream
1. Preheat the oven to 350 degrees F and butter a 9-inch round cake pan.
2. Sift together the flours, brown sugar, baking powder and salt. Add in the butter cubes and rub the dry mix with the butter using your fingers until it resembles coarse cornmeal.
3. Whisk the egg yolks with the milk and apple butter in a medium bowl.
4. Stir the egg mixture into the dry ingredients until well-incorporated.
5. In the bowl of a stand mixer, whip the egg whites until light and fluffy. Add a tablespoon of sugar and whip until the egg whites are glossy and hold peaks (though not stiff). Scrape in half of the egg whites into the batter, folding in gently. Add the rest of the egg whites until fully incorporated.
6. Transfer the batter into the pan, smoothing the top.
7. Bake for about 30- 35 minutes, rotating halfway through the baking time, until the edges of the cake start to pull away from the pan and the top springs back lightly when you gently press down on it.
8. Serve the cake, sliced into wedges, with a generous dollop of homemade whipped cream.
*To make homemade whipped cream: combine 1 cup of heavy whipping cream with about a tablespoon of sugar. Whisk vigorously for about a minute (until the mixture holds its peaks).
Musical Pairings: Blonde Redhead – Penny Sparkle + Brown Sugar Cake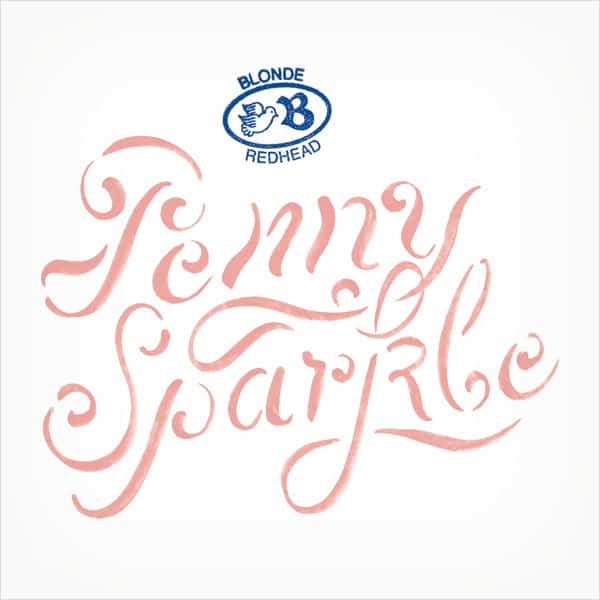 Kasey recently prepared the recipe featured today on eating/sf – a brown sugar cake – to welcome some guests visiting from NYC. And as far as I could tell from the quickly empty, crumb-less plate that remained where the cake once stood: it proved to be very popular. And if you get an opportunity to try this cake, you'll see why. It features subtle, but layered flavors that can be described as gently earthy-sweet. In other words, it is not a sugar bomb – instead it is slicker and sexier. And for that reason, it pairs well with Blonde Redhead's recent output: a band that has increasingly demonstrated that they know a thing or two about crafting layered, subtle sexiness. Indeed, their latest album, Penny Sparkle, is an album that whispers seductively in your ear. It is a sultry indie electro-pop album drenched in smooth atmospheric textures and clean, loosely draped melodies. More at Musical Pairings. –Matthew