As you may have noticed from my last post, I can be a creature of habit. I like my routine, and what's wrong with that? What's curious to me, however, is how this relates to my cooking. There are certain ingredients that seem to be a staple: shrimp, smoked paprika, basil, tomatoes, lemon, chicken, cinnamon, goat cheese. But every once in a while, I find myself veering off course with star anise, lavender, duck, amaranth flour, udon noodles. My favorite approach to food, however, is taking a routine ingredient (say, chicken), and throwing in an un-routine ingredient (say, lavender).
Such was the case with the poached salmon dish I'm going to share with you today. It comes from a lovely, lovely book called My Favorite Ingredients, by Skye Gyngell. Originally published in the UK (where Skye resides), it features recipes from the head chef at Petersham Nurseries Cafe in southwest London. What drew me to the book was the excellent arrangement of recipes–based not on part of the meal, or season, but rather, by a particular ingredient that elevates the dish. For example, sections include honey, asparagus, vinegar and citrus. I've been smitten ever since I received it. The recipes are inspired, unique (pickled pumpkin with burrata?! That one is on my to-do list) and the approach is so beautifully casual and laid back, it makes you feel like you're out in the English countryside, enjoying a breeze and the changing of the seasons as you delicately arrange fresh ingredients on a plate.
The poached salmon recipe was included in the section called 'leaves' as it features watercress tossed with a bit of olive oil and salt. The salmon, gently poached, is topped with a dressing of olive oil, creme fraiche (or yogurt), horseradish, lime and tomatoes–giving it a delicate, yet pronounced flavor profile. While Skye's recipe has the fish sit on a bed of rice, I chose to pan-fry some giant white beans, top them with the watercress salad, salmon and dressing. The various elements worked together beautifully – a deconstructed, yet fully constructed meal disguised as a salad.
I can't wait to try and share more recipes from Skye's book–it's truly inspiring.
Poached Salmon Salad with Horseradish Dressing
adapted from a recipe in My Favorite Ingredients
*serves 2
2 fillets of wild salmon
1 carrot, peeled and roughly chopped
1 celery stalk, chopped roughly
a few sprigs of fresh tarragon
1-2 bay leaves
a few black peppercorns
salt and freshly-ground pepper
extra virgin olive oil
juice of 1/2 lime
bunch of watercress (approximately two handfuls)
For the dressing:
1 tomato, diced
1/2 tablespoon of horseradish (I didn't have freshly-grated on hand, but use it if you do)
zest and juice from 1/2 of a lime
1 tablespoon of olive oil
1/4 cup of creme fraiche or yogurt (I used yogurt)
sea salt, to taste
1 cup of giant white beans, sauteed in olive oil until lightly golden (to serve)
1. Place the fillets in a shallow pan along with the vegetables, herbs, bay leaves and peppercorns. Cover with water and just bring it to a very light simmer. Turn off the heat immediately and let the fish cook as it cools.
2. Combine 1 tablespoon of olive oil with the lime juice and a bit of salt and pepper.
3. Once the salmon has cooled, remove it from the pan, place it on a plate, and brush it with the olive oil/lime mixture.
4. Make the dressing: combine the tomatoes with the horseradish, lime zest and juice, creme fraiche or yogurt, olive oil, and a bit of salt. Stir to combine.
5. Assemble the dish: wash and dry the watercress. Toss with a drizzle of olive oil and some salt.
6. Distribute the beans between two plates. Top with the watercress.
7. Remove the skin from the salmon fillets and flake the fish over the watercress.
8. Spoon the dressing over the entire dish.
Note: If you don't have giant beans, you could swap in black or wild rice (as the original recipe recommends).
Musical Pairings: Menomena – Mines + Poached Salmon Salad with Horseradish Dressing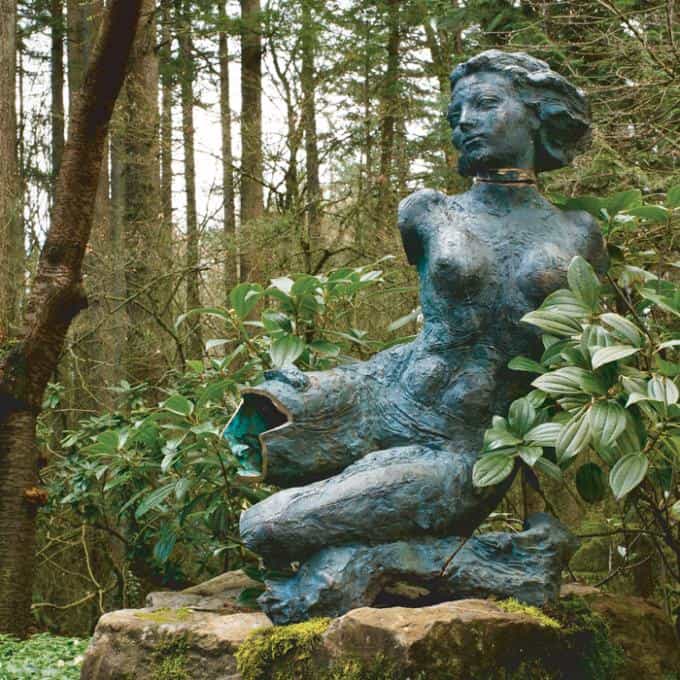 When I tried the delicious poached salmon salad with horseradish dressing that Kasey is featuring today, I knew this recipe had to pair with a band from the Pacific Northwest. This salad is fresh, it is big, and it is bold. And all of those adjectives apply equally to the 4th LP from Portland-based trio Menomena: Mines. But then, Mines is an album that can be described with a string of superlatives and adjectives that imply intricacy and largeness in scale — beautiful, vast, dense, complex and grand — for example. Nonetheless, although each of those descriptors are spot-on, they also don't bring you any closer to understanding what the album sounds like or why Mines is one of the year's best albums. But yes, let's put that out there from the beginning: Mines is one of 2010's best albums. Find the rest of the review and tracks at Musical Pairings. –Matthew