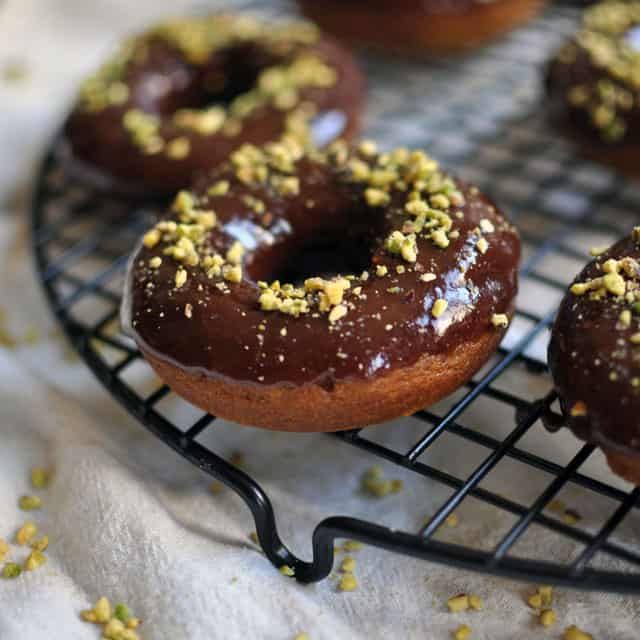 I can no longer avoid it, and I will not apologize. If you, like me, read a great deal of food blogs, you may be familiar with the term 'pumpkin fatigue.' You see, us food bloggers seem to be quite infatuated with this vegetable around this time of year. And that's putting it mildly. Come October, every food blogger I know has usually posted at least one recipe involving pumpkin. This year, I've been slow to share my pumpkin recipes. I've been eating pumpkin just as enthusiastically as ever, but have somehow managed to overlook it on the site thus far. The time has come for pumpkin in the Turntable Kitchen.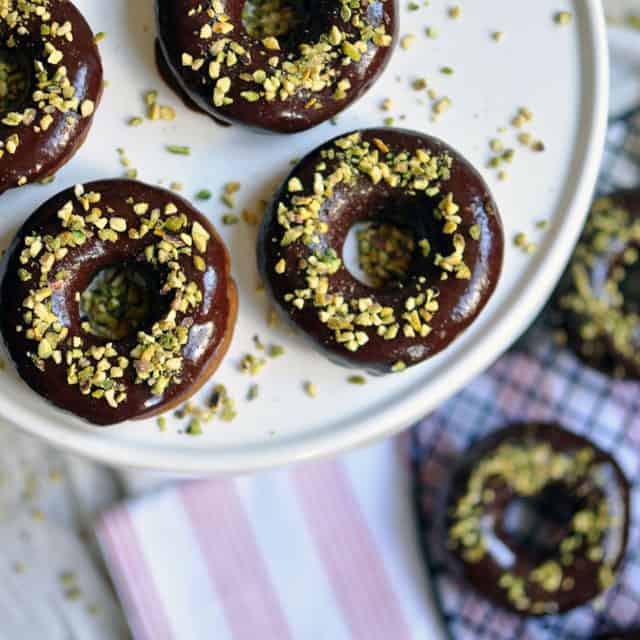 I love pumpkin every which way; in sweet and savory dishes, but especially in baked goods like muffins, cakes, and donuts. This is not the first time I've made pumpkin donuts, but this is the first time I've made baked donuts and that, my friends, was and is a revelation. You see, an Amazon Prime account is probably the worst thing for my bank account. I casually browse items I want and, knowing they may arrive at my doorstop in just two days, and that I won't have to go through the hassle of entering payment or shipping information, I tend to click 'add to cart' and 'complete order' rather quickly. Such was the case with this donut pan which, I assure you, has already gotten its fair share of use.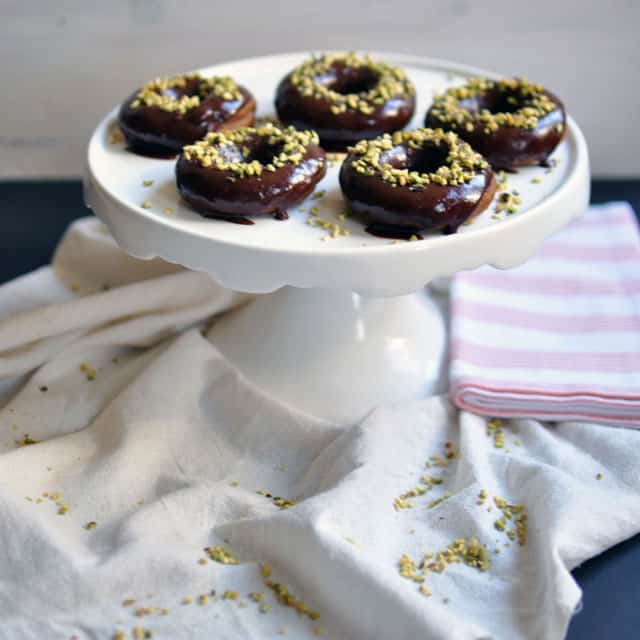 I knew the first baked donuts I wanted to make would celebrate the pumpkin, and timing happened to be right. It was Matt's birthday and, as I do every year, I baked. I started with Tracy's baked pumpkin donut recipe (thanks, Tracy!) and added my twist. I love the combination of pumpkin and chocolate, so I topped my donuts with a rich, chocolate glaze and a sprinkling of chopped pistachios that was mostly for aesthetics, but turned out to be a fantastic added flavor. I tend to associate pumpkin with pecans, but now I'm convinced pistachios are an equally brilliant companion.
These donuts come together pretty quickly and so does the glaze, which makes this a great treat for a party. The donuts, as you can imagine, are moist and cakey (like reaalllly moist and better-than-cake cakey). They were devoured by our friends and I'm quite sure your batch will be, too.
November Pairings Box announcement:
Don't forget! November 14th is the last day to purchase a subscription that kicks off with November. This month's Pairings Box is vegetarian-friendly.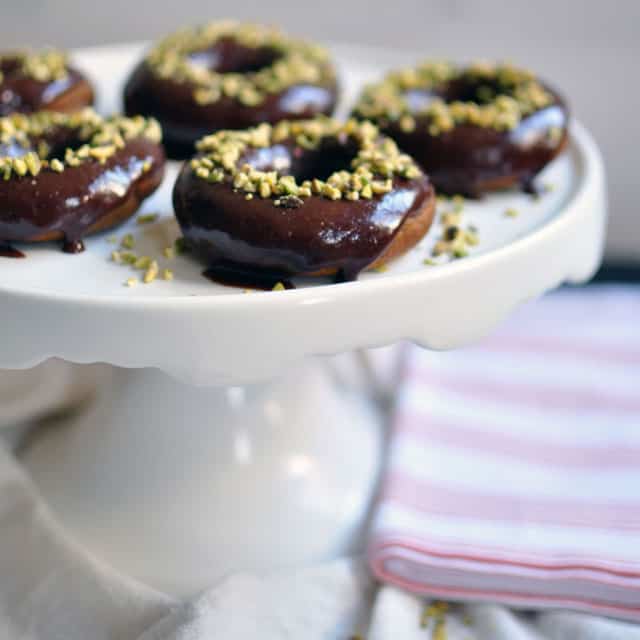 Baked Pumpkin Donuts with Chocolate Glaze and Chopped Pistachios
donut recipe adapted from Shutterbean, glaze recipe adapted from Alton Brown
*makes about 18 donuts (depending on the size of your donut pan/ molds)
For the donuts:
1 cup of all-purpose flour
1 cup of whole wheat pastry flour
1 teaspoon of baking soda
3 teaspoons of ground cinnamon (I used my favorite Saigon cinnamon)
2 teaspoons of ground ginger
1/2 teaspoon of kosher salt
2 cups of canned pumpkin puree
1 cup of packed brown sugar (dark or light)
2 large eggs
1/2 cup of vegetable oil
2 teaspoons of real vanilla extract
For the chocolate glaze:
1/2 cup of unsalted butter
1/4 cup of milk, slightly warmed
1 tablespoon of light corn syrup
2 teaspoons of real vanilla extract
4 ounces of bittersweet chocolate, roughly chopped
2 cups of confectioners' sugar, sifted
Finely chopped pistachios, for topping
1. Preheat your oven to 325 degrees F. Lightly coat your donut pan with oil.
2. Add the flours, baking soda, cinnamon, ginger and salt to a large bowl and whisk to combine.
3. Add the pumpkin puree, sugar, eggs, oil and vanilla extract to a small bowl and whisk until smooth. Transfer the wet mixture to the bowl with the dry mixture and whisk until incorporated.
4. Use either a pastry bag fitted with a round tip or a large ziplock bag with one corner snipped off to pipe the batter into the donut mold. Piping the batter will allow you to create a nice, rounded surface for your donuts. Fill each mold about 2/3 full.
5. Bake donuts for approximately 13 minutes, or until the donuts spring back when you lightly press your finger into them. Cool the donuts for a few minutes before turning them out onto a cooling rack.
6. Once you've made your first batch of donuts, pipe the second batch and bake. Repeat a third time, provided you have leftover batter (doubling the original recipe yielded 18 donuts for me).
7. While the donuts are cooling, make the glaze: combine the butter, milk, corn syrup, and vanilla extract in medium pot and cook over medium heat, until the butter is melted.
8. Dial the heat down to low, stir in the chopped chocolate and whisk until melted and smooth. Turn off the heat and whisk in the powdered sugar until smooth. Immediately dip the donuts in the glaze, one by one, and transfer to a rack or baking sheet to cool. Sprinkle with chopped pistachios and allow the glaze to set for 30 minutes.
Musical Pairings: Motel Beds – Dumb Gold + Baked Pumpkin Donuts with Chocolate Glaze and Chopped Pistachios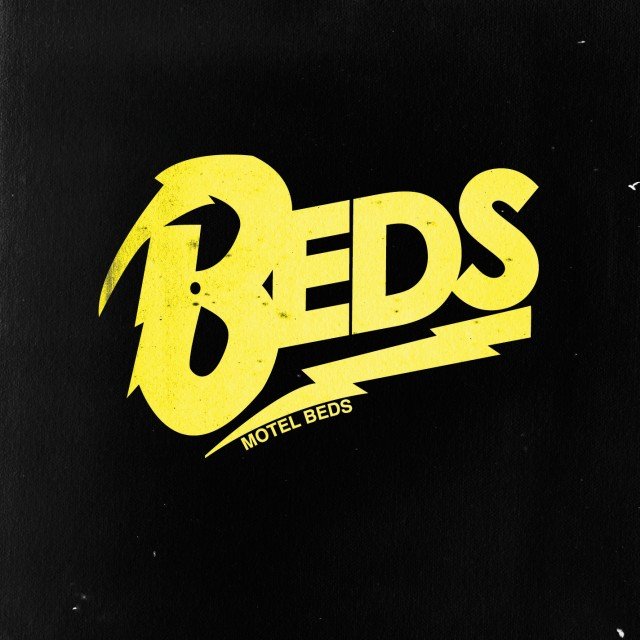 More on the Turntable.