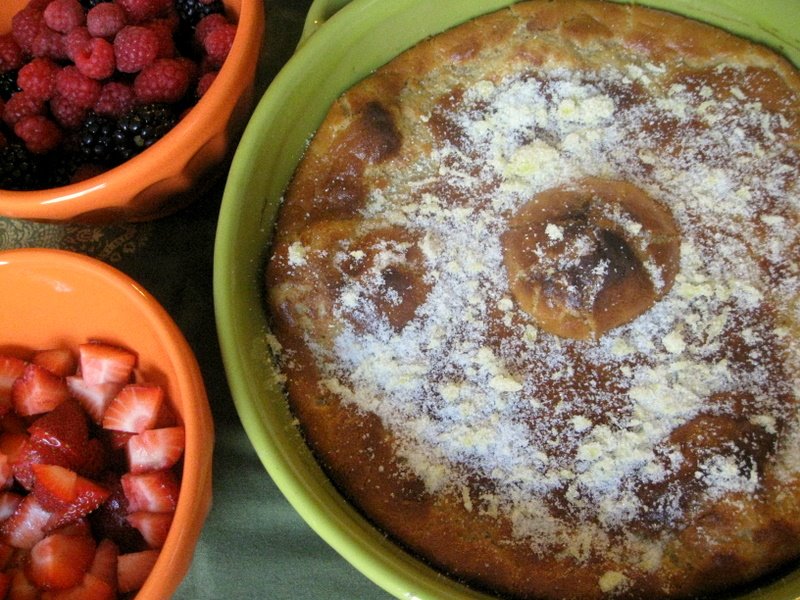 There are days when I wake up from a dream that seems entirely inappropriate. Nightmares of my blog archives missing or being out of date, sitting through a client meeting all night long. Having the entire Internet erased (along with all of my HTML script). On these mornings, I typically think that, subconsciously, my mind was trying to tell me: it's gonna be a bad day. But nothing makes me feel just a tad bit better than breakfast. On any given day, I usually choose between two options: yogurt and fruit with granola, or oatmeal. With my belly full, and a cupful of coffee to-go, I can usually talk myself out of the terror that the Internet has been erased (I usually just check my iPhone on the way to work and, relieved, know that the world has not ended).
I particularly hate these dreams on the weekends, when my mind and I are supposed to have a very special deal: no stress. Sometimes, though, the week's stress will tend to spill over and I'll dream about forgetting to memorize the dictionary or send a very important, personal email to the wrong person. Or wake up thinking it's Tuesday. I'm particularly not fond of Tuesdays. In either case, the best solution to these questionable weekend mornings is almost always breakfast (and of course, the realization that it's in fact the weekend…and the Internet is still alive and well).
A few weekends ago, while debating what to make for breakfast, my eyes landed on a particularly compelling recipe (a recipe of the day, in fact) for a Dutch baby pancake. As I make my mental list of registry items, I'm adding a cast iron skillet to the list. A Dutch baby is, according to the recipe, something of a mix between a pancake and a popover. But in my ceramic dish, it really was just a pancake–a puffy, hearty baked pancake. I won't call it a Dutch a baby.
It was, however misshapen, a really great pancake. The pizzookie of pancakes, shall we say? Slightly puffed, crisped and warmly browned on the outside, it had a thick consistency on the inside. The original recipe called for a lemon sugar topping, but we found that drizzling a bit of lemon juice over the entire thing (not omitting the lemon sugar), elevated this pancake to new heights. A sprinkling of fresh berries, and a light roast cup of coffee as an accompaniment, and I can wholeheartedly say that whatever those dreams were, well, they went away pretty quickly.
Baked Pancake with Lemon Sugar
* adapted from an Epicurious recipe for a Dutch Baby
* serves 2-3 people with appetites
1/3 cup of sugar
2 teaspoons of lemon zest
1-2 teaspoons of fresh-squeezed lemon juice, plus more to serve
3 eggs, at room temperature (let them sit for about 15-30 minutes before making this pancake)
2/3 cup of milk
2/3 cup of white whole wheat flour
1/2 teaspoon of vanilla extract
pinch of cinnamon
pinch of grated nutmeg
pinch of salt
3 tablespoons of butter
1. Make the lemon sugar: stir sugar with lemon zest in a small bowl.
2. Preheat the oven to 450 degrees F.
3. Using a hand blender, beat the eggs until they are frothy and light in color. Mix in the flour, milk, vanilla extract, spices and salt and continue beating for another minute, until everything is incorporated.
4. Melt the butter in the microwave and beat into the batter.
5. Butter a round baking dish generously.
6. Pour in the batter and stick in the oven for about 20 minutes (the original recipe calls for a cook time of 18 to 25 minutes).
7. You'll know it's ready when the top starts to puff up and is nice and golden brown in color.
8. To serve, sprinkle with lemon sugar and drizzle with fresh squeezed lemon juice. Cut into slices. Serve with fresh berries, additional lemon sugar and lemon juice.
Cook's Note: This is not really a Dutch Pancake. If you want to make a true Dutch pancake, check out some of these great recipes from Joy the Baker, Everybody Likes Sandwiches and Hey, that tastes good (gluten free recipe).
Musical Pairings: Eddie Bo – The Hook and Sling and Baked Pancake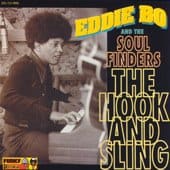 As you are aware, it is Musical Pairings' goal to introduce our readers to music they may not have heard of before. That doesn't necessarily mean it has to be "new" music, though. For example, I'm willing to bet that most of our readers are not familiar with the great New Orleans musician Eddie Bo. He was an amazing songwriter and during the course of his career, (1955-2009) he developed a prolific songbook that masterfully spans numerous genres including jazz, funk, soul, rock and R&B. Nonetheless, once you've heard some of his stuff, I think you'll agree: it is bewildering that Eddie Bo never reached superstar level. When he passed away last month, the world lost an amazing musician.
Sugary, sweet and tangy, the lemon-sugar coated baked pancake is well paired with Eddie Bo. Eddie's best charting track, "Hook and Sling," opens with sparse, frantic percussion and an upbeat, rhythmic guitar riff. In the middle of the track, punchy horns briefly join the fun, and quickly disappear. Eddie shouts, "Go on with your bad self. Hot. But I just can't stop doing the Hook and Sling." This stuff is guaranteed to get people dancing or tapping their toes. Head over to Musical Pairings for the full review. –Matthew