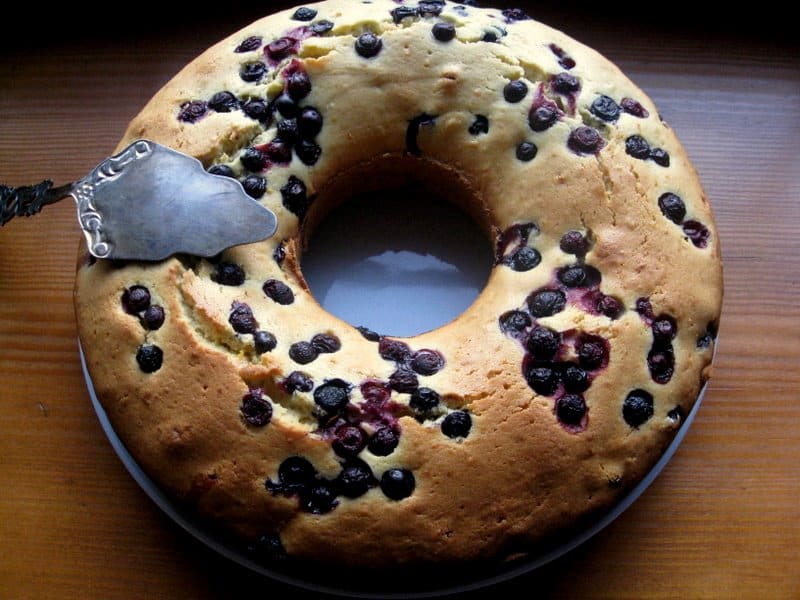 We don't get days like this in San Francisco often–the temperatures soared into the 80s over the weekend and San Francisco felt like the East Coast during a heat wave. During a heatwave, there are few things more pleasant than long, lingering breakfasts over mimosas, fresh strawberries and picnics in the park. I have fond memories of spending summers running around my suburban New Jersey neighborhood, jumping on the trampoline at my neighbor Sam's house, impromptu ping pong tournaments in my parents' garage, and fresh corn on the cob in our backyard late into the evening–particularly on extra hot nights when all you can do is lazy around. Am I getting ahead of myself? I realize it's April and it's far too cruel to get into a summer mindset already.
I just can't resist. As a little prelude to summer, I thought it was only appropriate to bake a cake that I had bookmarked ages ago on a blog called 64 sq ft kitchen. The writer's vivid, descriptive language, beautiful pictures and deliciously exotic recipes often make me feel like I'm sitting at a sprawling kitchen table at a beautiful villa somewhere. Blueberry cake: the mental image of it just screams summer to me. Her adaptation of an olive oil-based cake from Jamie Oliver's Jamie's Italy cookbook, sounded like pure summer. Batter composed of flour, eggs, milk, sugar, butter, olive oil, lemon and orange zest seemed like it just couldn't go anywhere but right. I envisioned the generous blueberries bursting in every bite, soaking the tender cake in their juices.
Despite the recipe's recommended cook time of 45-55 minutes, I ended up baking it for about an hour and five minutes. I also cooked it in one of my mom's missing-center cake pans (which may have ultimately led to the longer bake time as the batter was compressed in a smaller bake space). As promised, the cake was extremely moist and tender, flavored by the velvety aroma of olive oil and accented by gorgeous specks and citrusy goodness of lemon and orange zest. The outside of the cake was a perfectly browned crust, enveloping the uber-moist center.
One final thought on the cake: I've learned that not everyone likes moist cakes–or maybe just my dad, who ended up cutting it into slices the very next day and throwing it in the oven to 'dry it out.' I didn't taste the results, but according to him, it was even better the next day. If you're like me, and prefer your cakes to retain that moist consistency for a few days, follow Warda's instructions and wrap the cake it plastic wrap and store it at room temperature–the flavors should blend to be even more delicious the day after baking (and who doesn't love that?).
Lastly, for the first time, I checked out Omnivore Books in Noe Valley to attend Molly Wizenberg (author of the beautiful orangette blog) sign her book, A Homemade Life, and talk about her road to orangette (and now the book). For those of you who read her blog, but have never met her–she's just as lovely in person and chatted with everyone who waited to have their books signed. I can't wait to read it.

Blueberry Cake
* c/o 64 Sq Ft Kitchen (adapted fromfrom Jamie's Italy), adapted slightly by me
4 eggs
1 cup + 1/4 cup of white sugar
3/4 of a cup of butter melted in a ramekin
1/2 cup of olive oil (I used 1/4 cup of EVOO and 1/4 cup of light EVOO–as long as you use extra virgin, and something relatively fruity, you should be good to go)
3/4 cups of milk (I used reduced fat)
1 teaspoon of vanilla extract
3 cups of flour
1.5 teaspoons of baking powder
pinch of sea salt
Zest from 2 lemons
Zest from 1 large orange
6 ounces of fresh blueberries, washed
1. Preheat your oven to 350 degrees F.
2. Butter a 9-inch cake pan (get in all of the creases and cracks). I used a round pan with a missing center for this cake.
3. Using a hand blender, whisk the eggs and sugar until thickened and pale yellow in color (3-5 minutes).
4. Pour in the butter, oil, milk, zests and vanilla extract. Blend briefly to combine.
5. Sift in the flour, baking powder and the sea salt. Blend well for another minute or so and let the dough rest for about 10 minutes (Warda says this helps the flour absorb the liquid).
6. Pour half of the blueberries into the batter and pour the batter into the cake pan. Toss the rest of the blueberries on top of the cake and bake for about 1 hour (this time will vary depending on the type of pan you use and your oven, so check it after about 45 minutes). The outside of the cake should be a golden brown color and a toothpick inserted into the center should come out clean.
Musical Pairing: The Sea and Cake – Everybody paired w/ Blueberry Cake
For those who didn't realize it, this past Saturday was music-nerd Christmas (Record Store Day). Record Store Day is billed as a day when independent record stores and artists come together to celebrate music. To mark the occasion "special vinyl and CD releases . . . are made exclusively for the day." Needless to say, I spent a boat load of money on records this weekend. Don't worry if you missed it though, I picked up something for you too (see above). One of my favorite purchases was the Thrill Jockey Record Store compilation, which seems appropriate since today's Musical Pairing is a Thrill Jockey band: The Sea and Cake (who didn't appear on the compilation).
The Sea and Cake's album, Everybody, is tender, warm indie-pop that pairs perfectly with this blueberry cake. It is upbeat, relaxed and beautiful. Lean, fuzzy guitars power the impeccable and catchy "Crossing Line." On "Lightning," lead singer Sam Prekop's sounds like he is delivering the lyrics through a hazy, trance while shimmering guitars and soft, light twirping noises echo softly in the background.
The Sea and Cake features members of several more experimental post-rock groups (Tortoise, Cocktail, Shrimp Boat, and Gastr del Sol), but the experimental leanings of these members is only alluded to on a few tracks on this album. Instead, most of the tracks are very straightforward and frequently sound jazz-influenced. When The Sea and Cake do wander away from straightforward songwriting, they still stay true to their overall sound. Dream-like vocals gradually flow across a landscape of warm, washing guitar feedback on the track "Left On." Head over to KVRX to download a few live, acoustic tracks from The Sea and Cake. –Matthew