Hello, dear friends –old and new. A few years ago, I started a little food blog called eating/sf. A year or two later, my boyfriend at the time (then fiance, now husband) started pairing albums to go with my recipes. He was pretty good at it and started to really like blogging himself. So his individual Musical Pairings soon turned into a partner blog. We've had a lot of fun together: cooking, going to shows, listening to music, discovering new albums, recipes, restaurants, etc. And soon we realized that we were outgrowing our old homes. So we decided to find ourselves a new one. When we started this process, in the beginning of the summer of 2010, we didn't realize that we'd end up joining forces with an awesome developer/design team and we didn't realize that our new home would also have a new name. But alas, I've come to realize: change is a good thing. So, welcome.
Welcome to Turntable Kitchen, where you'll be able to find new recipes, album reviews, Musical Pairings, Single Servings, city guides, occasional restaurant reviews and product reviews. We're so glad to have you join us! If you've been reading eating/sf and Musical Pairings, we're excited to have you over to our new home. If you're new to us, we're happy to meet you. I'm Kasey, and I head up the epicurean section of the blog. My husband Matthew is your go-to music guy. Together, we cook, we eat, we eat out, we listen to music, we go to shows and we talk about food and music and why they make sense paired.
Over the course of the next few weeks, we'll be sharing some exciting giveaways with you, so stay close to the action: start following our Facebook page and Twitter profile to stay up-to-date with new giveaways and ways to win.
Today's giveaway is one my new cookbook obsessions: My Favorite Ingredients. I adapted a recipe from it a few weeks ago and have been swooning ever since, so it feels right to share it with someone else. If the poached salmon salad wasn't enough to convince you, I assure you this apple ice cream with caramel sauce will.
Here's what you gotta do: leave a comment on this post, telling us what your favorite apple dish is. If you're also on Twitter, follow us and Tweet about our launch (be sure to mention your Twitter name in your comment) and you'll be entered twice. Start following us on Facebook and leave a comment there, and you'll be entered three times. We'll announce the winner on Tuesday, November 23rd.
It feels appropriate to share our new site with you this Fall–after all–the leaves are changing and cooler temperatures are coming (or were coming, until San Francisco decided to punch up its Indian Summer once again). I've been cooking a lot this Fall, inspired by the colors and produce of the season.
Things I'm loving this fall: the return of apples and pears to my local farmer's market, discovering new and awesome blogs, Sufjan Stevens, plaid, and this out-of-this-world apple ice cream.
I've never thought to make apple ice cream, until I saw it in Skye's book and I thought, "why in the world not?" Take note: do not make this ice cream and neglect the caramel sauce. I mean that would just be plain silly. Together, they taste like a caramel apple. I kid you not. If you're an adult and have longed for a caramel apple, but haven't had one because you knew it would make a mess, this ice cream is for you. It is fresh and clean and has a very distinct apple taste and the caramel sauce is gooey and sweet. It's the perfect ending to a Fall or Winter meal.
Apple Ice Cream
adapted from My Favorite Ingredients

5 apples, peeled, cored and chopped into small pieces
1 lemon, juiced
2 tablespoons of cognac
3/4 cup of powdered sugar
2/3 cup of heavy whipping cream
1. Combine the apple pieces with the lemon juice in a blender and blend until smooth.
2. Add in the cognac and sugar, mixing to incorporate. The mixture should be completely smooth – without any chunks.
3. Pour in the cream and blend briefly to combine. Pour the mixture into an ice cream maker and process according to instructions.
Caramel Sauce
1 1/4 cups of sugar
1/2 cup of water
pinch of sea salt
1 cup of heavy whipping cream
1. Combine the sugar and water in a small pot over low heat. Stir the sugar once and continue to heat over low heat until it dissolves.
2. Raise the temperature to medium and cook the sugar and water without stirring until it turns a rich golden brown (about 10-15 minutes) –don't let it burn. Add a pinch of salt and remove the pot from the heat.
3. Now, arm yourself with an oven mitt and a long-armed wooden spoon. Stand back as you pour in the cream (it will bubble). Once the bubbling has subsided, return the mixture to the burner over low heat and stir for about a minute. Remove the caramel from the heat and allow it to cool.
Serve ice cream with a generous drizzle of caramel sauce on top.
P.S. We're still settling in, so please excuse any glitches you may find on the site – we're working on making it as awesome as can be! If you have feedback, please share it with us.
Musical Pairings: Cee-Lo Green – The Lady Killer + Apple Ice Cream and Caramel Sauce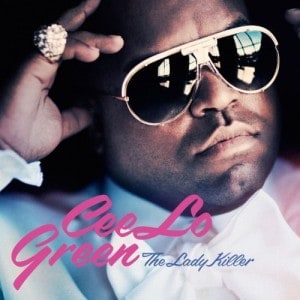 Hey there, ladies and gentlemen!  Welcome to the Turntable Kitchen housewarming party!  So yeah, we are pretty excited about our new digs.  We think they look great!  And in case you are wondering: we will continue to offer the same great content that we've always offered: album reviews with MP3s, delicious recipes, rockin' mixtapes, city guides for dining out at restaurants across the world, music videos, pics and vids from live shows, and more.  And with all of that in mind, we'll be celebrating the birth of Turntable Kitchen for the next few weeks with exclusive MP3s from some of our favorite artists, sweet giveaways of great cookbooks & vinyl records, brand-spanking new recipes, hot-off-the-press album reviews, and a lot more!  In fact, over in the food section of the site, Kasey is giving away a copy of a cookbook by Skye Gyngell titled "My Favorite Ingredients."  Follow us on Twitter and Facebook for a chance to win this and some of the other great goodies we have to giveaway in the next few weeks. Tracks and more on the Turntable. –Matthew