I'm a chocolate person. If you met me and asked me to tell you three things about myself, the fact that I am a chocolate person would probably be one of the first things I would tell you. I'm not sure what that says about me. One of my oldest friends detests chocolate with a passion and yet, somehow, we're still friends. Lately, though, I've become a fruit dessert person. I used to think that you become a fruit dessert person when you turn 50 and your doctor/nutritionist/family friend tells you that you can fool yourself into thinking that you're eating a delicious cake, when you're really digging into a crisp. Until then, I used to think, no one in their right mind orders fruit for dessert.
Apparently, I'm getting old. Because while I still tend to order chocolate out, and indulge in dark squares every night, I've become enamored with fruit desserts. Particularly roasted and grilled fruits, crisps, crumbles, and compotes. I find them to be sophisticated and oh-so-pretty to look at on my table. They transport me to seaside tables and rustic cabins. There's something romantic about fruit desserts: the way that the fruit juices bubble and concentrate, the way that the roasting transforms the fruit into a tanner, slimmer and more refined version of its old self.

I've made these Amaretto-roasted pears twice now. Once, making the recipe for the accompanying almond crunch (which I jazzed up with some oats), and once simply topped with a dollop of thick Greek yogurt. Both times, the cooked down sauce that was created from a mixture of caramalized sugar, butter and Amaretto liquor was absolutely heavenly. Gooey and sticky, it reminded me of a sweet, luscious balsamic syrup–concentrated and aromatic. In some ways, this is a winter recipe: cozy and luxuriously enveloping with all of its varying textures. But in other ways, it can also play nicely into the summer, when sometimes a heavy piece of cake–or even a crumble–are just too much. The great thing about this recipe is that it's insanely simple and yet feels upscale. I recommend that you don't toss the extra sauce–drizzle it into yogurt, ice cream…whatever feels right!

I've mentioned before that this week marks a small occasion in my life: my 27th birthday. I'll be thinking about food a lot. Starting with a meal out with my family in San Francisco, and then a 5-day vacation in Hawaii. There is nothing I'm looking forward to more right now than to feel the hot sun on my skin and to bite into a juicy pineapple. Stay tuned for cake, meat and a bevy of brunch recipes!

Amaretto-Roasted Pears
adapted from The Best of Gourmet (also found at Epicurious.com)
3 firm Bosc pears
2 tablespoons of unsalted butter, at room temperature
1/4 cup plus 1 tablespoon of sugar
3 tablespoons of Amaretto liquor
1/2 cup of water
Optional:
Almond Crunch OR Greek Yogurt
For almond crunch:
1 large egg white
3 tablespoons of sugar
pinch of salt
3/4 cup of sliced or slivered almonds
handful of rolled oats (optional)
If making the almond crunch:
1. Preheat the oven to 350 degrees F, with the oven rack in the middle.
2. Line a baking sheet with parchment paper or a Silpat.
3. Whisk together egg white with the salt and sugar until the sugar is dissolved, then add the almonds and oats (if using), until coated. Spread the mixture in a thin layer of the baking sheet. Bake for about 15 minutes (watch carefully to make sure you don't burn it) until golden brown. Cool and then break up into pieces. Set aside.
For the pears:
1. Heat the oven to 425 degrees F.
2. Slice the pears in half and core them. Evenly spread 1 tablespoon of butter on the bottom of a glass baking dish and sprinkle with 1/4 cup of sugar.
3. Place the pears, cut side up on the sugar and evenly divide the remaining butter in dabs amongst the pears. Sprinkle with a tablespoon of sugar and drizzle with 1 tablespoon of Amaretto.
4. Roast uncovered for about 25 minutes. Then, add a pinch of salt, water and 2 tablespoons of Amaretto. Using a wooden spoon, scrape the hardened sugar on the bottom and stir well with the water and Amaretto. Continue roasting for about 15 minutes, basting the pears with the juices.
5. Serve the pears topped with either a scoop of Greek yogurt or almond crunch and drizzled with pan juices. Or, go all the way and top with yogurt, crunch and juices. Pour any leftover sauce into a bowl and bring it to the table for additional drizzling.
Musical Pairings: Bill Callahan – Woke On A Whaleheart + Amaretto-Roasted Pears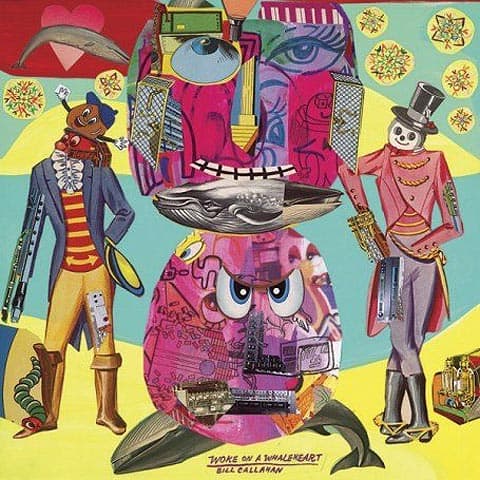 If you like pears and deep, rich caramel flavors, you are in for a treat with the recipe featured today on eating/sf. The pears are roasted in amaretto which creates a luxurious, earthy sweetness. And the pears make for a great canvas for different texture combinations depending on whether you choose to top the pears with the almond crunch or Greek yogurt. I've selected Bill Callahan's first album released under his own name instead of under his Smog moniker: 2007's Woke On A Whaleheart. For me, Callahan's voice invokes a synesthesia that calls to mind deep, rich caramel flavors, making this a perfect pairing. Read more at Musical Pairings. –Matthew