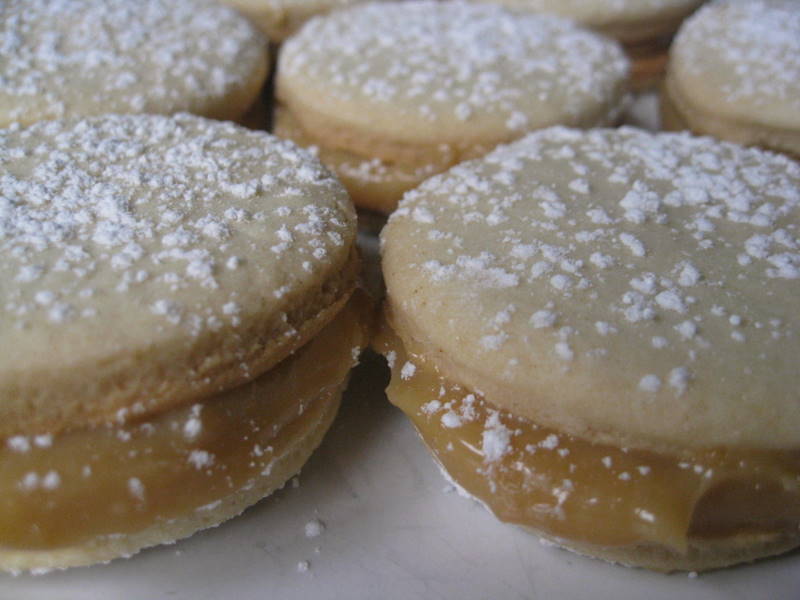 I'll be honest with you–I've been hoarding these cookies from you for quite some time. Two weeks, to be exact. These cookies are a little prelude to a little trip that Matt and I will be taking in September to Argentina, for our honeymoon. We had been planning to go to Argentina this past Spring, but when we got engaged in December, we switched gears and decided to make the trip our honeymoon. We haven't made much progress planning beyond buying a book, our plane ticket and deciding that we'd definitely spend a lot of time in Buenos Aires and Mendoza, and take 'a bunch of side trips.' With the wedding now approaching faster than ever, I think it might be time to start cracking open that book!
Alfajores are essentially crumbly, buttery sandwich cookies. Filled with gooey, caramely dulce de leche and delicately dusted with powdered sugar and, in this case, cinnamon, they are Matt's new favorite cookie. It's fair to say that whenever I bake something, Matt often exclaims that it's his new favorite dish, but with these cookies, I'm pretty sure he was beyond earnest. Even I couldn't resist these little treasures. The most time-consuming part of the cookies is making the dulce de leche–if you're going to attempt it. I used a recipe that called for pouring it out into a baking dish and baking it for several hours, until it turned a golden brown color. These cookies a traditional Argentinian treat, and making them felt like the first natural step to planning our honeymoon.
The cookies themselves can best be described as dry butter cookies–super crumbly and light. In fact, it was hard to bite into them without making a mess. Once the cookies are done, they're layered with dulce de leche and dusted with powdered sugar. When I saw the 'optional' cinnamon dusting in the recipe, I definitely didn't skimp, and am glad that I didn't. You could also roll the sides of the cookies (the parts with the oozy dulce de leche) in shredded coconut. As some readers may know, I'm not a big coconut fan, so I made one for Matt and stuck with the sugar/cinnamon combination for the others.
I've yet to experience eating these in Argentina, but I can definitely tell you that reaching into my fridge and opening up the tupperware that housed these for several days felt like opening up an unexpected package every time.
I'm sorry for hoarding. Now that you know how easy these are to make, I hope you'll take a little trip…to your kitchen.

Alfajores
Recipe c/o Nook & Pantry
1 and 1/4 cups of flour
1/2 cup of cornstarch
1/4 of a teaspoon of baking powder
1/8 teaspoon of salt
1/4 cup of white sugar
1 stick of unsalted butter
1 large egg
1/2 teaspoon of vanilla extract
Dulce de leche (I made my own, using a recipe from David Lebovitz)
Powdered sugar
Cinnamon (optional–but highly recommended)
Coconut flakes (optional–less highly recommended)
1. If you're using store bought dulce de leche, no need to do anything in advance. I prefer homemade. It's extremely simple to make, but you'll need a good afternoon to be by the oven. I used David Lebovitz's recipe, which turned out superb.
2. When you're ready to make the cookies, preheat the oven to 350 degrees F.
3. In a medium bowl, use a hand blender to beat the sugar and butter together, until pale and fluffy.
4. Whisk the first four dry ingredients (start with 1 cup of flour, though) in the recipe together in a large bowl.
5. Beat in the egg and vanilla into the butter/sugar mixture, until combined. Pour in the dry ingredients in several batches, until the dough is well mixed. If it seems like it won't roll out well, beat in the remaining 1/4 cup of flour.
6. On a lightly floured surface, roll out the dough until it's about 1/8th inch in thickness. Use a circular cookie cutter to cut out the cookies and place them onto a cookie sheet, covered with parchment paper. The cookies won't expand, so you don't need to leave too much space between them.
7. Bake the cookies for about 14 minutes (check them after they've been in the oven for 12). The edges should be nicely golden, but the cookies should still be a light color (they will harden more as they cool).
8. Once the cookies are cool, scoop enough dulce de leche to cover one side of one cookie and top with another cookie to make a sandwich.
9. Generously sprinkle with powdered sugar and cinnamon on both sides.
10. Store in a sealed container in the refrigerator and bring to room temperature for serving (though they're also delicious cold). Cookies should last for about a week (maybe!)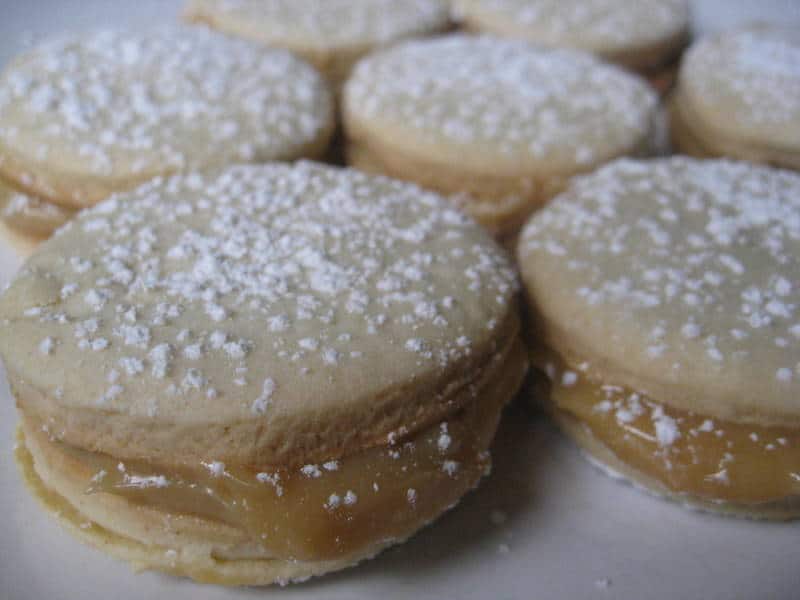 Musical Pairings: Passion Pit – Manners + Alfajores
These alfajores are the most fantastically delicious cookies I've ever eaten. Ever. I was seriously rationing them out so I could savor them for as long as possible. One at lunch. Another after dinner. They were so good, I nearly shed a tear after eating the last one. And although I was tempted to post a Radiohead album with this recipe, and make comparisons to the 10-out-of-a-possible-10 score nearly every Radiohead album receives by most critics (and these cookies deserve), I decided that something a little more upbeat than songs about "kicking, screaming gucci little piggies" was called for in this case. Thus, I selected the most upbeat, bob your head, tap your toes, and get-up-and-dance album so far this year: Passion Pit – Manners. Head over to Musical Pairings @ eating/sf for the full review of the album. –Matthew