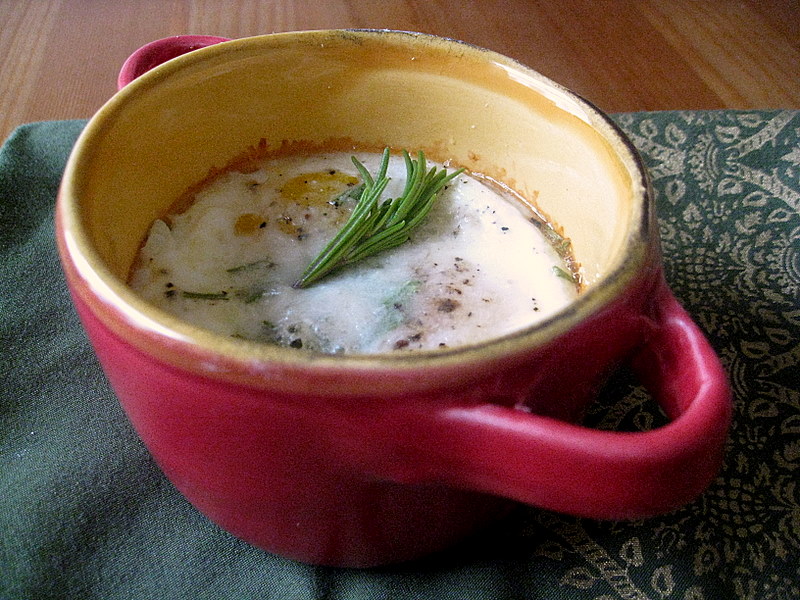 If you haven't noticed already, I kind of have a thing for eggs. They're sort of the whole package. As a child, I exclusively ate yolks. Who wants the bland, flavorless whites anyway? I didn't care if my eggs were runny or solid–I just wanted the yolks. I also loved my mom's 'glazunya'–essentially a fried egg, sunny side up. I was always amazed at how her eggs never seemed to break. Naturally, I carefully cut out the yolk from the rest of the package and happily shoved it into my mouth.
At some point, I made the transition to eating the whole egg and it was a discovery. While I still felt that the whites had very little flavor, when eaten with the yolks, they actually weren't half bad. I started with boiled eggs, topped with salt and pepper. Often, I'd still set aside the white cap (the part without the yolk), but progress was being made.
A few years ago, I discovered poached eggs–the best of both worlds! Little pillows of tender yolk, with just the right amount of white to yellow content. I started poaching eggs left and right–throwing them on top of toast, over salads and rustic ratatouille. And then, another discovery was made: baked eggs–a new use for my ramekins and the most delightful start to any morning.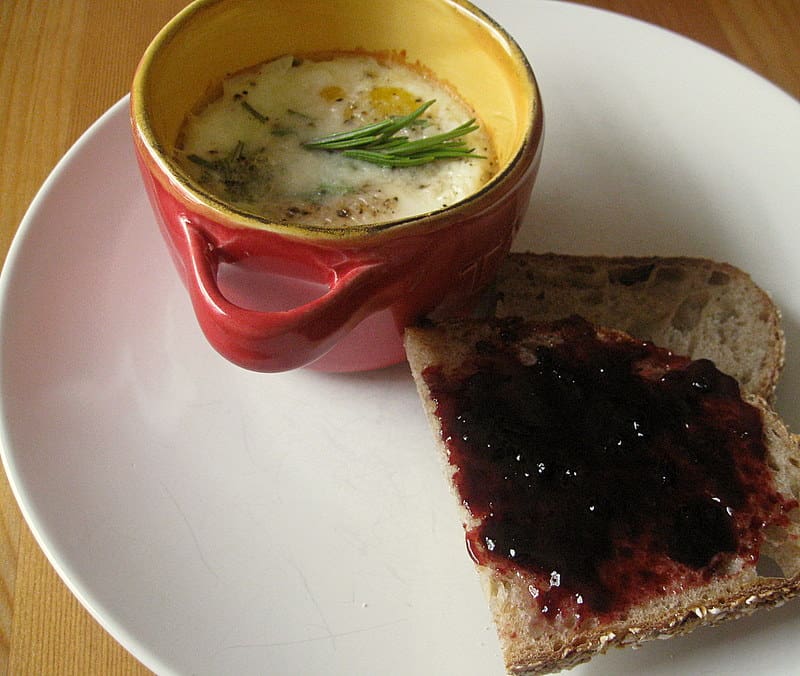 After having fantastic rosemary baked eggs at Outerlands in the Outer Sunset, I knew I had to recreate it at home. The baked eggs at Outerlands were fragrant with rosemary and Parmesan, and I knew I had to incorporate both in my recipe. I also wanted the flavor of garlic, without adding the actual garlic itself. So I created a garlic oil by simply sauteing a few fat cloves of garlic in some olive oil–amazingly, the garlicky flavor seeped into the oil and made a perfect drizzle over my baked eggs.
I stumbled upon a great recipe for herb-baked eggs on a lovely blog called Dishing Up Delights, which I modified based on my memories of Outerlands, and here is what I came up with. A word of note: if you want something a little richer, go ahead and swap heavy cream for milk. Also, the garlic oil is totally optional, but super easy and a fantastic topper.
Rosemary Baked Eggs with Parmesan and Garlic Oil
adapted from Dishing Up Delights and Outerlands
*serves 2
2 eggs, at room temperature
1 teaspoon of finely chopped fresh rosemary
2 pats of butter (about 1 half inch slice, cut in half)
1 tablespoon of milk
2 cloves of garlic, with skin on
2 teaspoons of freshly grated Parmesan cheese
salt and pepper, to taste
3 tablespoons of olive oil.
1. Preheat your oven to 375 degrees F.
2. Pour half a tablespoon of milk and place half of the butter into each ramekin.
3. Use a sharp knife to crack the egg and be careful to not break the yolk. Pour one egg into each ramekin.
4. Sprinkle the eggs with salt and pepper and the chopped rosemary. Sprinkle 1 teaspoon of Parmesan over the top of each egg.
5. Place the ramekins into the oven and set the timer for 15 minutes.
6. Make the garlic oil: in a small saucepan, heat the olive oil over medium heat and add in the garlic cloves. Saute until the garlic starts to brown and you begin to smell that wonderful aroma. You might want to crush the garlic slightly, to let the tender insides come into contact with the oil and flavor the oil even more. Remove and toss the garlic cloves and pour the oil into a small teacup or another ramekin.
7. After 15 minutes, and when the whites are just about to set, take the ramekins out of the oven. Place on a heatproof surface and allow the whites to set for about 1 minute. Drizzle with some garlic oil. Serve with toast, jam and fresh fruit on the side.
Cook's Note: you could easily fit two eggs in one large ramekin–not a bad way to go! I also like to sprinkle my baked eggs with some sea salt and a little bit more fresh pepper.
Musical Pairings: Magnetic Fields- 69 Love Songs (Paired with Rosemary Baked Eggs)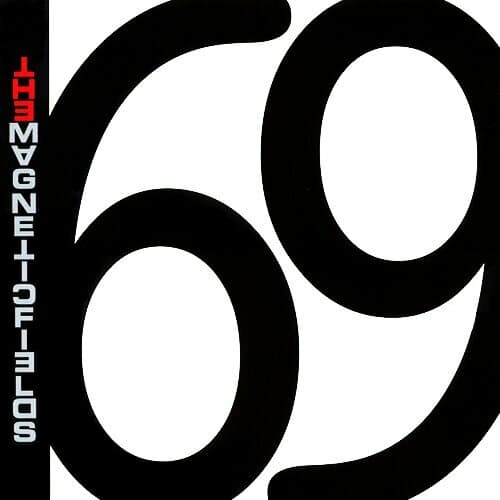 Kasey's rosemary baked eggs are simple, but flavorful and warming. In fact, I liked them so much, I borrowed the recipe and made it for my parents for Mother's Day breakfast. For me, rosemary is the MVP in this dish. I love its woody aroma and pine-needle-like flavor. Rosemary has an interesting history, too. For example, according to Wikipedia, rosemary was used as a love charm during the Middle Ages. A young women who wanted to choose between potential suitors would grow several plants of rosemary, and assign a name to each plant. The plant that grew the tallest and strongest gave the answer. It was also commonly associated with wedding ceremonies: the bride would wear a crown made of rosemary and the the groom and wedding guests would each wear a sprig as well. So it seems to me that Magnetic Fields' album 69 Love Songs is a perfect pairing for this dish. After all, as the title suggests, it is an album about "love songs" (as opposed to an album about "love") and is perfect early-morning pop music to enjoy with breakfast and a cup of coffee. Head over to the Musical Pairings home for the full review and tracks. –Matthew