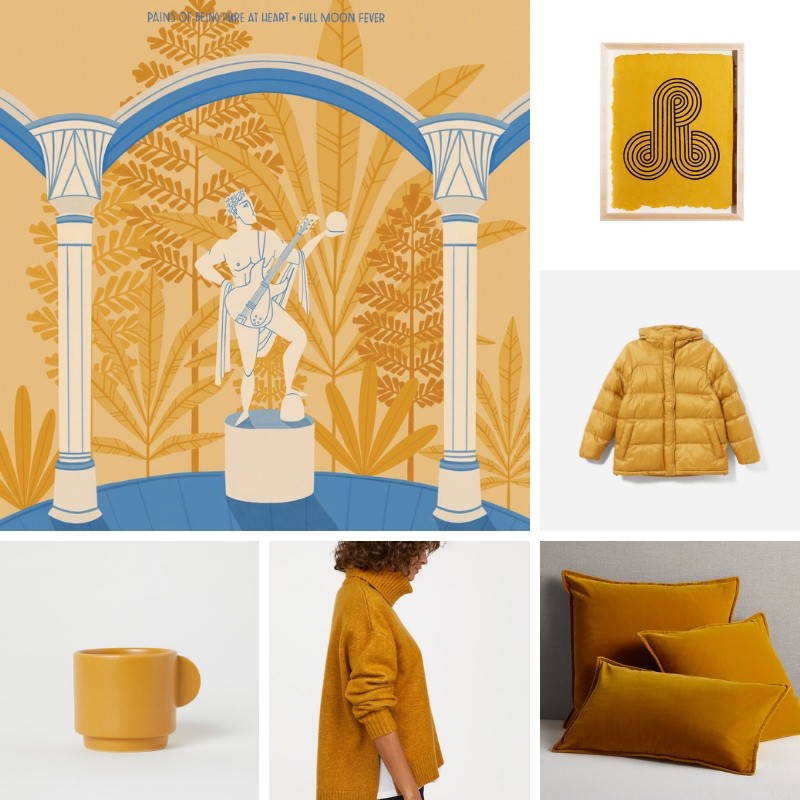 Clockwise: The Pains of Being Pure at Heart's full album cover of Tom Petty's Full Moon Fever for the SOUNDS DELICIOUS vinyl club || Blockshop Trillium Woodblock Print || Everlane ReNew Puffy Puff (made from recycled plastic!) || Rejuvenation Italian Velvet Pillow Cover in Sunflower (on sale!) || H&M Knit turtleneck sweater || H&M Stoneware Cup
When it comes to seasons, summer pretty much tops all the rest for me. As far as fall is concerned, September has always been my preferred month. It's usually still warm enough to feel like summer. There's Labor Day and my wedding anniversary. Figs mingling with peaches. But this October, I've fallen hard for the month of pumpkins and fall leaves and… a color that I feel like I've been seeing everywhere: mustard yellow.
Ironically, I actually hate mustard. You might notice that it is virtually non-existent in our recipes because I have both a distaste for it and a slight allergy. Nonetheless, while my tastebuds aren't fans, my eyes definitely are.
It started with the release of our new SOUNDS DELICIOUS record of the month: The Pains of Being Pure at Heart's full album cover of Tom Petty's Full Moon Fever. Suddenly, everywhere I looked, there it was: the richest, yummiest shade of gold. I've always loved the color yellow. It's happy and peppy. But mustard yellow came in strong, and it's totally stolen my heart. It adds a pop of Vitamin C without being overpowering or too gaudy. What's more, in both clothing and home accessories, it tends to make even affordable pieces feel "fancier."
I was inspired to pull together a little inspiration collage featuring a few of my favorite golden-hued products, including the original artwork for our latest album (by the very talented Teresa Grasseschi), an art print I've had my eye on, a warm winter puffer from Everlane's new ReNew collection (a concept I LOVE), a sweater that's on my wishlist, velvet pillowcases from my favorite home store, and a $7 stoneware mug that would love awesome on an open shelf.
Which would you snag?