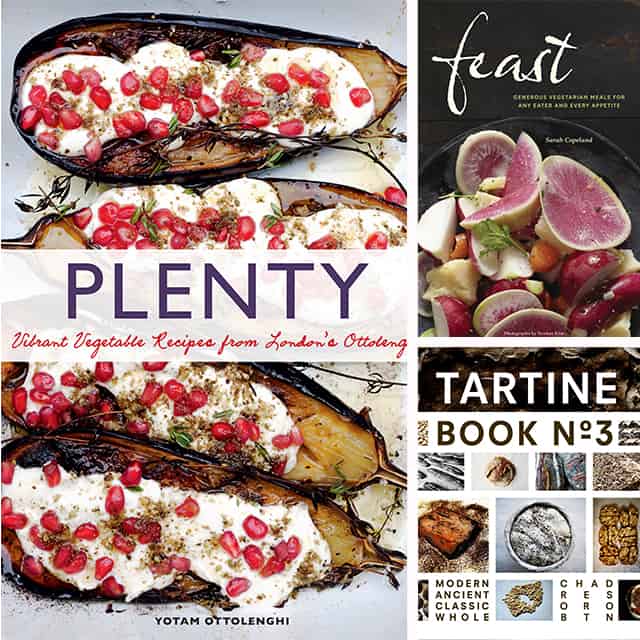 This week we are celebrating the launch of Turntable Kitchen 2.0. We're drinking champagne all week, sorta. For those of you who've been fans, friends, followers, and supporters, we hope you enjoy the new experience. For those who are new, we'd like to welcome you to our new digs.
---
Chronicle Books has been a longtime friend of Turntable Kitchen's; they've published some of our favorite cookbooks so we asked them if they'd be up for giving away a few of their titles.
One lucky winner will receive a copy of:
Feast (the beautiful vegetarian cookbook from our friend Sarah Copeland, nominated for a James Beard Award!)
Tartine 3 (The third book from San Francisco's iconic Tartine Bakery, focused on whole grain baking)
Plenty (the runaway hit from the founder of London's Ottolenghi)
We've featured several recipes from Feast and Plenty here already. Tartine 3 is the newest book from Tartine Bakery (recipes from the original cookbook can be found here and here).
To enter this giveaway
Leave a comment telling us your favorite Musical Pairing.
Share this giveaway on whichever social channel you use prefer. Be sure to tag Turntable Kitchen and Chronicle Books in your post (@ttablekitchen / @chroniclebooks on Twitter, @turntablekitchen / @chroniclebooks on Instagram).
This giveaway closes at 5 pm PST on Friday, May 2nd. The winner will be randomly selected and notified next week. This giveaway is open to U.S. and Canadian residents only.
As anyone who's ever been through a site relaunch might know, the first week isn't always easy, so please bear with us as we work through a few kinks. And if you encounter any issues with the site, please let us know! We're working virtually around the clock making updates.