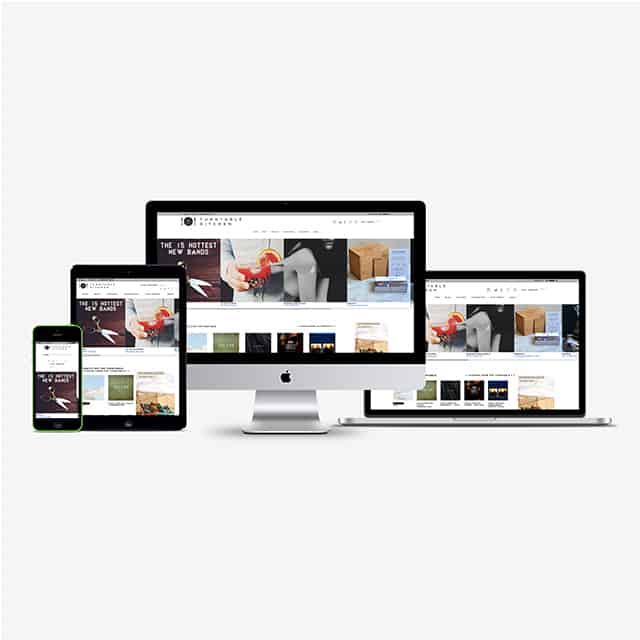 Two years ago we started talking about our desire to redesign the site. Make it responsive. Make it more modern. Make it faster. It's been a long road but finally, we are HERE!
We're so excited to introduce you to the all-new, redesigned Turntable Kitchen.
A Week of Giveaways!
---
We'd love to show you around the new site and also let you know that we're kicking off the celebrations with some sweet giveaways. Every day for the next few days, you'll be able to win something awesome, so be sure to check back here and also follow our social channels, where you'll be able to find some exclusive giveaways as well. And don't forget to subscribe to our email list.
What's New and Awesome
---
Turntable Kitchen is mobile-friendly. The site is now much easier to browse, read, and shop on any of your mobile devices.
A persistent music player. At the top of your screen, you'll see a brand-spanking new, customized music player that allows you to keep listening to your favorite TK picks even as you're clicking through to read other posts. Keep TK open on a tab in your browser and listen all day.
Premium digital content for Pairings Box subscribers. Pairings Box subscribers can now access Pairings Box recipes and mixtapes digitally by creating an online ID. Note that we're still uploading some recipes but more than 60 are already available. We're hoping to offer even more subscriber-only content moving forward. If you're a Pairings Box subscriber, be sure to create an online account. Not a subscriber? There are now even more reasons to join.
A better shopping experience. We've integrated the entire shopping cart experience for the Pairings Box and TK Market into the site so it'll be easier to place and process orders (for you and for us). You can even shop seamlessly from your phone or tablet.
A new recipe index. You can now search recipes by categories and even sort by season.
Printable recipes. For those who love paper, we've added a much-requested feature to allow you to easily print recipes.
Better content discovery. We've divided the site into landing pages for Food, Music, Features, and more, so you can now discover more of what you love, including music archives for Single Servings.
A beautiful new look. After 3+ years, we were eager to bring TK into modernity with a slick new look. We hope you like it.
It took a village
---
We've been working on the redesign for what feels like years. Truthfully, we started the process sometime last summer. A redesign of this size is no small feat and we are utterly grateful to some incredibly talented people. First and foremost, the amazing development team headed by Ross Featherstone at Refresh Interactive. He and his team built out some incredibly complex functionality into the site. We're in awe of their work. Secondly, Anjela Freyja, a Montreal-based designer that came up with most of the visuals on the site and who was responsible for our slick new logo update (p.s. this Local Natives poster, one of our past Pairings Box artists, was actually how we stumbled upon her work). And not least of all to Journal, a UK-based design firm that helped bring all of the design pieces together in a way that made the final product sing. It truly was an international effort in every sense.
Send us your feedback
---
The relaunch of this site has been a massive undertaking, and we realize that as we get comfortable in our new home, you may encounter some bugs. Please feel free to let us know if you have any issues accessing content, creating a subscriber ID, logging in and accessing subscriber content, purchasing product from the TK Market, or listening to music. We really appreciate your feedback!
Pop the bubbly!