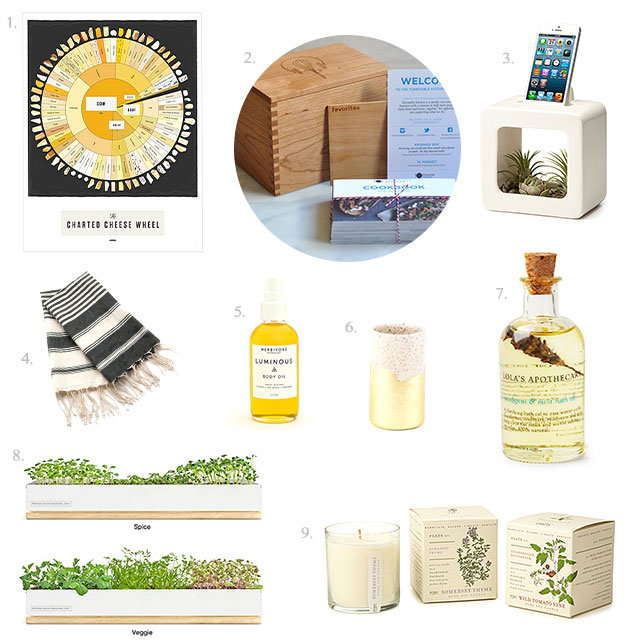 It's hard to believe but this year, I'll be celebrating my second Mother's Day as a mother. Last year, Neko was barely four months old. I have learned a few things but mostly, I'm still just stumbling along. Thankfully, though, I've got a few things figured out. Around the holidays, Uncommon Goods asked if I'd be interested in pulling together a little gift guide for readers and we've teamed up again to share some inspiration for Mother's Day.
Having been a mom for over a year now, I can say that the number one thing I crave is a little time for myself, doing the things I love. I rarely pamper myself (and most moms I know fall in the same bucket) so I went ahead and created a collection of items I think any mom can appreciate.
1. Cheese Pop Chart: my mom and I share a major love of cheese and this print would look lovely in her kitchen.
2. Turntable Kitchen's Cookbook in a Box: a beautiful gift that's made to last. Our unique Cookbook in a Box features 80+ original recipes housed in a handmade, heirloom cherrywood box. Limited stock; order fast!
3. Bloom Box: Is this not the perfect little docking station for a music-loving cook? Package it with a little collection of air plants and a special mixtape.
4. Kira Striped Towels: Erin Souder of the home blog House of Earnest launched a housewares line and I am so inspired by the beautiful products she's created. These little towels would be great in the kitchen, bathroom, or on the table.
5. Herbivore Botanicals Body Oil: I recently stumbled across this Seattle-based company and am in love with their concept (natural products in beautiful packaging). Oils are wonderful for moisturizing and keeping things natural is always a plus in my book.
6. Speckled Cylinder Vase: I'm charmed by The Object Enthusiast's delicate little objects. I use this one as a flower vase on my nightstand and think it would make a sweet gift.
7. Eucalyptus and Mint Bath Oil: I'm on an oil kick, what can I say. The smell of Eucalyptus is so distinct, it always brings me back to some of my favorite places in the world. Beyond the beauty of this item, which would look nice as a bathroom display object, I can imagine this bath would smell intoxicating.
8. Micro-Green Kits: A sleek little indoor garden! Choose from spices (Japanese mustard, daikon radish and edible chrysanthemum sprouts) or vegetables (red cabbage, mini-carrot greens, and tom thumb pea greens).
9. Herb and Veggie Candles: I'm a total sucker for candles in the home, I feel like one is always burning. Filling your home with the smell of fresh thyme or tomato sounds like a brilliant way to welcome spring, and celebrate mom.
For more great gift ideas, check out Ucommon Goods' Mother's Day gift collection.
This post has been sponsored by Uncommon Goods, an online marketplace offering creatively designed merchandise. All items were selected by yours truly and reflect my personal taste. Not all items on the list are sourced from Uncommon Goods.