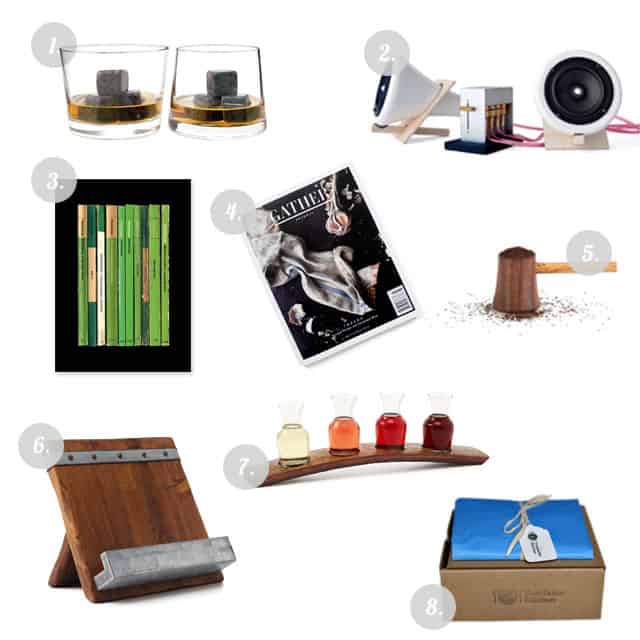 Moving into a new home is an exciting time: it's an opportunity to update the coffee table, add some fresh art, and recreate your dream relaxation space. Whether you're on the move or know someone who is, here are a few ideas for cool gifts that say 'welcome home.'
1. Whiskey stones: For the friend who's stoked about their new bar cart or whiskey collection.
2. Ceramic speakers: The big ticket item — these speakers are display-worthy, and they connect with your turntable or iPod.
3. Radiohead poster: Decorate your music-listening space. This one hangs above our turntable.
4. Gather Journal subscription: Nothing says welcome home like a nice magazine on your coffee table. I've contributed a number of pieces and am always impressed by the quality of this publication. There's nothing else out there like it.
5. Wood coffee scoop: A beautifully-designed scoop handmade in Ohio. This one's for your coffee-loving friend.
6. Reclaimed wood cookbook stand: This rustic-looking cookbook stand is a functional statement piece for any new kitchen.
7. Wine tasting flight: Invite a few friends over a wine pairing night!
8. Pairings Box subscription: Our Pairings Box is available as a recurring subscription or as a one or three month gift subscription. It's gender and age-neutral, too.
For more great gift ideas, check out Ucommon Goods' Christmas gift collection.
This post has been sponsored by Uncommon Goods, an online marketplace offering creatively designed merchandise. All items were selected by yours truly and reflect my personal taste. Not all items on the list are sourced from Uncommon Goods.