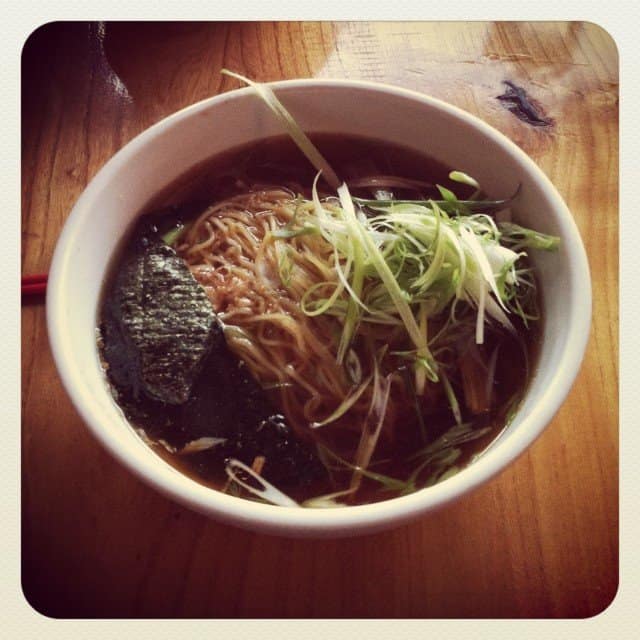 Have you ever wondered what life's like for your favorite band on tour? What do they eat before/after a gig? Where did they eat when they stopped in your town? What are they listening to in the van as they jump from gig to gig? Well, we've got your covered. Courtesy of Roll Call Records, our friends in Typhoon have graciously offered to share a journal of their food and music experiences as they embark on their tour in support of their magnificent new album White Lighter. Dubbed "Tour Pairings" we'll be sharing updates about twice a week, so stop back to read more. If you've missed them, you can catch up on Kyle's post about Denver, Devin's post about Vancouver, Jen's post about Saint Louis, and Devin's post about Columbus.

Brooklyn / by Devin
I like Japanese food a lot. A lot of us do. In Brooklyn we we're fortunate enough to play down the street from a ramen joint / izakaya called ZuZu. I walked over with a book and was shortly followed by Kyle and Toby and Tyler.
The ramen was great and they have a few kinds with vegetarian options. I had an awesome and huge
seaweed salad and some real good ribs (not my usual choice; they were out of yakitori).  The sake list was short, but I got a pretty good unpasteurized sake.
Song: Ramones / Judy is a Punk
Don't forget, you can score a copy of White Lighter on limited-edition vinyl directly from the band's website. Our limited-edition, hand-numbered single for "Dreams of Cannibalism" (which is backed with the non-album track "Rules of the Game") is now sold out. The next few installments of the Pairings Box are going to be HUGE, so subscribe to Turntable Kitchen Pairings Box now if you don't want to miss out.