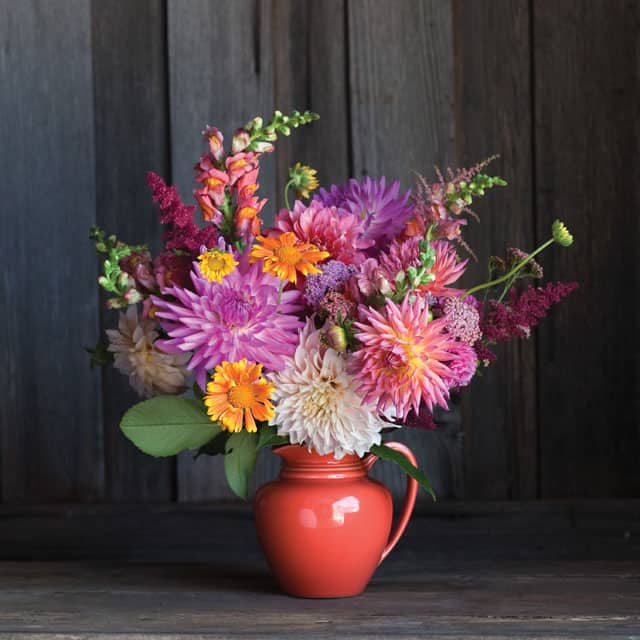 I'm charmed by The Flower Recipe Book by Alethea Harampolis and Jill Rizzo, owners of Studio Choo, a floral design studio here in San Francisco. I first came across their arrangements at the San Francisco Kinfolk brunch last year, and was blown away by their approach to arranging flowers. I adore having fresh flowers in my home, but I struggle to come up with creative ways to arrange my buds. Most of the time, I either purchase a pre-made bouquet, or opt for a monochromatic collection in a mason jar. No more!
Today, I'm thrilled to share a short interview we did with Alethea and Jill on how to cook up some beautiful flower arrangements (even if you're on a budget!). I'm also honored that they shared two original recipes from their book with Turntable Kitchen readers. Thank you so much, ladies (and Artisan Books)! You can buy the book here. If you're an Amazon Prime member, you could probably get it in time for Mother's Day (hint, hint).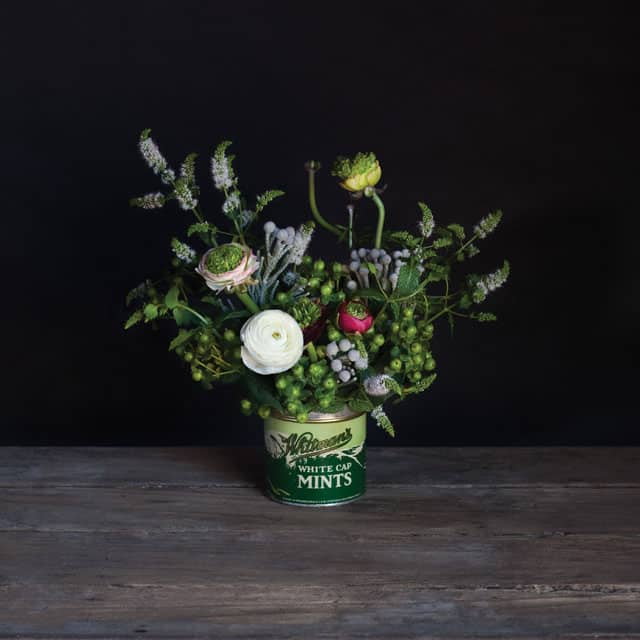 1. Can you pair a floral arrangement with a specific meal, mood, or soundtrack?
We are snackers — our favorite lunches are assembled on a pretty platter with an assortment of yummy cheeses, olives, good bread, sugar snap peas and carrots, apple and pear slices with a few berries. We also love to create petite arrangements in the same way with random clippings from our garden — a single tree peony and a pansy, a couple of poppies, some pineapple mint sprigs, and a few blackberry blossoms casually assembled in a small tumbler.
2. Your book suggests that floral arrangements can be viewed as 'recipes.' Do you think there's a correlation between arranging flowers and cooking?
Yes, definitely! Flower arranging contains many of the same concepts as cooking. We recommend keeping your flower "pantry" stocked with your essential arranging tools like a bucket, flower frog, and as assortment of wire, skewers, and tape. You wouldn't think of cutting your tomatoes with a rusty and dull knife would you? Keep your floral snips and cutters as sharp as you keep your kitchen knives!
We follow a basic recipe for most of our mixed arrangements even though the ingredients will change depending on the season and availability: bushy greenery as a supportive base, large focal flowers next, finished off with delicate bits.

3. Can you share a recipe for a casual dinner party as well as a summer brunch?
A casual dinner party calls for an arrangement like the Hypericum Berry With Company recipe from The Flower Recipe Book. It doesn't take much time to put together, but the collection of ingredients is playful and textured. The arrangement includes mint, so you could really wow your guests with your creativity by creating a minty cocktail to go along with it!
The Dahlia Special Occasion recipe would make the perfect focal arrangement on the buffet table for a summer brunch — next to glass pitchers of brightly colored fruit juice perhaps? A small bud vase at each place setting containing a single large bloom and colorful napkins would complement the look.

4. What are some of your favorite floral arrangements for a limited budget?
If you just have the budget for a few bunches from the corner market — distributing one type of flower into a collection of assorted vessels always does the trick. For example — you could use alstroemeria and snip some of the blooms short into tiny cups, make one big mass of blooms in a low bowl, and place a few long stems in bottles. Then just play with the arrangement of the vessels down the table.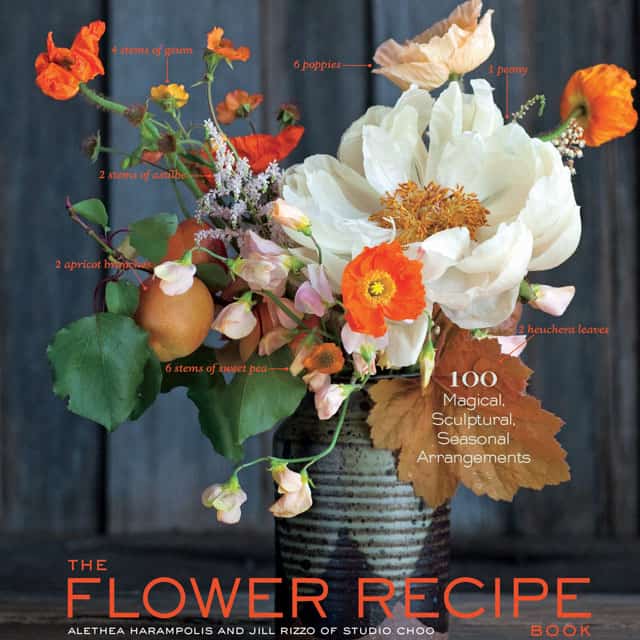 Hypericum Berry Recipe 1: With Company
FLOWERS
6 stems of hypericum berries
3 stems of berzelia
5 stems of flowering mint
5 stems of ranunculus
VESSEL
Vintage tin
1. Create a loose bunch of the hypericum berry stems in your hand, lining up the lowest berries. Remove all
the leaves, trim the stems, and place them in the tin together so that the berries rest on the rim.
2. Trim and add the stems of berzelia through the base of hypericum so that the round ends sit just above the
berries.
3. Trim and add the stems of the mint next to the berzelia so that the flowers sit a few inches higher than the
base layer.
4. Finish by adding the ranunculus, trimming four stems to rest on top of the base layer in the front, and one
stem so that it arcs up a few inches above the base on the right.
Dahlia Recipe 3: Special Occasion

FLOWERS
12 assorted dahlias
5 snapdragons
5 stems of astilbe
6 stems of yarrow
6 stems of gaillardia
VESSEL
Ceramic pitcher
1. Start by trimming and placing three large dahlias in the pitcher so that their blooms rest an inch above the
rim and lean out in different directions.
2. Trim and add another five dahlias so that the blooms lean out a few inches higher than the blooms on the
first level.
3. Trim and place the remaining dahlias at the highest level in the center of the arrangement. Twist the dahlia
stems on both levels so that their blooms face in different directions.
4. Trim and add all of the snapdragons and stems of astilbe toward the top of the arrangement so that their
tips reach out a few inches above the dahlias.
5. Finish by tucking in the stems of yarrow and gaillardia to fill the gaps between the other flowers.
Credit: "Excerpted from THE FLOWER RECIPE BOOK by Alethea Harampolis and Jill Rizzo (Artisan Books). Copyright © 2013. Photographs by Paige Green."