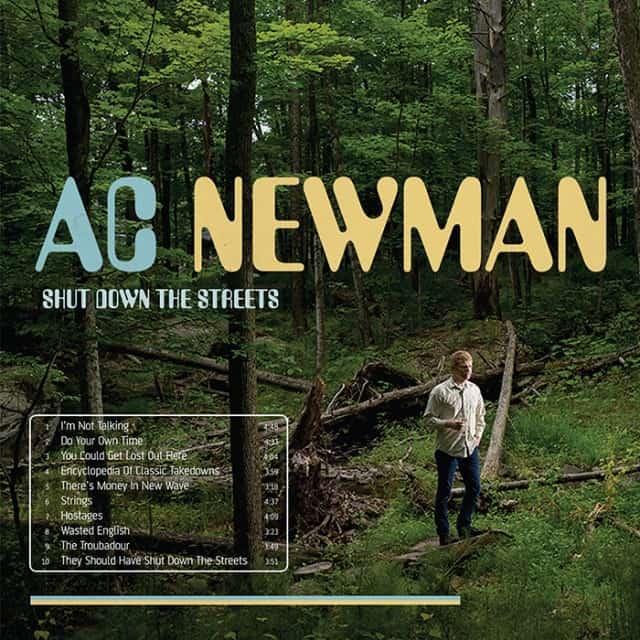 A.C. Newman is undeniably best known for his work with The New Pornographers. Nonetheless, I've always counted his solo albums, especially his first, amongst my favorite in his discography. In fact, although I'd be excited for a new The New Pornographers album any day, I'm maybe even more delighted when A.C. Newman (or any of the super group's other members for that matter) release a solo album.
On his third solo album, Newman's songwriting is as crisp and clean as ever. Album opener "I'm Not Talking" is smooth, tight pop music at it's tidiest. But things have changed for Newman quite a bit since his first solo album. Whereas "Miracle Drug" (the opener on The Slow Wonder) was a bombastic, kinetic power pop rocker, he unfurls Shut Down The Streets with a dusty, wind-swept ballad laced with bright keyboards and strumming acoustic guitar.
Indeed, it's indicative of a change of direction and new approach for the songwriter. In a recent interview, Newman told Exclaim: "Initially, I think I really liked the idea of it being like a psychedelic late-'70s [album] . . . I'm very fascinated with a lot of that music, where singer-songwriter music started having synthesizers in them. Stuff like Gerry Rafferty, or you know that song 'Daylight Katy' by Gordon Lightfoot? I love the sort of psychedelic wooziness of it."
Shut Down The Streets also reflects the songwriter's most personal lyrics to date. The title was pulled from the track of the same name, which begins with the lyric: "they should have shut down all the streets." The lyric is about Newman's mother's funeral and, according to Newman, the line inspired the entire album. He told Pitchfork: "This record was written during a very heavy time in my life. I was right in that in-between space where I'd just lost somebody that's amazingly important to me, and I was also anticipating the arrival of somebody incredibly important, too. It made me think a lot about family, life and death, happiness and sadness, and how to reconcile them all."
That is not to suggest it's a heavy album. As always, Newman's lyrics drip with his humor and sharp wit, especially on the lively and hook-laden cuts "Encyclopedia of Classic Takedowns" and "There's Money In New Wave." And, Newman's New Pornographers-partner Neko Case is a regular presence across the entire length of the album freely filling the spaces around Newman's vocals with her smokey harmonies.
With that in mind, it's unsurprising that Shut Down The Streets blends together quite well. After all, it is a smooth mash of Newman's catchy and clean songwriting with emotionally rich, witty and relatable lyrics set alongside sonics inspired by the warm and bright energy of 70's singer-songwriter psychedelica. While it's not Newman's best album to date, it's certainly filled with plenty of soothing melodies and energetic hook-filled pop. The worst I can say about the album is that spots of side-b aren't as memorable as what we've come to expect from Newman in the past. "Wasted English" and "The Troubadour" in particular may be some of the least engaging songs I've heard from the songwriter.
Kasey is featuring a homey and comforting recipe for Irish Mash from the What Katie Ate cookbook. It's a feel good, smooth and warming recipe that pairs wonderfully with Newman's Shut Down The Streets. Go take a look at this one… you're going to need to whip up a batch in your kitchen.
A.C. Newman – I'm Not Talking
A.C. Newman – Encyclopedia of Classic Takedowns
Take a peak at some awesome pics of that Irish Mash in the Kitchen. Then head to Insound to buy a copy of Shut Down The Streets.