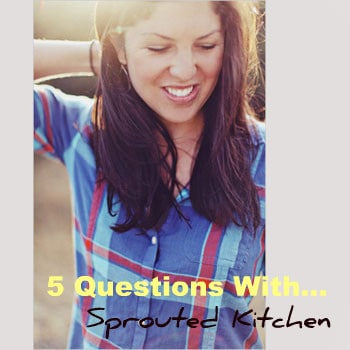 Sara and her her husband Hugh are an adorable blogging duo (she cooks and writes, he photographs). Their blog, Sprouted Kitchen, is one of my favorite places on the web and whenever Sara has a new post, I get giddy as a school girl. Beyond the delectable recipes and gorgeous photography, Sprouted Kitchen is a solid read because of Sara's beautiful writing. So often, I read a post and feel like we're sitting in a coffee shop, chatting. Sometimes, the things she writes make me think she's read my mind. Sara's focus on healthy, natural foods is another big draw: her cooking style is nourishing, clean, perfection. I am SO excited for the Sprouted Kitchen cookbook!
Name: Sara Forte
Location: Dana Point, CA
What has been your favorite food memory of 2011? We started working on a book project in Jan. 2011, and though we're still not quite sure what we're doing, I'm relishing in that confusion. We hosted two dinner parties with friends, to share some of the recipes and get some photos for the book and though I was working my tail off, the whole experience was kind of crazy. We're writing a book and my friends are eating my food — how did I get here? I won't forget that.
Do you listen to music in the kitchen? What artist best describes your cooking style?
Honestly, sometimes music stresses me out, so not all the time. If I feel like we're in a rush to get some photos for the site or book, I prefer silence to be in my own head (maybe not the best tactic?). When I feel relaxed and am cooking for pleasure, I love having music on. Hugh is the music guy around here and I like his mix of some Edward Sharp, Arcade Fire, and Sufjan Stevens. If I'm alone, Adele, so I can sing as loud as I want. Hm, I don't even know how to describe my cooking style so it's hard to pick an artist… fresh and clean? Justin Bieber. Kidding!
Sufjan Stevens – For The Widows In Paradise, For The Fatherless In Ypsilanti
Arcade Fire – Sprawl II (Mountains Beyond Mountains)
What inspires you in the Fall? I love roasting vegetables with tons of herbs and fall rings in that season. Some assorted carrots with savory, squashes and broccoli with a bit of Parmesan. I just love vegetables, those are my starting point, and then meals evolve from there. I'm not big on heavy food in general, so fall doesn't mean that to me; food should just be warm and satisfying.
What's your process for creating and capturing your food creations?
I think about food all the time and am always seeking inspiration from Pinterest, a huge collection of other food blogs, magazines and what not. I think all of that settles somewhere in your brain and then you get creative from there. I usually think of a recipe (something seasonal and fresh looking, as aesthetics are a big part of our site), try it out, change a thing or two and then go through the process more slowly so Hugh can takes pictures for Sprouted Kitchen. I wish we could post more, but it is a fairly time consuming process, so we only get to it about once a week.
What's in your pantry?
We actually got lucky with how big our pantry is in our apartment. I have dozens of jars filled with whole grains and flours that I use for baking experiments and grain and vegetable salads. I keep a variety of beans and nuts around along with a corner full of spices I've collected. We have a pretty hearty trail mix and cereal section, as those are snacks of choice when I don't feel like cooking. A lot of our meals are creations from our CSA basket, so I figure if I keep a lot of good staples around, I can come up with something!